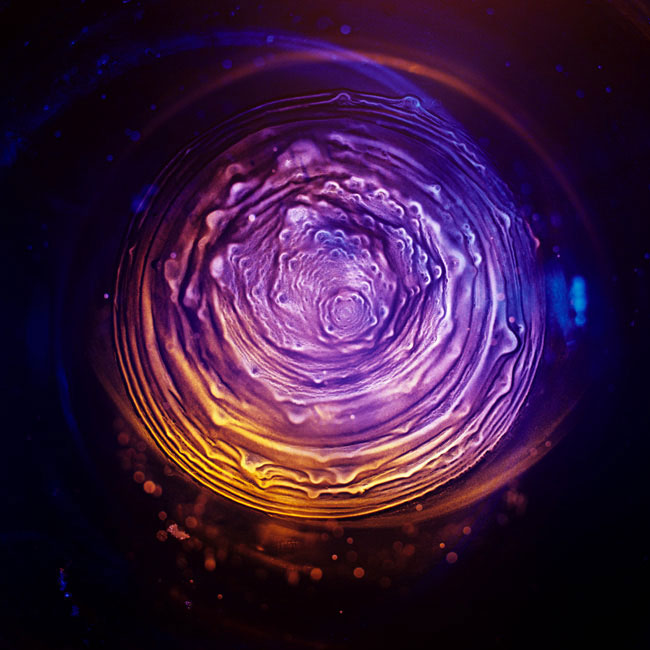 Phoenix-based artist Ernie Button found inspiration in the base of a scotch glass. The photographer creates images from the residues of single-malts that look as though they've been taken from outer space. Here, he walks us through the process of his series, Vanishing Spirits, and describes how he makes art from whisky. Check out the stunning images in the gallery below.
How did you get the idea for the Vanishing Spirits?
The idea for this project occurred while putting a used Scotch glass into the dishwasher. I noted a film on the bottom of the glass and when I inspected closer, I saw these fine, lacy lines filling the bottom. What I found through some experimentation is that these patterns and images that are seen can be created with the small amount of single-malt Scotch left in a glass after most of it has been consumed. It takes just a drop or two to create these patterns.
Tell us about the process…
The drops of alcohol dry and leave the sediment in various patterns. It's a little like snowflakes in that every time the Scotch dries, the glass yields different patterns and results. I use different colored lights to add color to the bottom of the glass, creating the illusion of landscape, terrestrial or extraterrestrial. Some of the images reference the celestial, as if the image was taken of space; something that the Hubble telescope may have taken or an image taken from space looking down on Earth.
Where you surprised with the outcome of the photos?
Absolutely. I find it fascinating that a seemingly clear liquid can dry and leave such a unique pattern. And it turns out that not just any clear liquid will have the same result. I've experimented with several different whiskys.
What's your favorite whisky?
Our house is rarely without a bottle of Glenlivet in it.
Images from Vanishing Spirits will be featured in the Islay Whisky Festival in Scotland in May 2013. A limited selection of prints are available for purchase.