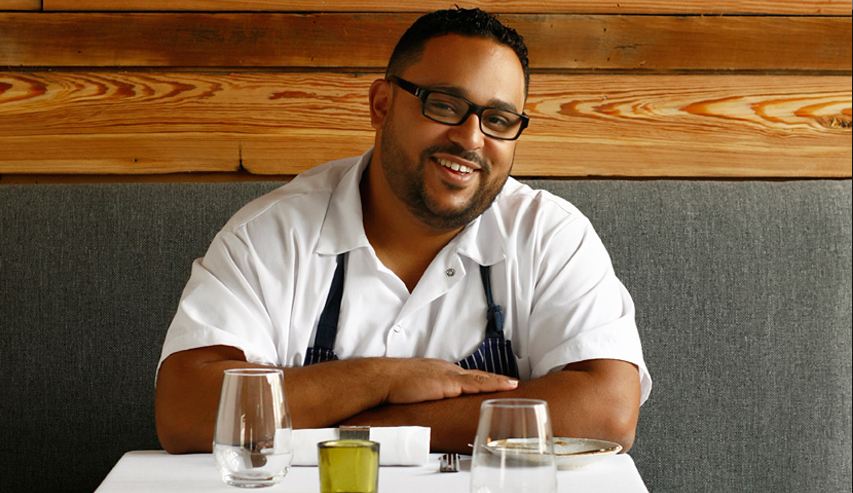 Chefs love to travel — for inspiration, to experience the cuisines of other cultures or just to get away from the heat of their own kitchens. When they return, we hit them with some questions — where'd they stay, what'd they do and WHAT DID THEY EAT?
There is perhaps no better word to describe Kevin Sbraga than "winner." A former victor on  Season 7 of Top Chef, Sbraga also took home the prize for Best Meat Presentation at the prestigious Bocuse d'Or USA competition in 2008. The chef currently runs modern American restaurant Sbraga in Philadelphia. He recently traveled to both the Caribbean and Puerto Rico and caught up with us to share his experiences.
Where are you just back from?
My most recent trips were to the beautiful Caribbean islands of Anguilla in February and Puerto Rico in April.
Business or pleasure?
I don't know that you can go to any Caribbean island and not have a pleasurable experience. The purpose of both of my trips was for business. In Anguilla, I cooked at the Viceroy Hotel for two days. The first day was a dinner with celebrity chefs Jonathan Waxman and Johnny Iuzzini as well as hotel chef Cliff Denny. The next day the chefs and I did Sunday brunch. Needless to say I got a little much needed rest and relaxation on the beach. I went to Puerto Rico for an event called Saborea. I did a cooking demo on their main stage. Again, I got some R&R on the beach and had some time to get out and try the local food.
What was the highlight?
The highlight of Anguilla was the Viceroy Hotel. It is by far the most beautiful resort property I have ever seen. Their hospitality and accommodations are unrivaled and I was blown away. The highlight of Puerto Rico was the actual festival called Saborea. I got to eat food from local celebrity chefs like Roberto Trevino, Wilo Benet and Efrain Cruz.
What was the lowlight?
The lowlight in Anguilla was my flight getting delayed. That is never fun. It went from a few hours' worth of travel to a 12-hour day of travel. In Puerto Rico, the lowlight was not getting to see more of the countryside. I really wanted to go to Guavate.
Did you see anything on your trips that you will look to incorporate at your restaurant?
I really want to put mofongo on my menu. It was so good in Puerto Rico.
Can you give us a mini review of the trip's accommodations?
The Viceroy Hotel in Anguilla put me up in a one-bedroom suite, which came with a plunge pool on my balcony. They were the best hotel accommodations EVER! In Puerto Rico, I stayed at The Hilton Caribe. I had a standard room with a beautiful view.
What was the best meal you ate on the trip?
In Anguilla, I had a beautifully grilled local lobster. I can still taste the sweetness of the meat. In Puerto Rico, I had one of the best mofongos from Chef Efrain Cruz at the Intercontinental Hotel.
Did you bring anything back, and if so, what?
I brought back great relationships, inspiration and… a t-shirt from Anguilla. From Puerto Rico, I brought back some rum, a mortar and pestle and lots of great ideas for my menu.
Do you have any other trips planned in the near future?
I am writing this response while on a plane to Auburn University in Alabama. I am headed down south for a fundraiser event for the folks at the Hotel at Auburn University.
Read more Just Back From columns on Food Republic: