3 Major Coffee Competitions Are Going Down This Weekend In Boston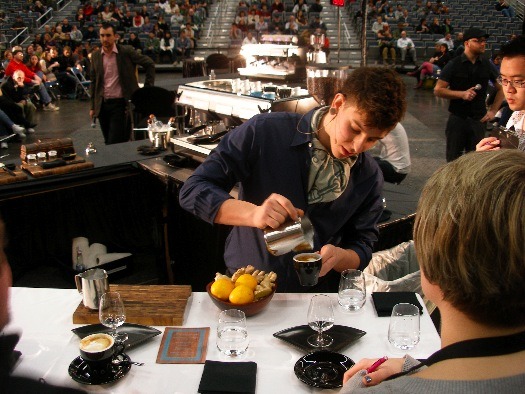 Three major coffee competitions will be held this weekend (April 12–14) in Boston. The United States Barista Championship (USBC), Brewers Cup and Cup Tasters Championship serve as a national stage for some of the country's most talented coffee people. Attendees will be able to watch some of the nation's leading coffee makers taste and prepare coffee beverages, including espresso, cappuccino and signature drinks. The national events are co-sponsored by the Specialty Coffee Association (SCAA).
The USBC recognizes professional achievement in the art and skill of espresso beverage preparation and service. Competing baristas must prepare and serve 12 coffee beverages — one espresso, one cappuccino and one signature drink of their own creation — for each of the four sensory judges, all in the space of 15 minutes. The winner is presented with the title of U.S. Barista Champion.
The Brewers Cup celebrates the art of manual coffee brewing. Contestants are judged in two rounds of manual brewing — the first of which involves brewing the same coffee for a panel, and the second of which consists of presenting their own coffee. The winner will represent the U.S. at the World Brewers Cup Championship in Melbourne, Australia.
Participants in the Cup Tasters Championship receive eight sets of three-cups, where two cups of coffee are identical and one is different. They must identify which cup is different, testing their ability to smell, taste, recall and concentrate. The competitor with the most correct answers in the shortest amount of time is named the champion.
For more information about the events, including scheduling and ticketing, visit the SCAA's website.
Read these coffee stories on Food Republic: