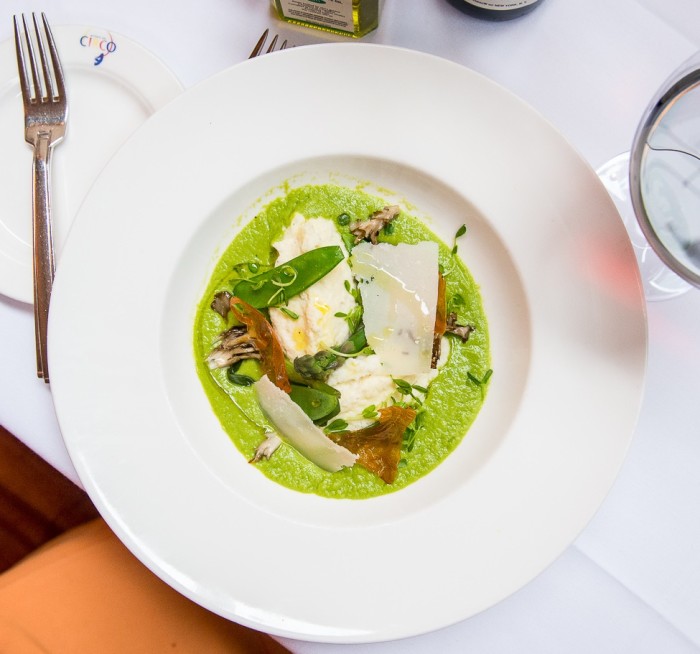 I took a peek inside the kitchen at Midtown East's Circo restaurant to learn how to make gnudi from visiting chef Antonio de Ieso in from Florence for one of their signature spring dishes: gnudi primavera. Co-owner Mauro Maccioni helped walk me through the steps and gave a little background on why he likes serving gnudi at his restaurants.
"These dumplings are called malfatti, which means 'poorly put together,' or gnudi, which means 'naked,' depending on the area of Tuscany," says Maccioni, a second-generation restaurateur who grew up in his father Sirio's restaurant, the famed Le Cirque. Gnudi are very simply that: ravioli filling without the pasta encasing. They're light, fluffy and don't miss the extra starch one bit. They're also not fancy, and very quick and easy to make.
"We wanted to do a version that's a little more refined and thought the white would contrast nicely with spring colors, so we made a pea, spring onion and tarragon cream topped with some fricaséed mushrooms, some snow peas, asparagus spears and pea shoots," Maccioni adds.
But why does he really like it?
"It's my favorite pasta because I love naked things." Welcome to spring, everyone!
Here's what you'll need for two servings:
For the sauce and garnish:
1 cup fresh or frozen green peas, shelled
1 scallion, sliced
2 tablespoons of chopped leeks, light green part only
1 tablespoon of your favorite herb mix — tarragon, mint, marjoram
Half a cup of vegetable stock
Salt and freshly ground pepper
Your favorite spring vegetables, lightly cooked in olive oil, and freshly grated Parmesan cheese to garnish
Sauté leeks and scallions in olive oil, add green peas, salt pepper and stock. Cook 2 minutes. Transfer mixture into a blender or food processor with fresh herbs and purée. Season with salt and pepper, spoon on a plate, top with gnudi and garnish with vegetables.
For the gnudi:
1 cup whole milk ricotta cheese
3 tablespoons of grated Parmesan
1 egg
3 tablespoons of cooked mashed potatoes
Salt, ground black pepper, nutmeg to taste
3 tablespoons all-purpose flour
Click on any photo to launch a step-by-step slideshow