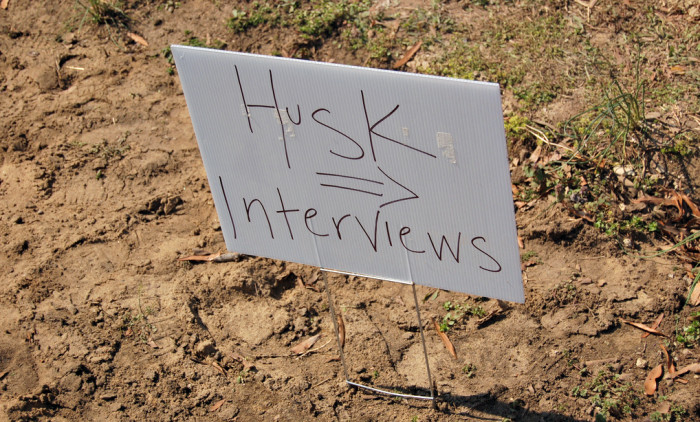 Over the next few months we will be checking in with chef Sean Brock and the staff of Husk Nashville as he readies the opening of that city's most-anticipated new restaurant in years. Previously: The Importance Of Choosing A Chef De Cuisine | Construction!
A small hand-lettered sign points up the front steps of the century-old mansion that will soon be home to the second outpost of Husk Restaurant, located in the Rutledge Hill neighborhood of Nashville, TN. Nervous job applicants walk up those stairs past another magic marker masterpiece that reads "Welcome to Husk. Come on inside." The decidedly casual invitation is appropriate considering that once through the doors, future wait staff and kitchen workers discover that the interior of the building is still a very active construction zone.
A thin layer of plaster dust covers every surface. The makeshift management office is just a desk with a few folding chairs and shelves stuffed with blueprints and building permits. Yet, in this default work environment, the management team at Husk is undertaking an incredibly thoughtful and detailed interview process as they seek to fill 70-plus positions before the anticipated May/June opening of the restaurant.
Fueled with carryout pizza, gas station deli fried chicken (which Sean Brock pronounces "amazing") and bottles of Mexican Coca-Cola, the five members of the Husk team who have traveled from Charleston and Atlanta for a week of interviews seek to build an opening team that Neighborhood Dining Group President David Howard says will be dedicated to "getting it right from the first guest."
Howard is definitely the tip of the spear of the entire operation, spending much more time in Nashville over the past few months than the rest of the team, whose members still have considerable duties in NDG's Charleston outposts at Husk and McCrady's. Each Husk Nashville candidate interviews with at least two managers, and Howard must sign off on each hire. The schedule is tight. Many of the perspective employees sent resumes to the NDG website long before any official hiring announcement was made, so the team started their week of interviews with 25 appointments already scheduled.
These are not your run of the mill job interviews, either. Howard says, "The majority of restaurants just review a resume and make a little small talk. At the end of it, neither party understands anything about each other. How can people make a decision based on that?" Rather than assuming that experience equals ability and strictly hiring for a skill set, Howard and the NDG crew prefer to find the right person with a passion for what Brock and Husk are all about, and then investigate more about their skills to best place them in a specific position.
Howard's process is intense, with a "personality profile" interview that lasts at least 45 minutes. "We ask them a list of questions, and none of them are skill related. I want to spend time learning about you and really don't care if you can carry 11 plates on a tray or can recite every winery in Napa."
Without giving away too many of the questions to the advantage of future applicants, the profile seeks out details that have to do with an applicant's passions and how they relate to Husk's commitment to Southern ingredients, supporting local farmers and the community. "We do this to protect ourselves and the employee, because if they don't share our passion, they won't be happy and last more than 30 days anyway."
After Brock and/or Husk GM Dan Latimer have recommended a hire, Howard gives the final look-see and makes the offer. He tells a future server to spend the time between now and the official beginning of training immersing himself in the Husk menu and its immense list of more esoteric local ingredients. "Take the time to learn about the products that we will be serving. You have to know them so that you can teach our customers about them and why they're so crucial."
Howard is serious about his servers knowing their stuff backwards and forwards. "I'll build this restaurant and stock it with food. Sean and his team will prepare incredible meals, so all you have to do is take care of your 4-5 tables. This is a commission-based job, and I'm basically leasing you four tables for the night and expecting you to generate revenues. You have to invest in yourself and participate in your own success!"
Thanks to this attitude, all the NDG restaurants are lauded for their service and commendable employee retention levels. Many of the original servers are still working at Husk and McCrady's, despite the warnings that Howard gives new team members about the stresses of opening a restaurant. "We hire right and keep them interested. It's a lot of work, but it's a great job being part of this team."
Now that the hiring has begun, there are a lot of people waiting on Howard to pull the trigger on announcing an opening date so that schedules can be drawn up and diners can mark their calendars for their first meal at Husk Nashville. He is unperturbed by the pressure. "We're not in a hurry to do a bad job. We'll open up with a controlled schedule to ensure that every diner receives the best experience while we are ramping up. Social media has shrunk the window of forgiveness. You may not have even served the third course yet, and people are already tweeting out their personal review."
Fortunately, Husk Nashville has the advantage that three of the leaders in the kitchen will be coming from Charleston and that core dishes and procedures are already in place. The Music City team will develop new recipes based on local ingredients, and they'll be expected to produce food as brilliant as Brock's.
Brock's list of interview questions for the kitchen staff is even more probing than Howard's, with questions that ask applicants about literature and what things really move them when it comes to Southern cuisine. Brock has invited several talented applicants to join him in Charleston so that he can work alongside them in the kitchen, since the Nashville location is still reheating their pizza slices in a microwave. By the time he has approved and hired his team, the kitchen staff at Husk Nashville should be able to hit the ground running just about the same time as the bounty of fresh Tennessee vegetables begins to overflow the stalls at the local farmers' markets. Now that's something to look forward to.