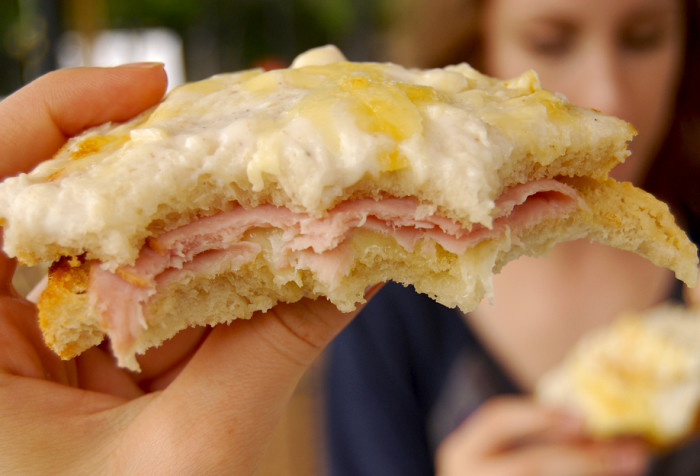 My very first lunch column was about a ham sandwich. I was so innocent. There were so many crazy ideas that had never crossed my mind, like anything dumplings. I get all nostalgic when the daffodils come out. I'm not even being douchey-metaphorical about spring. I saw daffodils growing wild in urban planters on 34th Street (that's as wild as I go) and so it's officially that season. Warm spring is when the soft shell crabs come out. Hot spring is when the tomatoes start gracing us with their presence.
Spring cleaning means time to get rid of all the stuff in the office we'll never eat (it's currently laid out in one big weird spread in the kitchen, for any officemates who are interested in hyper-caffeinated crack coffee or counterfeit Sriracha), high time to update the pantry and way past time to clean the fridge. Oh my heavens, there's the last of the Easter ham in there! That means that before it's time to hoist handles of Malibu Red off on unsuspecting co-workers or scrape mystery residue off fridge glass, it's sandwich time! Here are 11 suggestions that don't involve a Cubano, and one that does. Sorry, Cubanos. You're easy prey. And I prefer medianoches.
1. Barbecue ham
Pulled pork may be the perfect protein to douse with barbecue sauce, layer in a bun and douse with barbecue sauce again before going in face-first, but you'd be surprised what the spicy-tangy condiment will do to salty, porky ham. It's very similar to a barbecue pork sandwich, but with all the tactile satisfaction of toothsome glazed ham.
2. Smear in a thick layer of béchamel
Learn to make a croque, only actually do it because you totally have never made one.
3. Enlist pumpernickel
Little-known fact: it's the official sandwich bread of ham. The sweetness of the molasses and brown sugar and earthiness of the dark rye and whole wheat couldn't pair better with ham.
4. Ham salad
Here's a recipe for classic Southern country ham salad, a.k.a ham spread, and here are a bunch of ideas on how to make your own. It's like chicken salad, but obviously…come on. It's ham salad.
5. Pineapple
It does indeed go in a sandwich. This one, with the ham.
6. Cheese and pickle, but not a Cuban0 (also, a Cubano)
England's cheese and pickle sandwich contains no pickles but rather a spicy-tangy-sweet chutney-like condiment made of pickled vegetables, known as Branston. It really loves leftover glazed ham, as does proper aged cheddar.
7. Alternately, fine, make a Cubano.
8. This very tartine
This one here.
9. Bagel, cream cheese, ham
Looks somewhat similar to smoked salmon if you squint, and tastes like creamy, tangy pig heaven.
10. Hamz 'n Jamz
Not grape. Not something weird. And while cranberry is certainly more of a traditional pairing, absolutely nobody has cranberry sauce around right now. Strawberry, apricot, rhubarb and marmalade all go spectacularly with ham. See also: brie.
11. Reub-ham
Leftover ham kind of resembles corned beef, maybe pastrami, so feel free to treat it as such in the best Reuben you've never had.
12. Roasted tomato mayo
This condiment I invented pairs well with a shocking amount of lunch foods. Simply quarter a ripe plum tomato, then olive oil, salt and pepper it, roast it at 375F for about 15 minutes, let cool, roughly chop (use a flexible cutting board to save all the juices) and mix it with a cup of regular mayonnaise. Try it on your ham and pumpernickel.
Okay, now that the ham's finished, let's scrape that stuff off the fridge glass. Or not. Maybe tomorrow. Or next week.
More leftovers for lunch on Food Republic: