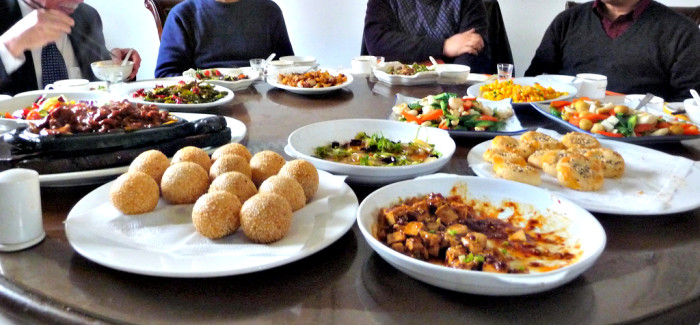 On the front page of today's New York Times lands a story about austerity measures being taken in China under the newly anointed President Xi Jinping. Austerity does not come easy in a country where spendy government-sponsored retreats are a matter of course. But it appears that the Communist party leaders are being hit hardest in the belly, with widespread calls for "self-restraint" when it comes to ordering food and drink.
The Times reporters point to a new rule that limits ordering to "four dishes and a soup" — a reference to the country's great tradition of lavish, multi-course banquettes (a tradition that was often paid for with tax dollars). The article goes on to offer a fascinating glimpse into the food-centric lives of Chinese bureaucrats, and how the times are possibly changing. Some highlights:
"Sales of shark fins had dropped more than 70 percent, and sales of edible swallow nests, the main ingredient of a $100-a-bowl delicacy, were down 40 percent."

"Moutai, the $600-a-bottle gut-searing grain alcohol that is an omnipresent intoxicant at official banquets, has also seen its growth slow recently."

"The China Cuisine Association said that 60 percent of restaurants surveyed last month had experienced a drop in reservations, with government-sponsored banquets down by nearly a third compared with the same period last year."

"So far, most victims of the frugality drive have been purveyors of the good life: high-end caterers, abalone wholesalers, five-star hotels and makers of Yellow Pavilion cigarettes, the $300-a-carton brand coveted by up-and-coming bureaucrats."

"At the headquarters for China's armed police, where two branches of the restaurant face each another across a courtyard packed with government-issued Audis, business was down by a third, restaurant executives said. The drop in revenue prompted the company to mothball one of the two restaurants, cut prices on some dishes and start offering half-size dishes to show the company's dedication to Mr. Xi's moderation credo."
Many see these measures as simply a token gesture, and only temporary. "More than just restricting people's eating habits, we need to restrain the party's power, otherwise this is just political farce," Wu Qiang, a political science professor at Tsinghua University in Beijing, told the Times. But in the meantime, for Chinese government heavies, the Moutai is being left in the cabinet.
---
Read more about Chinese food and politics on Food Republic: