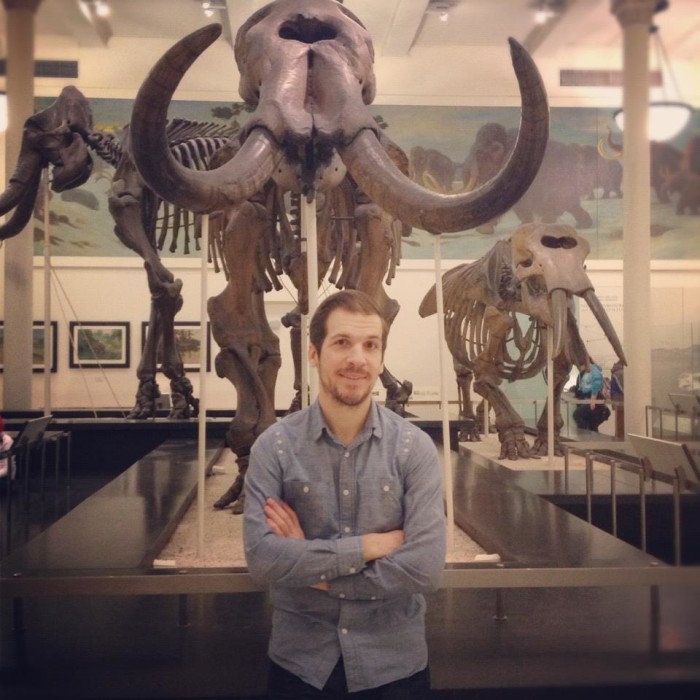 Earlier this week a Guy Fieri video prank went Internet platinum. Wait, you missed it? In it, comedian Chris Rose went to Williamsburg, Brooklyn to interview citizens about the "breaking news" that Guy Fieri was opening a restaurant in their bleeding-edge nabe. The takeaway: citizens were not so happy. We caught up with Rose, who hosts live comedy show Late Night Basement each month at Legion in Williamsburg, to find out what he really thinks about that Guy.
What inspired the video? Did you personally have an issue with Guy?
I work near Times Square and my boss likes to fire and threaten to fire people, so my friends at work and I started a thing where every time someone would leave or get fired, we would have a going away lunch at one of the awful Times Square chain restaurants. We only actually did it once, but it got me thinking about all of the garbage in Times Square and how different of a place it is than the rest of New York. And how it's so weird that that's the place people want to visit first when they come to NYC. I don't have any personal issues with Guy, but I do think he's kind of the Limp Bizkit of food.
Have you ever been to Guy's restaurant?
I have. We went a couple days before we shot that as "research." I was expecting it to be not as bad as I had heard…but it was pretty awful. There were four of us and we just got appetizers, but every single person felt sick and "different" later that night. And I even ordered what was recommended via Yelp…the Jazz Fries or something like that. But I will say this, our waiter was very nice. We talked about Django Unchained for about 15 minutes.
Were there any supporters for a Guy Fieri project in Brooklyn that didn't make the video?
I don't think there were any all-out supporters. There were definitely plenty of people with ambivalence. It was a really cold day, so it was hard to get people to stop and talk about it for a few minutes either way. And here's one interesting thing we learned. Everyone walking around the Bedford/North 6th area of Williamsburg on a weekend is a tourist. Almost everyone we tried to talk to around there was from somewhere else. That was new to me. I didn't know Williamsburg was a tourist destination. We had to go out to the Lorimer and Graham stops to finally get some actual residents.
What is Late Night Basement, and are you planning any more food-related videos?
Late Night Basement is a live late-night show every month at Legion in Williamsburg. This video was from our second episode and I'll be putting out more from that episode later this week. Here's a video from our first. Our next episode is going to be on Thursday, April 18th, and I'm really excited that Mike Maronna (a.k.a. Older Pete from Pete & Pete) is going to be a guest. I moved to New York almost four years ago because my goal is to write and produce for a late night show, but so far have just been met with dead ends. So, Late Night Basement is a way for me to produce things myself and try to get them out there until that hopefully happens.
Bottom line. Should Guy move to Brooklyn?
Ha, Guy should not move to Brooklyn. I think some of the response on the Internet has been a little harsh as in like, "oh look at these stupid hipsters," but that wasn't actually my intention at all. Everyone in the video was really nice and I wasn't trying to make fun of them necessarily as much as the deep-fried juggernaut that is Guy Fieri — and be a little tongue and cheek about the Brooklyn food scene. It's funny to be up in arms about Williamsburg, but I do think it's a great place. Guy's restaurant was pretty terrible, so hopefully he'll keep it just in Times Square.