On Lunch, Love And Kielbasa: 5 Ways To Work The Iconic Tubesteak Into Lunch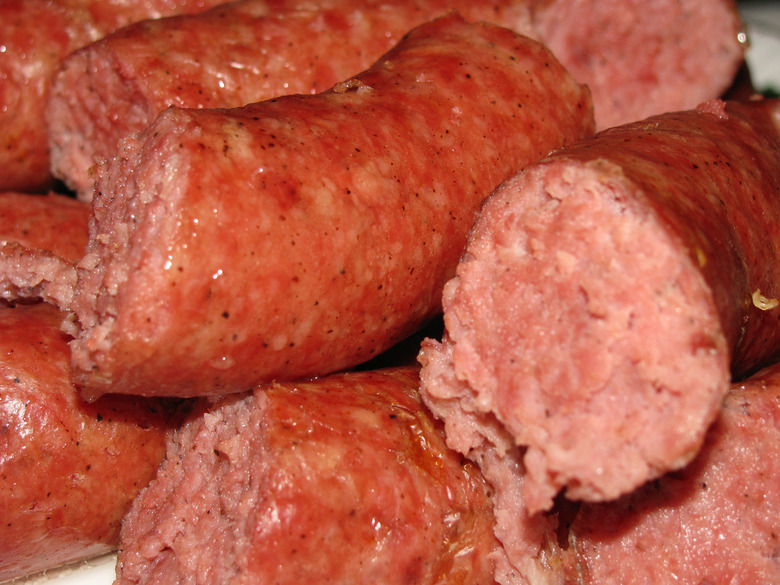 Mmm, macro kielbasa. That's right, get real intimate-like. Suddenly, I'm reminded of a list of ethnicities I would like to move in with for no reason other than the prospect of lots of ethnic food:
Japanese
French, preferably Alsatian
Malaysian
Turkish
Belgian, because "The couple that eats frites and waffles together stays together." — old Belgian adage
That said, yay for kielbasa, king of sausage! If you've got a hankering for sausage come lunchtime, no tubesteak on Earth means business more than this one. I respect kielbasa for the fact that it usually comes in one enormous link — rather than 6 to 8 puny links (sorry other sausages, you simply don't appear to mean business like kielbasa does) and that means epic sausage in the biggest bun you can find time.
Slice off a hearty portion, stuff it in a giant bun and...
Cut a deep slit down the length of it, stuff the gap with with shredded Jarlsberg and broil until bubbly and crisp. Then cover it with sliced pepperoncinis and pickled red onions.
Pick a few toppings from our trio of tricked-out Test Kitchen hot dogs.
Soak it in beer overnight, wrap it in however many slices of bacon it takes, then grill until the bacon shrink-wraps onto the sausage and the whole business gets a nice char.
Pimp your kraut: dump a standard-sized package of sauerkraut into a pot, add half a cup each of apple juice and beer plus a few peppercorns and cloves, simmer for 20 minutes, then drain and layer on top of your kielbasa. This process will yank the overly sharp acidity from the kraut and mellow it out into something it actually makes sense to add mustard to.
Okay, ready? This is one of my awesome "I'll only eat this in private" secret lunches: spicy Louisiana-style red beans and rice cooked with diced kielbasa packed into a tortilla around a large section of kielbasa. Kielburrito, or "the killer" for short.
So grab a pack and get crackin', this is no time to be shy. Grab the bull by the horns and show the world you're not afraid of what some might consider to be an intimidatingly big sausage.
More sausage for lunch on Food Republic: