Why You Should Drink New Zealand Pinot Noir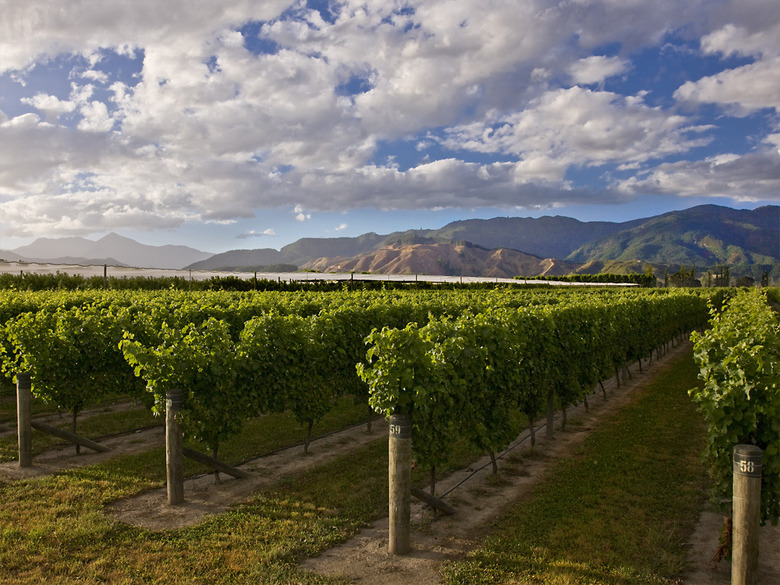 Mention New Zealand to most wine drinkers and they'll immediately think Sauvignon Blanc. But the aromatic white grape is not the only varietal the country does well. Kiwis are making more and better Pinot Noir than ever and are hoping the rest of the world will take note. Which is why every three years they host a big conference-slash-love fest in the capital to celebrate the grape. At this year's event, held last month on the Wellington waterfront, Pinot disciples from around the country and beyond (including the actor Sam Neill, best known elsewhere for his role in Jurassic Park, but here as the owner of Two Paddocks winery) drank and talked nothing but Pinot Noir for four days.
In case you don't remember this from the movie Sideways, folks can wax pretty poetic about Pinot Noir. As pragmatic as they're known to be, Kiwis are no different. "It's elusive," winemakers and drinkers alike are known to say. "It's brutal. It kills you," is another popular theme. "But it can be so rewarding." And, of course: "You'll never make any money off Pinot Noir. It's a labor of love." These associations with Pinot are what make people fall for it – Pinotphiles, they call themselves, as wrong as that sounds. For these folks, Burgundy, the grape's home, is mecca. Pinot Noir itself – hard to grow, subtle to appreciate – is more than a drink; it's an intellectual pursuit. So, why drink Pinot Noir from New Zealand? Here are three things to keep in mind.
1. The terroir of Middle Earth...
Pinotphiles love to talk terroir – that French term referencing soil, climate, altitude and everything else that makes a wine taste of its place. It's an especially popular concept with winemakers from the Old World. When talking to European vintners who have relocated to New Zealand, you often hear them say they were drawn to the sunshine, the soils, and the stunning scenery. "Every year is a good year," says the winemaker Hans Herzog, who left his native Switzerland to grow grapes in Marlborough. In the Old World, bad vintages are almost as common as great ones.
2. It's easy being green...
New Zealand Winegrowers (NZW), the official industry association, mandates that all members have a certified sustainability program in place. This means that a good number of wineries are certified organic or even biodynamic, and nearly all of them are at least certified sustainable. It's not about restricting the use of pesticides and herbicides, says Philip Manson of the NZW. It's about encouraging wineries to be conscious of their water and energy usage, and the overall environmental impact of their production, from farming to packaging.
3. Burgundy, Shmurgundy...
Pinotphiles tend to be obsessed with Burgundy. You might hear them describe a wine as "Old World-style" or "Burgundian." Such comparisons can cause one to cringe. But compared to other New World wine regions, like Australia and South America, New Zealand offers a wide array of Pinots that are vibrant, yet restrained in character. You find Kiwi Pinots that are not overly manipulated, over-extracted or over-oaked. They have lovely fruit, of course, given the climate. And, as the vines and the industry mature, they are developing more and more depth and complexity.
While the New Zealand section of your local bottle shop is sure to be heavy on the aromatic whites, retailers and restaurants are discovering the pleasures of the country's other wines, especially Pinot Noir. Here are five Kiwi Pinots to look for:
1. Seresin Momo 2010 ($20): From Sauvignon Blanc country (a.k.a. Marlborough), this pretty, floral wine has dark, juicy fruit and herbaceous flavors. Overall, it's delicate, but with a fine tension and complexity in the mouth.
2. Fromm La Strada 2010 ($25): With a winemaker who is one of the many Old World transplants, this Marlborough Pinot Noir is elegant yet earthy. It's full of red fruits, savory in the mouth, with hints of spice.
3. Rippon Mature Vines 2010 ($46): Made from some of the oldest vines in striking Central Otago, this biodynamic wine delivers floral notes, bright fruit, and an almost salty minerality that calls to mind the schist soils the region is known for.
4. Felton Road Bannockburn Pinot Noir 2010 ($40): One of the country's most acclaimed wineries, also located in scenic Central Otago, makes this intense Pinot Noir, with bright cherry character, great acidity and deeper earthy notes.
5. Neudorf Moutere Pinot Noir 2010 ($38): Fruits of the forest flavors give way to more peppery and savory notes here. From one of New Zealand's most respected producers and some of its oldest Pinot vines.
Now, check out stories about wine in different countries on Food Republic: