Talking St. Patrick's Day Food With Irish Chef Clodagh McKenna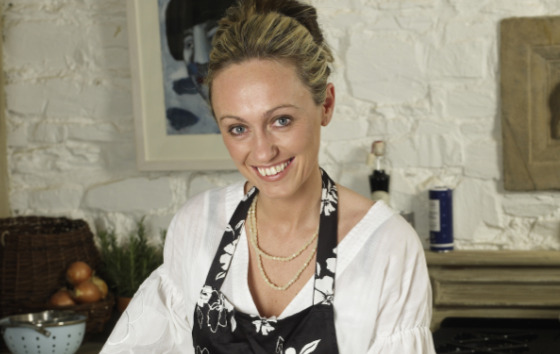 Irish chef Clodagh McKenna is the author of four cookbooks and stars in a television sh
We may receive a commission on purchases made from links.
I had always considered "chef crush" to be a largely fictionalized term, circulated by a certain (anonymous) Food Republic staff member, perhaps down on his/her recent dating prospects. That was all in the B.C.M Era, however — namely, before I met Irish chef Clodagh McKenna. And simultaneously began to ponder why I had never previously discovered the wonder that is an Irish accent.
Often referred to as "The Rachael Ray of Ireland," McKenna has authored three cookbooks, with a fourth work set to release this month. Her television show "Clodagh McKenna's Irish Food Trails" is currently airing on PBS. She stopped by our New York office this week to discuss St. Patrick's Day food traditions, the holiday's differences in the United States and Ireland, and cooking with fresh pig blood. Mmm.
What are you doing in your 10 days here in New York?
Eating a lot [laughs]. I'm doing a lot of press for my new cookbook, Kitchen Diaries and a pop-up at The Whitney Museum's Untitled on Saturday night with Chris Bradley. He has been amazing to work with, going as far as sourcing me fresh blood from pigs.
Whoa. Fresh pig blood, you say?
Yeah! So we can make black pudding. It is incredible with fresh blood — I hope that doesn't put you off — and is traditionally Irish. It's fresh blood mixed with different things like oatmeal, allspice, nutmeg and fresh mint. It gets baked in the oven and sliced up and is usually eaten for breakfast, although it is having a comeback now as a starter.
Do you use fresh blood in a lot of your cooking?
No, that's the only thing [laughs].
So, what is Irish food?
Irish food has been going through a revolt over the past 15 years. Anybody who visited Ireland for a culinary experience 20 years ago would have been disappointed, as I would have been. There wasn't a huge amount on offer, but there has been an emergence of farmers' markets and really cool artisan producers and farmers have come out of the woodwork. The second generation has come on and has started doing things like making chorizo and salamis from pigs. Apple farms are making aged balsamic and maple syrups. Because Ireland is so small, changes like that can happen quite fast.
What are some traditional Irish dishes?
I personally don't cook, or even eat, traditional dishes. There are some, though, mainly in the country areas and houses or in pubs. It would be things like lamb stews...I do actually make a beef stew with wild mushrooms, shallots, pancetta and Guinness, served with soda scones. That's delicious. Soups are a big traditional thing, as well.
Did you have any St. Patrick's Day traditions growing up in Ireland?
It is so different than how it is celebrated here. When I grew up, you would have to make the Irish flag in school during the week before — you would learn what the tricolor represented and the history of Ireland. A priest would come in and talk about St. Patrick and what he meant — it's quite religious. You would also make your own handmade broach with ribbon, a harp out of gold and you would get fresh shamrock, which would probably be blessed by your local priest. We all thought this was so fabulous [laughs].
What about food traditions?
On the morning of, my mom would always make a massive fry. The fry would include everything from Irish sausage to bacon to tomato to beans to mushrooms to black and white pudding. It happens in most houses and still does in my parents' every Sunday. We would have that, go to mass and then the parade, which would be tiny but would have Irish dancers, traditional music and the priest. You would be waiting patiently, because at the end they always had a sponsor that would throw out sweets.
Have you spent St. Patrick's Day in the U.S?
Yes, I have spent it in New York, Chicago and Miami — that last one was quite interesting. Here, it's a big party and it's a really fun experience! There are a lot of tourists now who come to Ireland for it, and so the party-central does definitely happen in Dublin, but it is still considered a holy day in traditional houses.
How did it become so party-driven?
It started here in the United States! The first St. Patrick's Day Parade was in this country...I'm nearly sure it was somewhere in South Carolina. Then it came to Ireland – we didn't have a parade originally.
What kind of drinks do you most associate with the day?
Guinness and whisky... and a lot of Irish dancing [laughs].
Dare I ask your thoughts on Irish Car Bombs?
What are they? I have never heard of them.
Oh, man. We'll have to take you out for some Americanized Irish drinking.Try out these recipes for St. Patrick's Day on Food Republic: