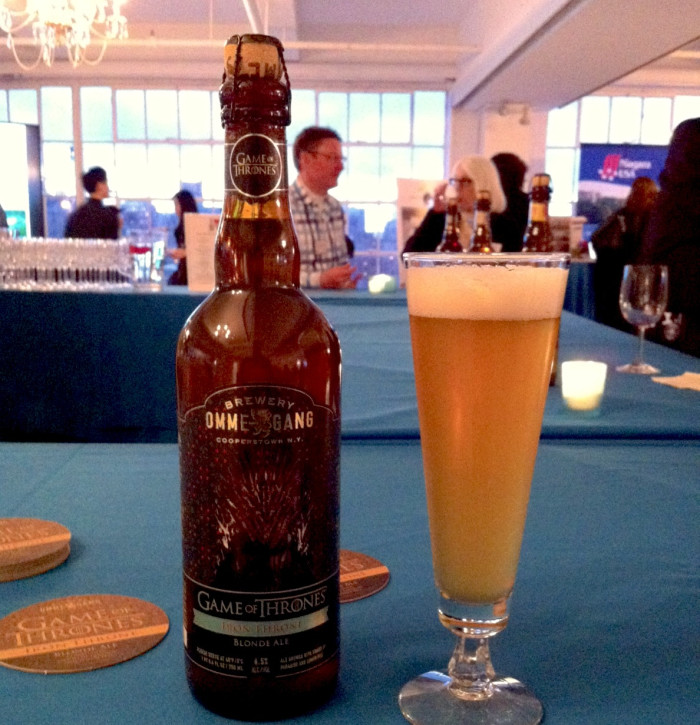 It may be getting warmer outside, but thanks to Ommegang's Iron Throne Blonde Ale, winter is coming back. When news of their collaboration with HBO on an official Game of Thrones beer first surfaced back in December, we could hardly hold our Baratheonesque thirst. We finally had a chance to try it this week and can confirm, it's fit for a king or in this case, a Lannister.
Ommegang's crew are big fans of the show, and HBO's crew are big fans of their beer. They worked together to create the ingredients and plan to release several beers in the series, including one more this year and two in 2014. We're hoping for a White Walker Witbier or a Stark Stout. This particular beer is made to represent House Lannister: while it may be fair in complexion, it's deceptively complex.
At 6.5% ABV, it's stronger than your typical blonde ale but the extra bite is well-hidden under citrusy tartness from the lemon peel and spice from the grains of paradise. It's also pleasantly bitter from the appropriately utilized Noble Hops. It's definitely a beer for those new to Belgian beer and longtime fans of the style.
Game of Thrones fans might find the ingredients familiar, since pepper beer and lemon beer are mentioned throughout the series. While the combination here is pure coincidence, the refreshing ale is a perfect pairing with the season 3 premiere on March 31st.
We have to give Ommegang credit for stamping this beer with both a bottling date (1/31/13) and a best by date (1/15, as in January 2015), which means you can age this Lannister-inspired ale and see it grow up (figuratively) like Tyrion or (literally) like Joffrey over the next two seasons.
Game of Thrones recipes to pair with your ale: