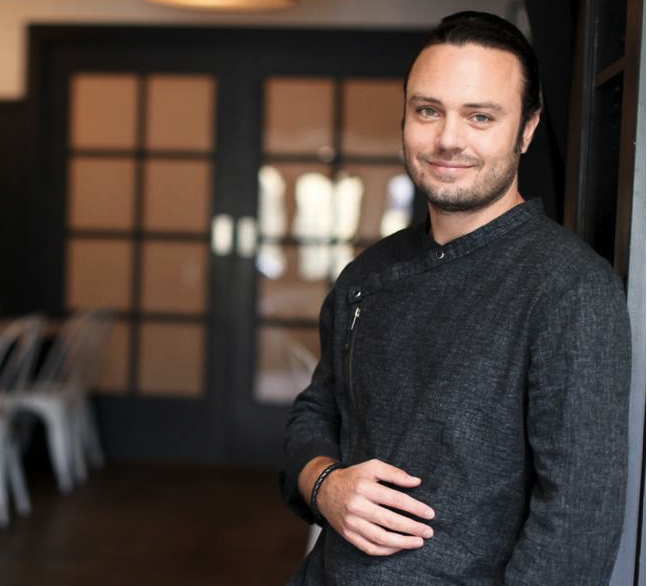 Japan and America have been engaged in a pop culture mutual appreciation society for years now. While we grab all the manga and sushi we can, they've been going nuts for baseball and Levi's. Chef David Myers may be the physical embodiment of this unofficial trade agreement. He currently has restaurants in Los Angeles, Orange County, Las Vegas and Tokyo and his newest venture, Hinoki & The Bird, is the love child of both nations.
A restaurant with a foot on both continents, Hinoki & The Bird is serving a menu that isn't interested in following the latest trend or redefining a genre. It's stylish pan-Asian food with a decidedly Japanese bent and a tremendous amount of elegance in its simplicity. That same elegant simplicity can be translated into fashion and Myers, as a chef who makes his living in both Tokyo and America, employs that concept in the kitchen and in his personal style.
You've expanded your empire from LA to Tokyo. What brought you to Japan in the first place?
I have always been intrigued by Japan and obviously it's one of the food capitals of the world. Having the chance to go there professionally was always a dream, so when I got that opportunity I jumped on it. I was approached with an interest in my first restaurant Sona to create a restaurant highlighting California-inspired cuisine with Japanese ingredients for Tokyo. That's the style of cooking that I love, so it was a no-brainer.
What sets Japanese style apart from the rest of the world?
I think the Japanese take an idea and make it better in some way. They put a lot of passion and a unique edge into everything they do, whether it be coffee, food, clothes, anything. They are obsessed with creating the best experience and they go to the ends of the earth to create that.
Do you dress differently when you're in Japan versus the U.S.?
In Japan everything is a bit more urban, like in NYC where everyone dresses up a bit more. It's colder, so I wear a scarf, jacket or maybe my Issey Miyake jacket. My style in Japan basically has the same feel and theme when I'm in the U.S. though.
What are your three favorite pieces you've purchased in Tokyo?
1. A leather Yoshida Porter duffle bag — it's the ultimate weekend bag.
2. Comme des Garçons suit — it's perfect to buy these there because they fit it for you right in the store.
3. Handmade split toe socks from Kapital in Roppongi Hills — they feel fantastic.
How would you define your personal style?
Simple. I like to wear jeans and Converses. But if I have to dress up, then I'll wear my Comme des Garçons suit.
I know you've got a crazy sneaker collection — can you tell me about it?
I have about 8 pairs of limited-run Converses that I purchased in Japan. I also have 5 pairs of PF flyers. Some of my favorites are some of the Converse, limited-edition collaborations with designers like Missoni, Undefeated, Bodega and Colette from Paris.
Favorite pair in your collection?
The Converse/Missoni collaboration.
Favorite American designers?
Converse for shoes, Levi's for jeans and James Perse for t-shirts and comfortable travel gear.
Favorite Japanese designer?
Comme des Garçons.
One piece of clothing (or accessory) that you can't live without?
A killer Spencer daily tote that was custom made for me. I love it and use it every day.
Are chefs more fashion-forward in Japan? Who's the Japanese David Myers?
Honestly, I wouldn't know because every time I see them I am out at a restaurant and they are always wearing their chef uniform. I think they have an inherently cool style no matter what.
More Food Republic Style Inventory on Food Republic: