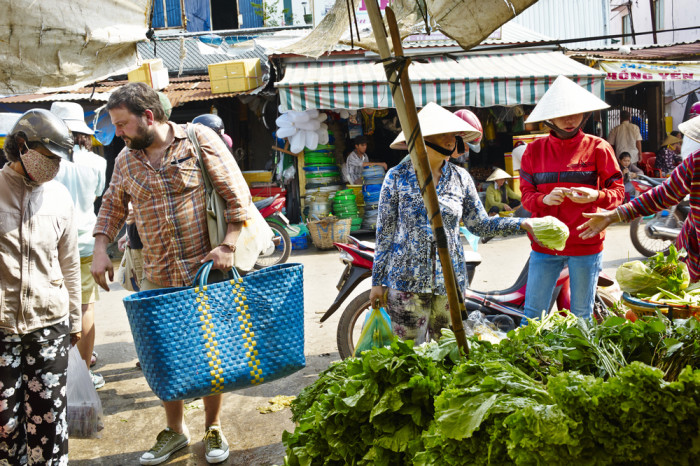 Contributing Editor Matt Rodbard is currently traveling around Vietnam with four American chefs. He'll be filing stories from the road, as well as posting to our Twitter and Instagram pages. The trip has been organized by our friends at Red Boat Fish Sauce.
It's only after you cross the motorbike-choked bridge spanning the fecally Duong Dong River and swing a sharp left onto Nguyen Trun Truc Street when the complete overstimulation occurs — like a child's first moments in the embrace of Walt Disney. But we're grown men and women on this trip, a party of food professionals and world travelers who has seen a fair share of markets around the world. The deep oranges and greens harvested from the earth. The quiver of recent death.
At this traditional wet market on the island of Phu Quoc, the intensity is ever-present. (Btw, it's called a wet market because of the constant spray of water over produce and on the floor of the fish section, which in Phu Quoc is stocked each morning from a cycle of boats mooring in the nearby docks.)
In Vietnam, people visit markets daily not necessarily for the health benefits or to feed an Instagram account. It's the way of life in a country where 70% of the population works in the agricultural sector and Western fast food has yet to fully infiltrate. Fresh produce, noodles, poultry, pork, sugar cane juice and dozens of varieties of seafood is sold every morning at these markets. It's where we found ourselves shopping for the evening's dinner, which you can read about here. But first, to the market! Photos by Morgan Ommer.