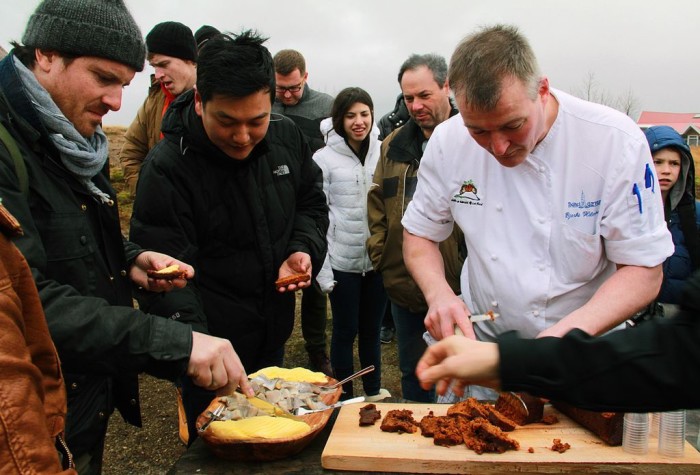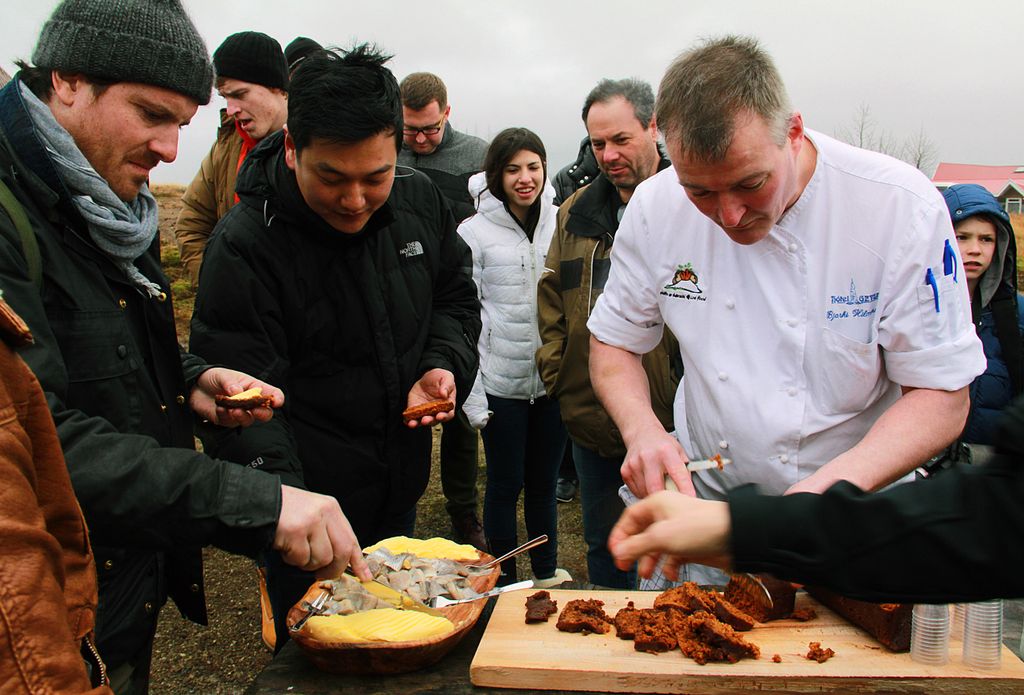 Click Here For A Slideshow Of Photos From Food & Fun Festival
There's nothing quite like watching a group of chefs stand around a geyser waiting for their eggs to boil. Clouds of geothermal steam swirl around them as the cheesecloth-wrapped eggs cook in a lazy stew of bubbling water and sulfuric gas. This primitive form of cooking precedes fire and pays no concern to the unrelenting wind lashing cheeks until they glow red on this bitter cold Icelandic day.
Bjarki Hilmarsson, chef at the appropriately named Geysir Hotel, pulls the steaming egg bundle up from its soupy pot in the earth. From another pool of turquoise blue water he retrieves rye bread that has been baking for the past 20 hours in paper milk containers. He places a bowl of sweet Icelandic butter and pickled herring at one end of his makeshift wooden workbench, slices up the dense, chestnut brown bread and peels the eggs before quartering them to reveal impossibly yellow yolks, before pouring generous shots of Brennivín, an Icelandic caraway spiked schnapps nicknamed black death for a reason. He then invites everyone to gather round and enjoy the feast.
It's an experience that could happen nowhere else but Iceland, a misunderstood nation that this group of chefs was discovering has less to do with elves and rotten shark and more to do with the generous spirit of its people and the pristine products that they sometimes are inspired to cook in the percolating water of a geyser.
Last week, 17 chefs from Europe and America gathered in Reykjavik to celebrate the Food and Fun Festival. The Scandinavian nation's largest culinary event pairs each chef with a restaurant in the city to cook for natives and tourists a menu of their own design. It's a way to generate business for the restaurants whose tables are perpetually filled during the four-day-long celebration. It also provides a means of exchanging ideas between the Icelandic chefs, who cook side-by-side with guest chefs that this year included Jamie Bissonnette, Seamus Mullen, Paul Cunningham (from Denmark), Fredrik Berselius (of acclaimed Brooklyn newbie Aska) and Esben Holmboe Bang.
Bang, chef of the two Michelin–starred restaurant Maaemo in Oslo, said what he appreciated most about his experience at Food & Fun was that "the food of Iceland reflects its surroundings. As a chef you are inspired by your environment and the cooking going on here is a reflection of this very personal way of cooking."
The festival provided ample opportunity for the visiting delegation of chefs to explore a nation that has incorporated the principles of New Nordic cooking into their own culinary repertoire. They have made the New Nordic manifesto their own through the use of ingredients like sea buckthorn berries, Arctic char, bacalao, lamb, blue mussels, sunchokes, angelica, lovage, Icelandic moss, skyr and rhubarb prepared using techniques like hay-smoking, pickling in fermented whey, cooking with pine and manure-smoking that, believe it or not, is much more appetizing than it sounds.
The Food & Fun chefs were at their kitchen stations at night as thousands of diners partook in the revelry that only a late Reykjavik evening affords. But during the day they explored. They visited a bacalao producer adhering to the nine-month-long technique of patiently preserving his cod in salt procured from the sea lapping at his doorstep. It's an ancient practice on the verge of disappearing in the wake of the modern technique of injecting the fish with a saline solution in order to deliver it to a marketplace that favors cheapness and efficiency over a culinary legacy demanding vigilance and time.
There was also a stop at Fridheimer, an organic greenhouse where the tomatoes grown by husband and wife Knúter and Helena are coaxed to candied perfection by warm geothermal waters and honeybees imported from Poland. Helena poured shots of Brennivín in hollowed-out tomato cups as chef Jón Sigfússon dished up tomato soup behind the counter of the greenhouse's restaurant, cleverly nestled an arm's length away from the tomatoes that, Jón explained, also contribute to the universe's best Bloody Mary.
There was also the requisite stop at the otherworldly Blue Lagoon, where the chefs bellied up to a bar positioned conveniently within the natural pool of warm, milky blue geothermal water. Another stop affording a this-could-only-happen-in-Iceland experience was at Kjöt & Kúnst, a restaurant specializing in cuisine cooked exclusively with geothermal heat. The meal included links of —gasp! — horse sausage, auspicious in light of the recent horsemeat scandal in Europe and elsewhere.
Geothermal pools and geyser cooking took a backseat each night of Food & Fun to a convivial competition between the 17 participating chefs and their host restaurants. Michael Ginor of Hudson Valley Foie Gras in New York and veteran judge of the festival said what keeps him coming back year after year is, "The camaraderie you experience here. Iceland feels like coming home to me."
That spirit of camaraderie was palpable during the festival's final event, where hundreds of eager diners gathered in an old warehouse to partake in "the world's largest supper club." The room was lit with a blue light whose geothermal glow made it feel like walking into an enormous ice cube. But there was nothing cold about the night. Lamb slowly turning on spits, an appearance by one of the members of the band The Sugarcubes (unfortunately, not Björk), traditional Icelandic songs belted out by one of the country's revered men's choirs, a dinner of traditional dishes served family style, free-flowing wine and beer, and laughter bouncing off of every corner of the room warmed the space and reminded everyone once more of Iceland's extraordinary ability to inspire revelry in the most unexpected of places.
Fredrik Berselius, the chef who ultimately won the Food & Fun competition, reflected after three long nights of cooking at the restaurant Dill, "Nordic cuisine and the Nordic spirit is not about a singular place. It's about using what you have around you to produce the best possible result." If the jovial atmosphere of the supper club that emerged from virtually nothing was any indication, it seemed the Nordic spirit was in full effect at this year's Food & Fun festival.