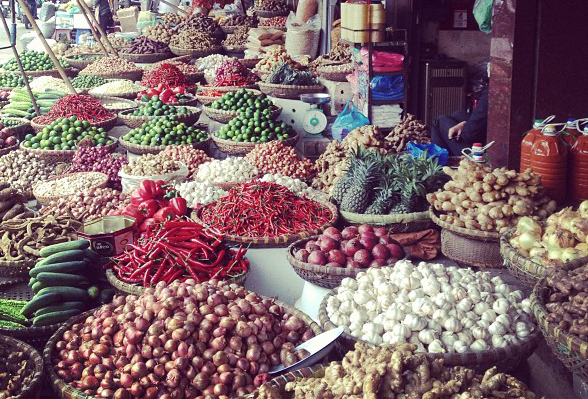 Contributing Editor Matt Rodbard is currently traveling around Vietnam with four American chefs. He'll be filing stories from the road, as well as posting to our Twitter and Instagram pages. The trip has been organized by our friends at Red Boat Fish Sauce.
Andrew Zimmern seemed kind of pissed on Twitter:
"@radbard @statebirdsf @chefedwardlee @Red_Boat @foodrepublic Ok, now I am really wanting to have been chaperoning," reads the tweet from a man who has visited 40+ countries, but was still bubbling with wanderlust (more like wanderenvy) when he saw that we were traveling around Vietnam with a bunch of chefs to learn about fish sauce and eat a whole bunch of very good things. For the record, Zimmern is now the trip's official spiritual advisor for chefs Paul Qui, Bryan Caswell, Edward Lee, Stuart Brioza and myself.
I'd met up with Lee and Brioza in Saigon after a morning flight from Hanoi — Qui and Caswell were already in Phu Quoc, Vietnam's largest island off the coast of Cambodia. This was our stop on the first leg of the fish sauce trail, where we're planning on doing some midnight anchovy fishing and to learn how the stuff is made. More on that later, but first the two chefs were in need of some lunch before our fight to the island. I'd been in Hanoi for a couple days and was pretty well adjusted to the time change, as opposed to Lee, who was traveling straight from the Charleston Wine & Food Festival and Brioza from 18 hours in the graces of China Air. Brave man.
We hopped a cab in search of an unmarked pho* stand our local friend had tipped us to, which was so unmarked that our cabbie couldn't find it. We settled with Pho 24, a mega-chain that some have compared to Chipotle. It was a solid baseline for the two chefs who had never been to Vietnam — a ho-hum clear beef broth bobbing with the extraordinary rice flour noodles that are very much the norm around the country. (Side note: The broths found in the south are typically sweeter than the north.) But these noodles you find here are simply perfect — white as the sands of Con Dao and tender. Even if the broth is dull and the D.I.Y. condiment choices misguided (over-saucing with too much nuoc cham or Rooster sauce can be an issue), the noodles are the savior here. Lee and Brioza went with straightforward bowls, ripping up culantro and Thai basil with jeg-lagged abandon. (I went with bun bo, as I'd had my pho that morning, when the soup is traditionally consumed.)
Sensing that the airport would be chaos, which it was (the Vietnamese, known equally for incredible noodles and sharp elbows), we cabbed it back just in time to catch our flight to the beach. On the way, Brioza and I checked out the frozen packages of shad roe and snake skin being sold near the gate. Certainly beats a roll of Mentos.
* There is some debate as to how you pronounce Vietnamese noodle soup. Is it Fu-uuuuuhh? Foe? Here's a great story on the subject, detailing different regional dialects. With an attempt of being culturally sensitive, let me just say that going the foe route might not be the correct choice.