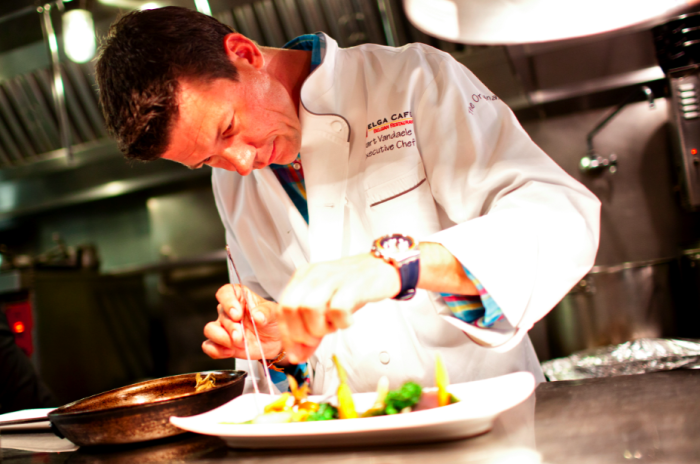 "Belgians need to stand up and say that the B stands for being the best!" says proud native chef Bart Vandaele. The former contestant on Season 10 of Top Chef attended culinary school at age 12, learning skills that would lead him to a stint in Belgium's two Michelin-starred Restaurant Scholteshof and the role of Executive Chef to the U.S. Ambassador to the European Union.
Vandaele has been at the helm of Belga Café, a Belgian restaurant in Washington DC, for the past eight years and is opening a second named B Too next month. We caught up with the affable chef to talk about what he deems Belgian food's superiority over even French, cooking with beer, being knighted by the King of Belgium and his serious love of, um, crazy socks.
What exactly is Belgian food?
It is down to earth and we really focus on the product and where it is originally from. My best memory of Belgian food is my grandmother going to her backyard, grabbing what we wanted to eat, like a little chicken or a rabbit. It's also very soulful and brings people back to the table. You sit at the table with your family and eat together. When you're done with eating your meal, you talk about what you're going to eat during your next meal.
I feel like all we hear about here is moules-frites…
That's mussels and Belgian fries — remember, there are no such things as French fries! Mussels are called "black gold." We eat more mussels than the Dutch can produce. A good pot of mussels is about two pounds.
What are some misconceptions that Americans might have about Belgian cuisine?
I think the biggest misconception is that our food really is the best in Europe. When the French want to eat very well, they come to Belgium. We have more Michelin stars per capita than the French, so that makes us better.
Can you give us some basics about cooking with beer?
It's always about not overthinking it. Follow a simple rule and cook with what you want to drink.
What is a type of beer to avoid cooking with?
Be careful about using anything too hoppy, like an IPA, and don't over-reduce it because it will be very, very bitter. For something like a beef stew, you can use a Trappist or an Abbey — a strong, dark ale.
What are some beers that you would recommend to cook desserts?
Most of the time, people only think of fruity ones, but you don't always have to stick with those. I think of Hoegaarden for example — we make a nice float with two scoops of ice cream, some honey and Hoegaarden beer. It's our version of the root beer float, which I never understood when I came here. "How can you make beer out of roots," I would always ask.
Belgian beers have been exploding in the U.S. Do you have any favorite breweries?
Brewery Ommegang because it's Belgian-owned. Stella Artois really put the highway in and also Duvel, which made clear that a Trappist is the staple and the Belgian beer. I don't think that you can copy those recipes — they are ages and ages old. And what is the key ingredient behind making good beer? Water. It has a flavor to it anywhere you are.
So why is the water so good in Belgium?
It's because we make beer and don't waste so much of it [laughs]. Don't waste water, drink beer!
What is B Too going to be like?
We are revisiting the roots of Belgium but making it completely modern. We are taking the ingredients of super classic dishes and making new dishes with them. We are going to have a waffle bar with seven or eight different waffle irons and you will be able to get them to go. I want to promote Belgium as much as possible. We have a Belgian interior designer, someone who makes plates from Belgium, more products from Belgium.
Is there a big Belgian population in DC?
No! But a lot of tourists come to the restaurant. I think B Too will be the eighth Belgian restaurant in the city. I want people to know that I am the Belgian chef: I have my Belgian passport, I am knighted by the King of Belgium.
Whoa. Can we talk about your being knighted?
Yeah, absolutely. The first one was the fun one, being knighted at the Brewers Guild. Getting knighted in front of the King's house was quite an honor. I love to talk about Belgium and I never have loved Belgium more than when I was there.
What was the process like?
I got a nice letter from the ambassador recognizing me. They didn't hit me with a sword on the head or anything [laughs]. I got a medallion and a lapel.
Do you go to Belgian restaurants in New York City?
Yes, I know them all. Petite Abeille, Markt, Resto, BXL. I go to all of them. I miss when Markt was in the Meatpacking District, it was really beautiful. They've been opening different BXL's all over the place now, too.
I have to ask you about being a sock collector. How exactly did that start?
As long as I can remember, I have never liked black socks. White is even worse. I probably own about 70 pairs of socks in all different colors and patterns. I just love them! Now everybody knows that if they don't know what to get me for a birthday present, they can get me a pair of socks — but they have to be as crazy as possible [laughs].
Read these recent interviews on Food Republic: