Big Weekend: Charleston Wine And Food Festival Wrap-Up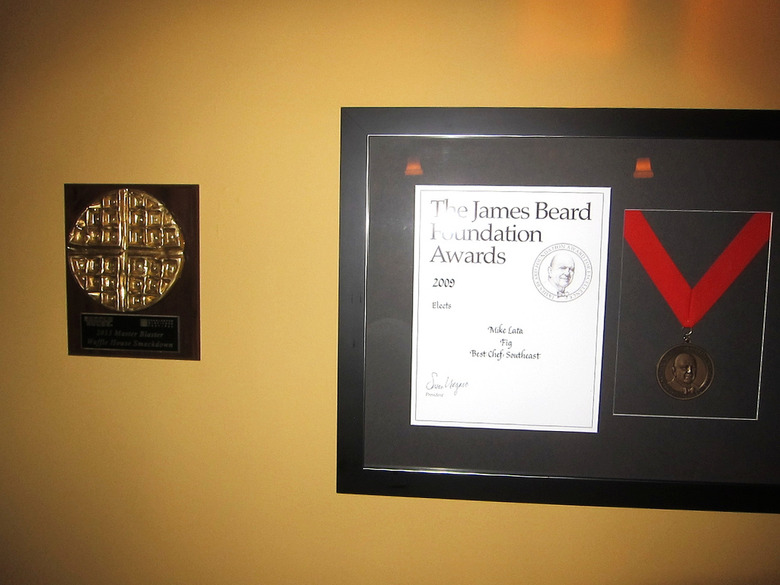 While the weekend weather might have been cold and blustery, attendees to the 8th annual Charleston Wine + Food Festival left with the assurance that the culinary scene in the Holy City is still decidedly hot. With three consecutive James Beard Award winners for Best Chef-Southeast from 2008-2010, Charleston could throw a pretty significant party with just local talent. Add in an impressive roster of their friends who flew in from around the country to play with them in the kitchen and in the bars after hours, and you've got the makings of a crazy weekend.
The opening party was held Thursday night with "A Salute to Charleston Chefs" in the South Carolina Aquarium. This was a very appropriate venue, as thousands of revelers felt like they were swimming upstream to make their way between tables featuring wines and small bites from almost 30 of Charleston's favorite sons and daughters, including two of those Beard winners, Sean Brock of Husk and McCrady's, and Mike Lata of FIG and the wildly popular new arrival to town, The Ordinary. Potential future Beard winners like Craig Diehl from Cypress, Jeremiah Bacon of The Macintosh and Nico Romo of Fish Restaurant joined stalwarts Fred Neuville of The Fat Hen and Frank Lee from Slightly North of Broad to feed the throngs of hungry locals and visitors. Perhaps the only one unhappy about the situation was the poor bald eagle situated in his open cage at the top of the escalators, who had probably planned for a quiet Thursday evening before somebody left the doors open.
Festival executive director Angel Postell kicked off the official opening ceremonies in Marion Square Park on Friday morning with a series of Festival awards, including the Laura Hewitt Culinary Legend Award, which went to the local favorites Matt and Ted Lee, just in time for them to celebrate the release of their latest book, and the Marc Collins Chef Award won by Mike Lata. A new award to recognize national chefs for their contributions to the Festival was named after Frank Stitt and went to...well, Frank Stitt, and deservedly so, in recognition of his decades of excellence in food and wine at his three Birmingham, AL restaurants (restaurants that for years held the unofficial title as "The Best Restaurants in Atlanta," despite being an hour and a half away by interstate).
Patrons enjoyed milling around the tasting tents sampling wine, booze and specialty foods over the course of the weekend. Educational opportunities abounded with many chefs performing demos in the SCE&G Celebrity Kitchen and interviews with some of the South's beloved food and beverage luminaries being conducted in the Southern Foodways Alliance Culinary Hub, which served as sort of a "front porch destination" for Festival attendees looking to sit a spell and enjoy some tasty beverages while listening to John T. Edge interview Julian van Winkle, Allan Benton, Andre Prince Jeffries, Sam Jones and others.
The evenings were reserved for "Perfectly Paired Dinners," where local chefs teamed up with guest chefs and winemakers from around the world to create unique tasting menus. Some of the match-ups were fascinating and produced really memorable meals. Ken Vendrinski of Trattoria Lucca, probably the hottest Italian restaurant in Charleston, joined with Memphis wunderkinder Michael Hudman and Andy Ticer of Hog and Hominy to introduce some real soul to the cuisine of the boot country. New York chefs Michael Anthony of Gramercy Tavern and Chris Bradley from Untitled at the Whitney collaborated with the Lee Brothers to bring their urban twist to some prototypical Charlestonian ingredients like shad, radishes and blue crabs. The New + Notables Dinner was hosted at McCrady's by Jeremiah Longhorne, who opened his kitchen to Katie Button of Curate in Asheville, NC, Atlanta's Ryan Smith from Empire State South and NYC's Sarah Simmons from City Grit.
Perhaps the highlight meal of the entire weekend was a tribute to Frank Stitt, where diners paid a cool grand each to enjoy a menu created by some of Stitt's favorite chefs, whom he selected to pay homage to his perspective on Southern food. The impressive list of chefs included Hugh Acheson from Empire State South, 5 & 10 and The National; Ben and Karen Barker, recently retired from Magnolia Grill in Durham, NC; and Linton Hopkins of Restaurant Eugene and Holeman & Finch in Atlanta. Local luminaries Sean Brock and Mike Lata held down the kitchen with all the guest chefs and contributed their own genius to the proceedings.
The most entertaining event of the Charleston Wine + Food Festival was decidedly more lowbrow. The first annual Waffle House Smackdown pitted two local chefs, Lata and Charleston Grill's Michelle Weaver, and two visitors, Ashley Christensen of Poole's Diner in Raleigh and Ed Lee from Louisville's 610 Magnolia, in a competition to show off their short order skills. The winner would receive the coveted "Master Blaster" award.
Lata, Weaver and Christensen all spent time leading up to the fest working in local Waffle Houses, learning the lingo and the standards that characterize a perfectly smothered and covered order of hash browns and the ingredients in a Fiesta omelet. Weaver ribbed with Christensen during their preliminary round cookoff, saying "I was taught that they are hash browns, not hash tans."
Apparently, Lee missed that day of class because he was hilariously out of place behind the griddle, cribbing off of Lata's plate and asking, "What am I doing? Why am I doing this?" as he totally ignored the order to "Drop one Fiesta plate, hash in a ring scattered and smothered." The panel of Waffle House employees serving as judges were aghast when Lee said, "Screw it, I'm just gonna cook something delicious" and squeezed a packet of grape jelly into his potatoes. The panel was not impressed as they advanced Weaver and Lata to the finals.
In a stressful, complicated 10-minute cookoff, Lata emerged victorious with perfect scores from all the judges for his breakfast presentation. The odds-on favorite thanks to his reputation for obsessive attention to detail in his restaurants, Lata was clearly proud of his accomplishment. By the time the chefs and guests arrived for the unofficial Festival after-party at FIG Saturday night, his Golden Waffle Award was hanging on the dining room wall, right next to his Beard Award. A Master Blaster, indeed.