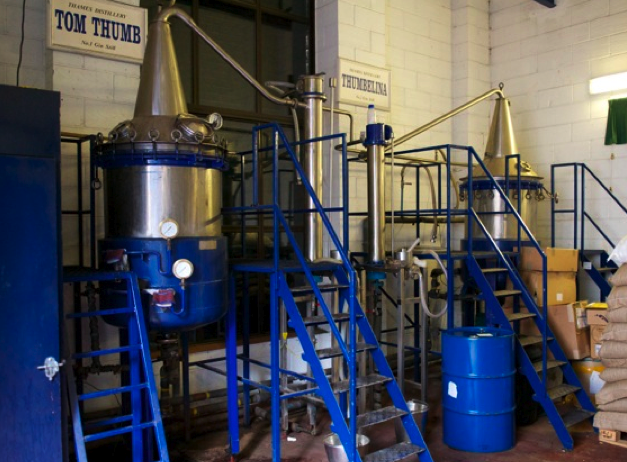 Gin is my favorite spirit. It might have something to do with the fact that I am English and grew up drinking gin & tonics, but the main reason is because of the complexities it delivers to a cocktail, which, in my humble opinion, no other base spirit does quite as well. A good gin is made by flavoring neutral alcohol with the essential oils of herbs, spices, fruits and roots, commonly called botanicals. These oils, when used in gin, really come to life when awakened by a shake or a stir.
Gin first evolved when the British and Dutch East India Trading Companies discovered exotic herbs and spices from all over the world. When they brought them back to their mother counties, they were used for medicine, cooking and, more profoundly, gin. In quality gins today, you can find anywhere between four and 31 different botanicals used. This wide range of recipes should give you some idea of how much flavor variation there is between different gins.
Gin has played a huge role in my career since I first started working for Plymouth in 1998, a role that took me around the world teaching the virtues of the spirit and gave me the privilege of assisting in re-launching the brand in the United States in 2002. Later on, I would also get the chance to work on the mighty Beefeater Gin with Desmond Payne and his team. So when Allen Katz of the New York Distilling Company invited me along to help him mess around with a 300-liter still and a bunch of crazy botanicals to develop the recipes for Perry's Tot and Dorothy Parker Gin, I jumped at the chance. This natural progression would lead me to consider making my own gin. I pulled from the knowledge and ideas that I had picked up during my 15 years in the juniper business and, like that, enter Fords Gin!
Because of my belief that the spirit should be made for mixing, the process of making Fords Gin started with a flavor map where we matched botanical flavors to cocktails. I took this draft to London and gave it to our Master Distiller, Charles Maxwell, to decipher. And so began the process of making gins.
Every three weeks, we would distill three or four gin recipes and ship them to the U.S. for tastings and testing in classic cocktails, having enlisted some of the industry's finest bartenders to help us. We would compile feedback and take the information back to London for further recipe development. As you might imagine, developing gin is a lot of fun, and many martinis, g&t's, Negronis and Tom Collins were enjoyed in the process. After over a year of distilling and testing, we finalized the recipe for Fords Gin. It was a day that I remember well, as Dushan Zaric and Dale DeGroff were at the distillery in London with me.
So, how is gin made?
Fords Gin is made at Thames Distillers in London, in two 500-liter pot stills that we call Tom Thumb and Thumbelina. The botanicals are placed into the still with water and neutral grain alcohol and left to soak for about 15 hours — to really draw out the flavors of the botanicals. The stills are then heated, cooking the botanicals into the neutral grain spirit, which vaporizes and condenses, marrying everything together. The resulting liquid is gin. The final stage before bottling is the addition of water to the gin in order to bring it down to the desired proof. We ship Fords Gin to Ukiah, California in bulk and add the water there. This process reduces our carbon footprint. Additionally, the water in Ukiah comes from a well in Mendocino County that is flawlessly pure.
As you can tell from this, gin is not the most complicated of spirits to make. It is, however, difficult to make well. The true challenges lie in making sure you have a solid recipe and quality ingredients. In the end, Fords Gin was made with nine botanicals (juniper berries, coriander, lemon, bitter orange, grapefruit, cassia, angelica, orris and jasmine). Each botanical plays a specific role in making the palate balanced and the flavor work in cocktails. These are exotic spices that come from all over the globe and each one of them has its own story of agriculture and history, eventually finding themselves all together in one recipe. We may say, "It doesn't take an Empire to make a Gin" on each bottle, but in reality, it really does.
More Drink Ford Tough columns on Food Republic: