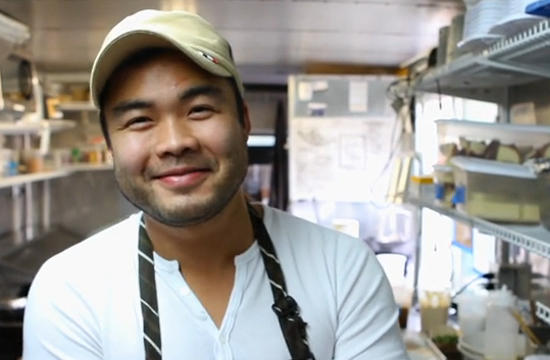 In early March, Food Republic will be heading to Vietnam with four top American chefs to eat and drink our way around the country. We will visit the magical cao lau well in Hoi An. We'll hit the Ben Thanh Market to possibly drink some cobra wine, which is most certainly a thing. Joining us: Edward Lee (610 Magnolia in Louisville), Stuart Brioza (State Bird Provisions in San Francisco), Paul Qui (Qui in Austin) and Bryan Caswell (Reef in Houston). The trip is being organized by our friends at Red Boat Fish Sauce.
As we've well documented on this here website, Austin chef Paul Qui had one hell of a 2012. The Top Chef Season 9 winner also took home the coveted Best Chef: Southeast at the James Beard Awards in May for his work at Uchiko. He traveled to Paris, London, Tokyo, Portland and New York City (multiple times) for events and to soak up his surrounding in advance of his biggest news yet — the opening of a namesake restaurant that he hopes to have running by March. But first, a quick trip to Vietnam. Why? Why not.
What is your experience with Vietnamese food? Do you order it a lot in Austin?
I went to school with a lot of Vietnamese kids and my first experience with Vietnamese food was with pho when I moved to Springfield, Virginia. All my best friends are Vietnamese. I used to go over to their houses and their moms used to be making spring rolls and bánh xèo (Vietnamese crepe) all day long. Vietnamese became my comfort food. After high school, I moved to Houston, which has a huge Vietnamese community. My go-to there in college was bánh mi – It'd be like $1.25 for one and if you bought five, you'd get one free.
As a chef, why do you like Vietnamese food? Because the flavors are pretty balanced and clean?
Yeah, absolutely. Same thing with pho. It's so clean. The big thing about it for me is that it's pure, especially if the broth is made well. It's a super simple broth and that's a technique that the Vietnamese have gotten from the French. The best phos that I have had have been crystal clear.
Have you been to Vietnam?
I have never been.
What do you want to get from this trip?
I definitely want to experience Vietnamese food in the country. One of my favorite ingredients in the kitchen is fish sauce and I am really stoked that I get to learn the process behind making it. I want to see what the byproduct is. I want to see what else I can discover about fish sauce that I might be able to utilize in whatever I'm doing in the kitchen right now.
Have you tried the salt at all?
Oh, yeah. The salt is amazing. I cured fish and meats with it. I used it in rubs, in all sorts of things.
Where have you traveled in Asia?
I've done Japan, Manila and Thailand.
Let's talk about the new restaurant. Do you want to do any research in Vietnam for the opening menu?
Definitely, it's something that I can get a lot of inspiration from. Just look at the whole setup of Vietnamese food in general. When you order pho, you get your limes on the side, your chilies, your hot sauce, your hoisin, your herbs and your beansprouts. There are a lot of different dishes that are like that, where the setup is very communal. Have you ever had the whole roasted catfish (ca nuong)?
Yes, I had it on a trip in 2010.
It's slow roasted so the skin is crispy, then you have your side of lettuce, your fish sauce, that other fermented sauce that they make and then like three other things. You kind of make your own bite. There are other dishes like that, and I really appreciate that kind of format. There are definitely going to be hints of those foods at Qui – not necessarily Vietnamese, but foods that when eaten can be very similar.
How close are you to opening?
Now that I am going to Vietnam, we are going to open a week later than we originally planned.
Are there any techniques in the kitchen that you really want to check out?
I definitely want to see some Vietnamese techniques — I've always wanted to learn how to make a really good bánh xèo — the Vietnamese crepe. It's hit or miss in most places and as far as Vietnamese technique goes, it's simple and straightforward. I want to be able to see how it tastes and how it's seasoned while they're cooking it.
Also see: