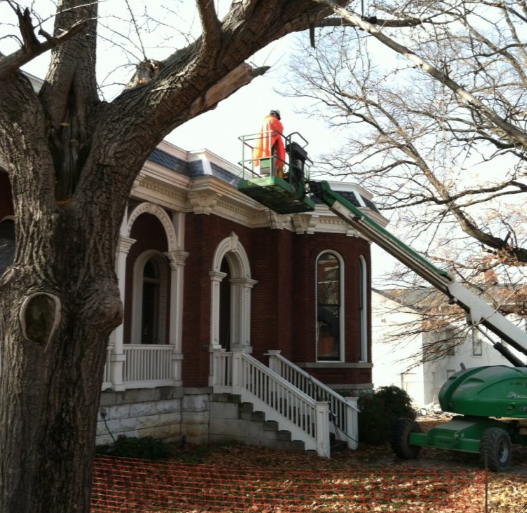 The sound of power tools has been silenced at 37 Rutledge Street, the future home of Husk Nashville, the latest addition to the Neighborhood Dining Group's portfolio of boutique restaurants that includes Husk and McCrady's in Charleston. David Howard, the president of NDG, is patient and unconcerned about the temporary construction delay, which is normal during the transition between demolition and rehab as permitting and codes issues await final approval.
"Nashville has the most supportive and cooperative codes staff I've ever worked with," says Howard, who should know, having opened many restaurants during his career. "We knew we definitely wanted a building with architectural interest. That was a must. If we couldn't find it, we wouldn't come."
Once Howard and Sean Brock decided that they wanted to bring the Husk experience of a "Celebration of Southern Ingredients" to the Music City, their search for a location was unsophisticated. "The first time I visited, I came with Sean Brock since he had lived here and could show me how to get around." On subsequent visits, Howard "showed up and drove around to learn neighborhoods and traffic patterns." After visiting available restaurant spaces in downtown high rises and older buildings near downtown, Howard discovered the 130 year-old mansion perched on top of Rutledge Hill in the SoBro neighborhood near downtown Nashville.
At the time, Howard and Brock did not realize that the streets surrounding the new location were named after immigrants from 19th century Charleston who were descendants of Edward Rutledge and Arthur Middleton, half of the South Carolinians who signed the Declaration of Independence. It seems as though the building has been waiting for Charleston to make another appearance in its halls. The grand Italianate mansion was constructed in 1882 by Richard Houston Dudley, a former mayor of Nashville whose inauguration was held in what will soon be the main dining room of Husk.
Of course, such a historic building comes with challenges during interior upfitting, but Howard isn't scared. "We want our buildings to have a story, and our investors have always encouraged me to do it right with regard to construction, community involvement and making sure everybody gets paid. We will now have three restaurants in historic buildings, and McCrady's location has served food since 1787. We enjoy curating these treasures."
Plans include a 25-30 person private dining space in an old carriage house that Husk will call "The Stables." The space will be decorated with reclaimed barn wood and overlook the raised beds of horticultural landscaping where Husk will grow herbs and vegetables for their kitchen. A patio with a wood-burning grill and an auxiliary kitchen in the carriage house should make for a very popular spot for pop-up events with guest chefs or group dining for patrons who might not want to take over the entire dining area of the main building.
After years of neglect since the former restaurant occupant went out of business after being open for just one year in the early part of this century, Howard has a grand plan for 37 Rutledge. "We want the neighbors to be thrilled with how it looks and how the building is maintained. It's easy to make it look pretty for opening day. It's what you do afterward that really makes a difference. We want to take a beautiful historic building and add elements of interest with a contemporary twist that will make it feel fun, vibrant energetic and cool."
Mother Nature has thrown a curve ball or two at the rehab efforts, including a small tornado that passed over downtown recently and knocked down a wall where the crew had recently added a door for the future staff to access the walk-in cooler that will be constructed outside the kitchen. Howard and his Charleston-based team of contractors were undeterred. "John Paparozzi rehabbed the original Husk with us, and he treats it like his own restaurant."
As workers have uncovered wiring that needs to be replaced, painted window frames that concealed rotted wood and restrooms that must be retrofitted for APDA compliance, Brock and Howard have remained flexible. "We're not trying to make a chain here," says Howard. "This is a small group of unique restaurants, and we want to make a difference in the neighborhood by serving community-based food."
Once all the permits finally get pulled, Howard promises there will be "no more lollygagging. We'll have 20 workers attacking the space with a vengeance and you'll see some amazing things going on here." And that's not counting the food that Nashville diners are anxiously awaiting to see flowing out of the open kitchen that will be the centerpiece of the new Husk. Come this summer, Rutledge Hill will be the place to be in Music City.
Check out these stories about Nashville on Food Republic: