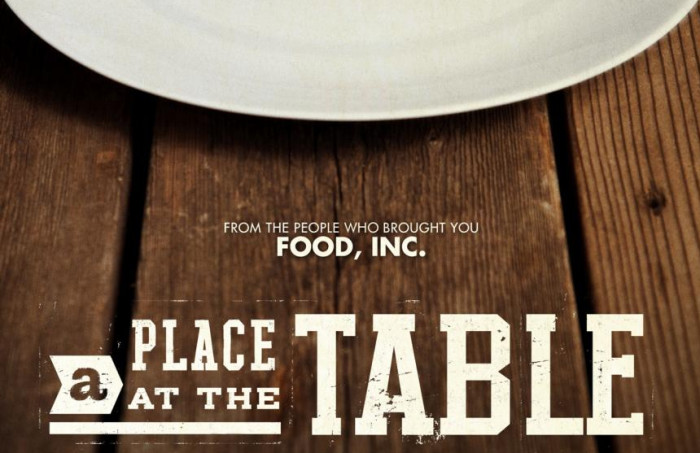 There's A Place At The Table for fans of 2009 Oscar-nominated food documentary trailblazer Food, Inc., opening in theaters and available on iTunes and On Demand this Friday, March 1. Produced by the same Participant Media/Magnolia Pictures team as its predecessor, this full-length documentary tackles the next issue after giant food corporations' effects on American agriculture: chronic hunger for 50 million despite the fact that our country produces more than enough to feed every citizen.
As it turns out, guess who's better than us at feeding its people? Greece, by a lot. Slovenia, too. Yes, the slew of shocking infographics right off the bat proves this is no "tug at the heartstrings" never-ending reel of gratuitous B-roll. Rather, the film follows the stories of a working mother of two (one is special-needs) in Philadelphia and a student in rural Colorado in their daily struggle to obtain enough calories. Nutrition is secondary, and not by choice or for lack of trying — it's that it's simply not possible to get enough nutrition for some people and hasn't been for decades.
For instance: Barbie, the working mother, doesn't qualify for the food stamps she desperately needs to feed her kids because her salary is $1.50 per hour over minimum wage. If she took a lower-paying job, she'd qualify for about $2 per week per person in food stamps, which would alleviate …well, nothing. She and her children would still go hungry — you can't buy a pound of most fruits for $2. Rosie, the bespectacled elementary school student from Colorado, visualizes her classmates and teachers as apples and bananas when she can't force herself to concentrate on anything but food. One in four American kids might do the same thing on a daily basis.
The FDA's daily school food allocation is about $2.80 per student, but after administrative, staff and transportation costs, what's left over for food is well under a dollar. The only food at that cost is rife with cheap grain fillers, sugar and salt to stretch the pennies, mimic flavor and keep a growling belly at bay. Here's where the film's executive producer, Tom Colicchio, comes in: Colicchio's mother worked for many years in a school cafeteria where she knew she was providing some of the students' only meal of the day, and she passed on her passion for nourishing hungry children to her son. Colicchio supports The Food Bank Of New York City and Feeding America, and has used his considerable influence to testify before Congress, pleading the case for prioritizing childhood nutrition.
Providing a little historical perspective is Jeff Bridges, national spokesperson for Share Our Strength's No Kid Hungry campaign. He's been an activist since attending a seminar in the early 1980s about world hunger, and has been instrumental in turning his sights on his own country where, statistically, just as many people were reported to be undernourished. Bridges was executive producer on the 1996 television film Hidden In America, which illustrated one family's struggle with poverty, highlighting the effects of children's hunger on parents.
Perhaps the least-known fact brought to light by A Place At The Table is that not only is chronic hunger in America approaching epidemic proportions, it has increased substantially since the budget for the Nixon administration's successful food aid programs — school breakfast, summer food service, food stamps — was cut to increase military spending. Ten million were hungry in 1968, a number slashed through nutrition programs to nearly none. Fast-forward to 2013: 50 million Americans, nearly half of whom are children, will experience hunger. What happened?
If you tossed out the pink slime and Cheerios after watching Food, Inc., now's the time to shine a light on the life-saving network of privatized aid for hungry Americans — charities, volunteers and activists who have stepped up to fill the daunting gap in government aid. Thanks to A Place At The Table, you can find out how the number of food banks across the country increased 20,000% over 25 years and learn what you can do to help alleviate this crisis at home.
More food documentaries on Food Republic: