10 Classic Fictional Movie Eateries For Oscars Weekend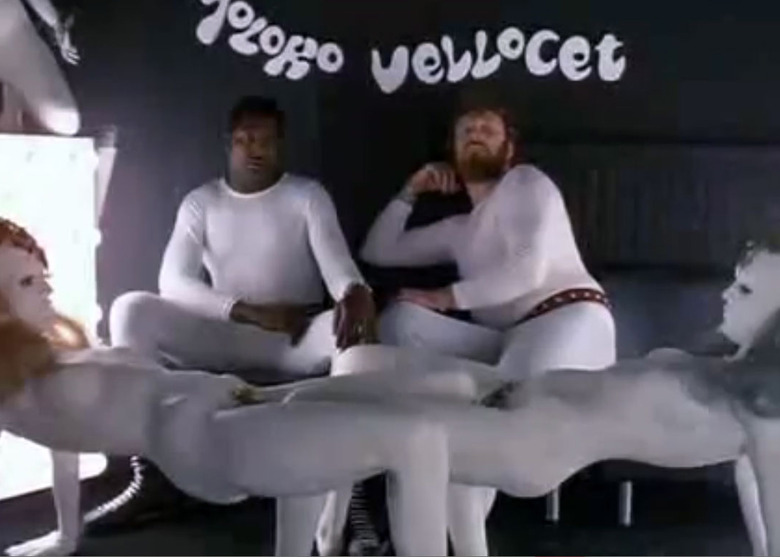 Try all you want. Search Yelp, Open Table, Zagat...you won't find them. They exist to serve a story, a scene, an actor. Their intangibility, however, doesn't make them any less appetizing. In honor of the Oscars this Sunday night, let's count down our favorite classic fictional movie eateries.
The Criteria:
Be an eatery. Serve food — the loosest of the bullet points as you'll see.
Be fictional. So don't exist in the real world.
Be somewhere I'd actually want to go for one reason or another. Sorry, Office Space's Chotchkie's, but there is no amount of flair that would lure me into your restaurant. I've been to TGI Friday's, and I'll pass.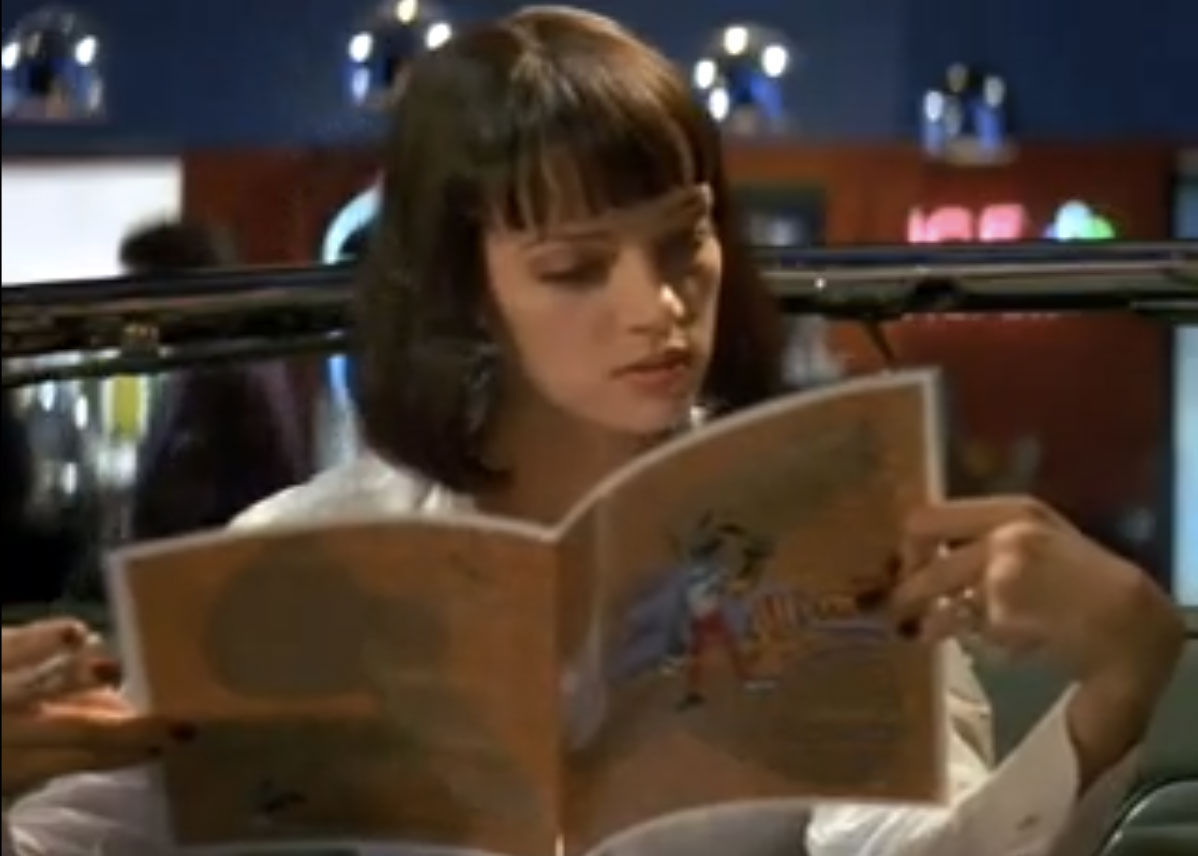 1 – Jack Rabbit Slim's – Pulp Fiction
2 countdowns on Food Republic thus far. 2 appearances by Quentin Tarantino (perhaps he deserves his own list.) The most visually arresting thematic restaurant in cinema history, complete with a wait staff in iconic costumes and dinner entertainment of dance moves that would be spoofed time and time again. Vincent Vega describes it perfectly as a "wax museum with a pulse." They cook their meat in terms like "bloody as hell!" They seat you at tables designed as convertibles! And they describe $5 shakes in the most questionable terms possible — Martin and Lewis means vanilla, Amos and Andy means chocolate. Greasy food, waiters with personality, and the most dynamic Twist contest I've ever seen. If only such a wax museum existed.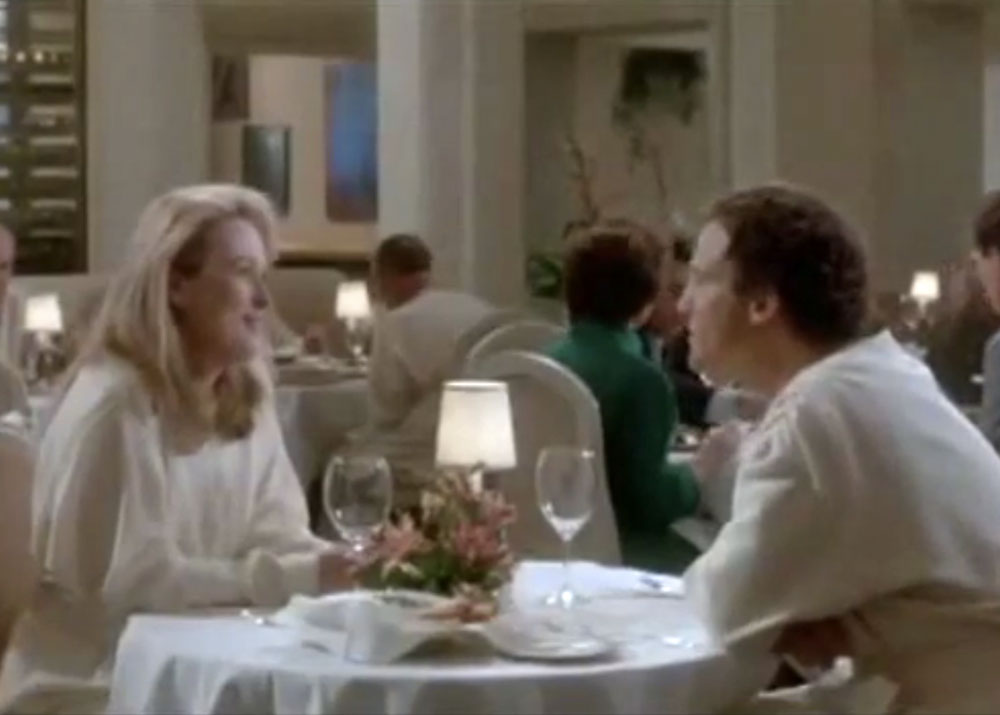 2 – Italian Restaurant (or any other Restaurant featured) — Defending Your Life
I am shocked that more people haven't seen this flick. In fact, its apparent obscurity has forced me to believe that Albert Brooks is the most underappreciated comic mind of all time. So now I'm forced to give you some background. In Defending Your Life, Albert Brooks dies in the first scene. We next find him in Judgment City, a cross between an industrial metropolis and Disneyland. After reviewing your life, the residents in charge of your case decide if you've lived a life without fear, worthy to move onto heaven. If not, they send you back to Earth to give it another go. In the meantime, enjoy all the Judgment City has to offer, including the Past Lives Pavilion, where you can see who you were before you were you! Or simply partake in gluttonous delight as words such as "cholesterol" and "calories" have no significance once you're dead. The service is fast, the portions enormous, and the food is unmistakably the best you've ever eaten. Albert Brooks' Italian dinner date with Meryl Streep includes a balanced menu of pasta, shrimp, broccoli with far too much cheese, and 9 pies for the diners to take home with them. All this and more awaits our taste buds, supposedly.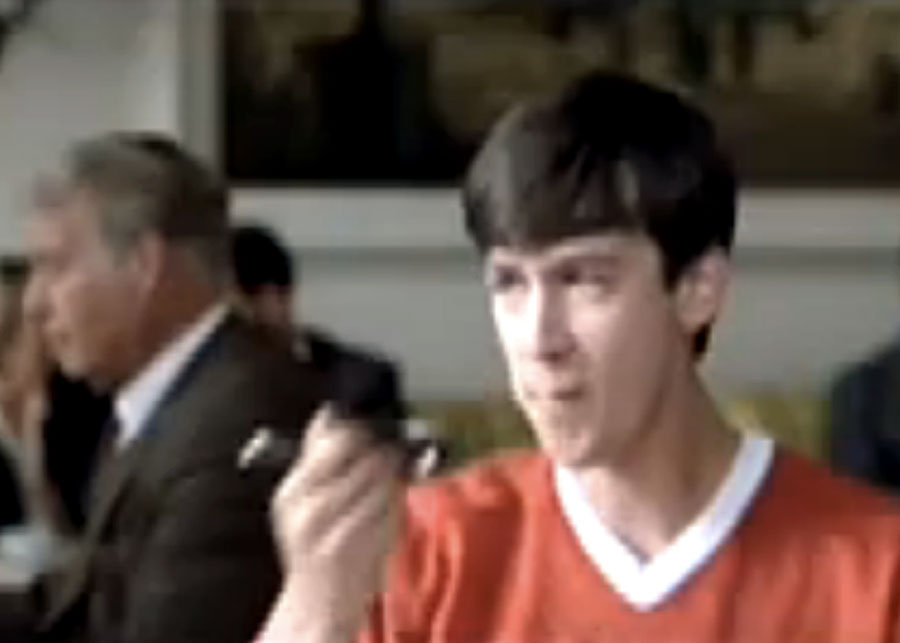 3 – Chez Quis — Ferris Bueller's Day Off
Abe Froman is the only fake name I give to restaurants when making a reservation. After all, he is the Sausage King of Chicago, an individual with enough clout to score a table at the snootiest French restaurant in the city. I never understood the idea of going anywhere because someone else frequented the anywhere you were heading. That is until Ferris Bueller insisted on being seated with his two other under-dressed friends at Chez Quis. The place seems stuffy and expensive, but honestly, if it's good enough for Ferris and/or Abe, it's good enough for me.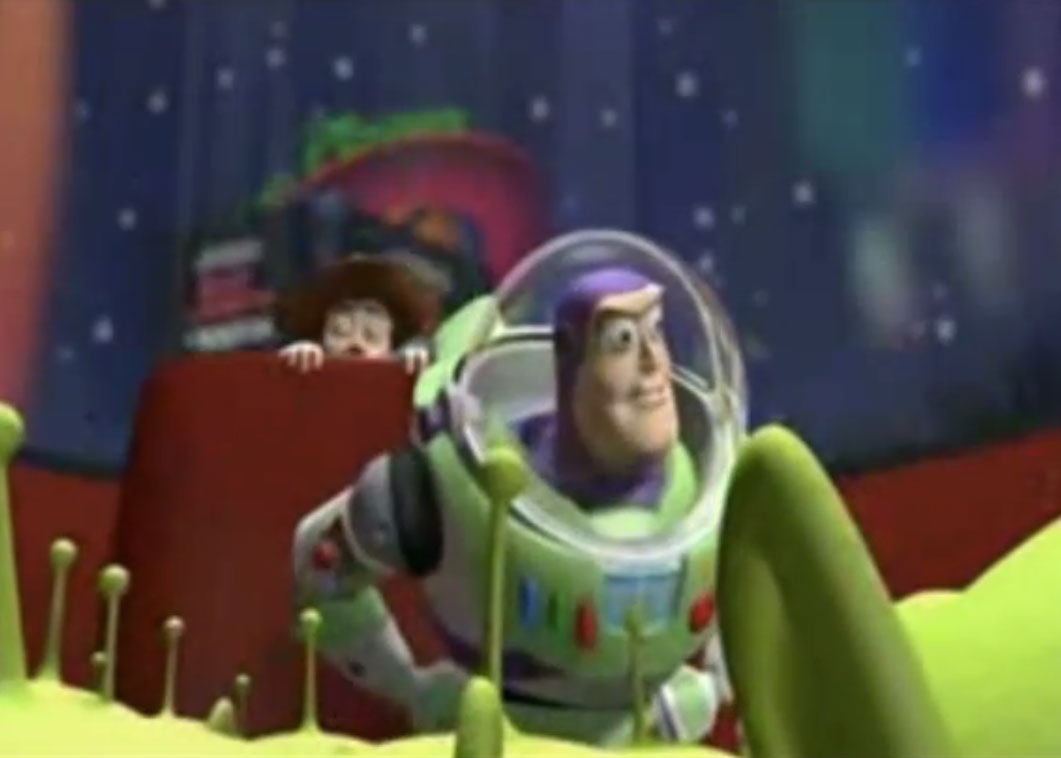 4 – Pizza Planet — Toy Story
Another kids movie? Yes. Really? Yes. I don't care how old you are. Pizza + Video Games + Little Green Aliens Obsessed With a Shiny Metal Claw = Good Times. I'm shocked that Jamie Oliver and other activists working to get children to eat healthier haven't picked up on this idea of enticing them with a brightly lit arcade and then blindsiding them with green salads and plain grilled chicken breasts. It's not just the Pizza, but equally the Planet that ranks this gem so high on the countdown.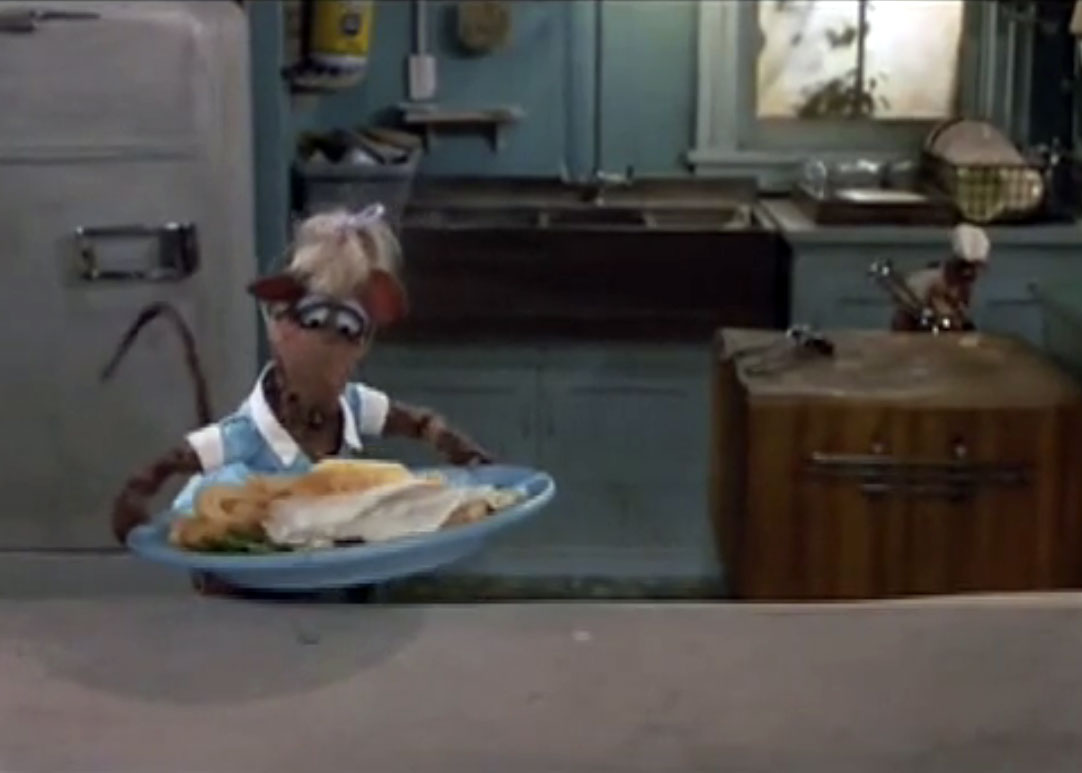 5 – Pete's Luncheonette – The Muppets Take Manhattan
Long before Remy was cooking behind the scenes at Gusteau's in Ratatouille, Rizzo the Rat and his posse were manning the grill at Pete's Luncheonette in one of the classic Muppet movies. Kermit and the gang travel to New York City to try and sell their Broadway musical. Although their dreams are big, their budgets are not. Still, the gang is treated like family at this typical New York diner with a free meal or two. And when Miss Piggy eventually gets a job there waiting tables while the show awaits financing, well isn't that just the American Dream personi— er, Muppe-fied?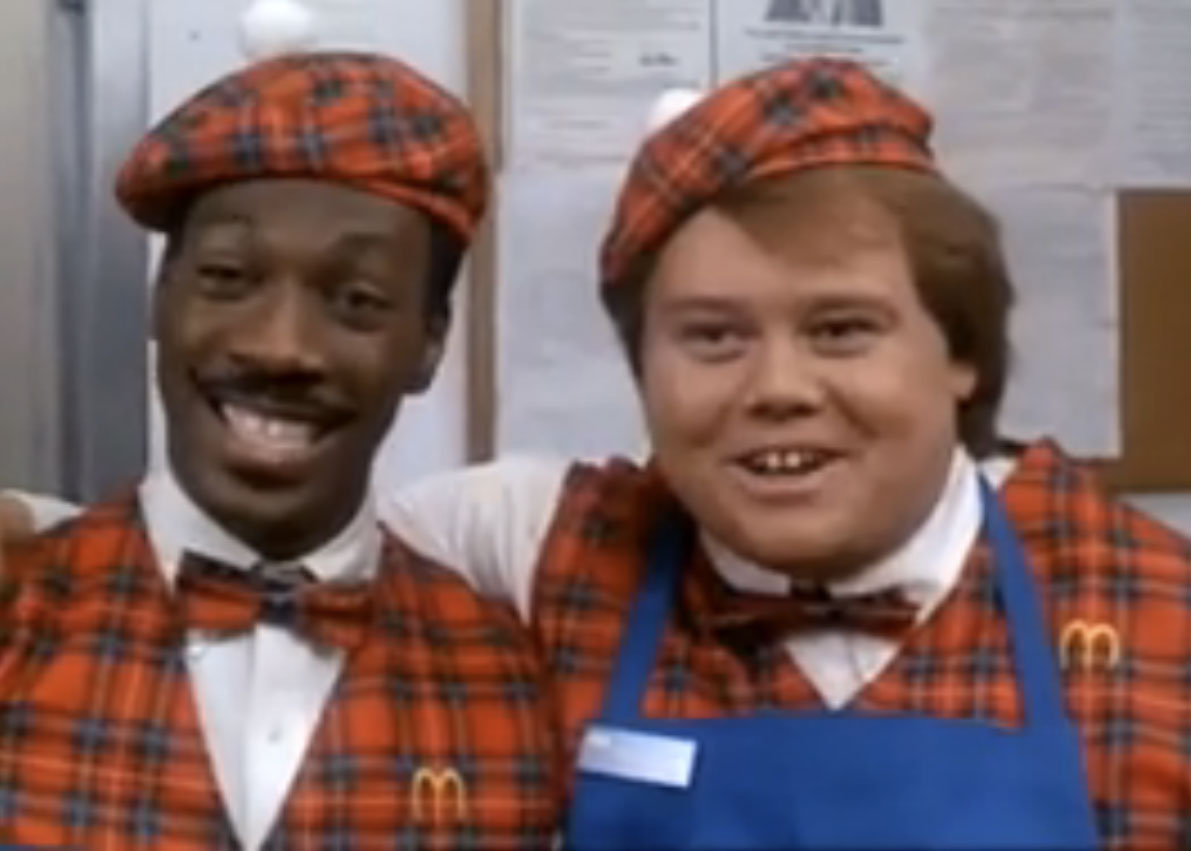 6 – McDowell's — Coming to America
A knock-off on McDonald's? Perhaps. Doesn't make it any less delicious. You see, the key difference between the Big Mac and Cleo McDowell's Big Mick is the latter's seedless bun. You have to believe the lack of sesame seeds won't make it any less delicious. The tipping point in the restaurant's favor is being served by Zamunda transplants Akeem and Semmi, portrayed by two of the funniest comedians at the time, Eddie Murphy and Arsenio Hall. Now that's service with a smile.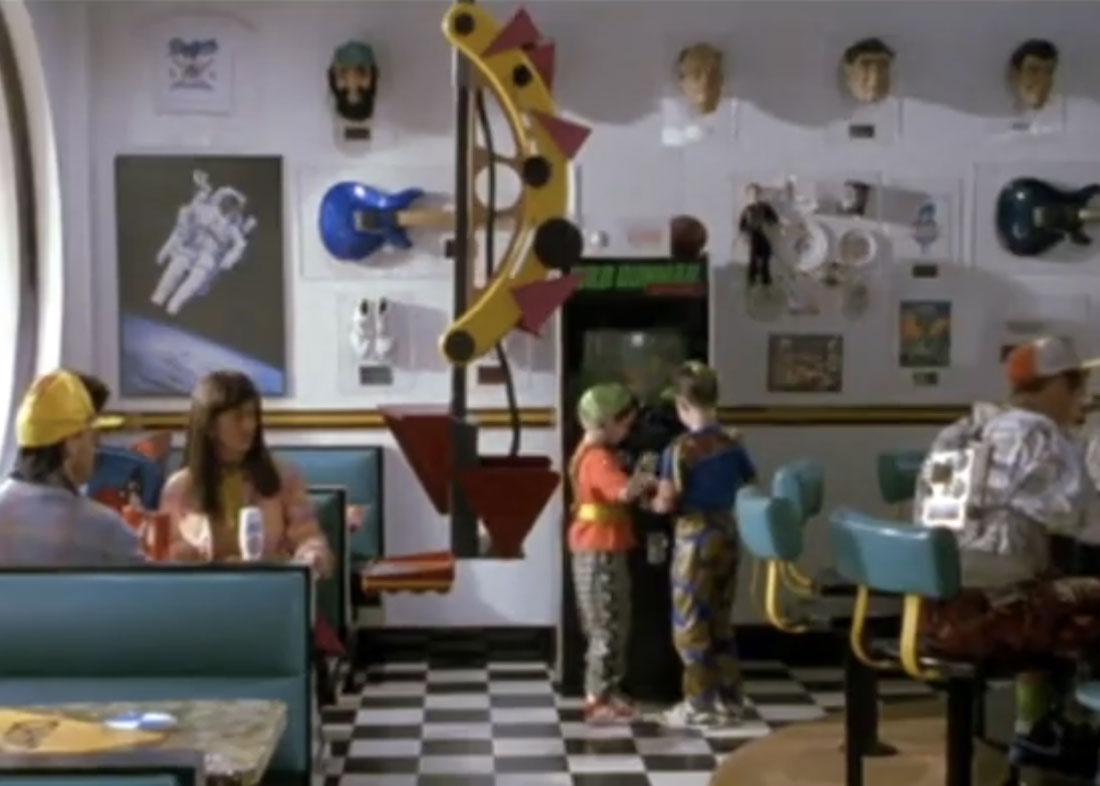 7 – Café 80's — Back to the Future Part II
If you believe everything in the movies then you'll be happy to know that by the year 2015 restaurants will have TV-waiters taking your order; it will be "in" to ride a stationary bike while you eat; oh yeah, and we'll have hover-boards! Marty McFly travels 30 years into the future to wind up in a restaurant honoring the decade he just left behind. Unfortunately, we don't get a glimpse at anything edible besides a futuristic bottle of Pepsi. Yet if hover-boards exist, culinary possibilities are endless!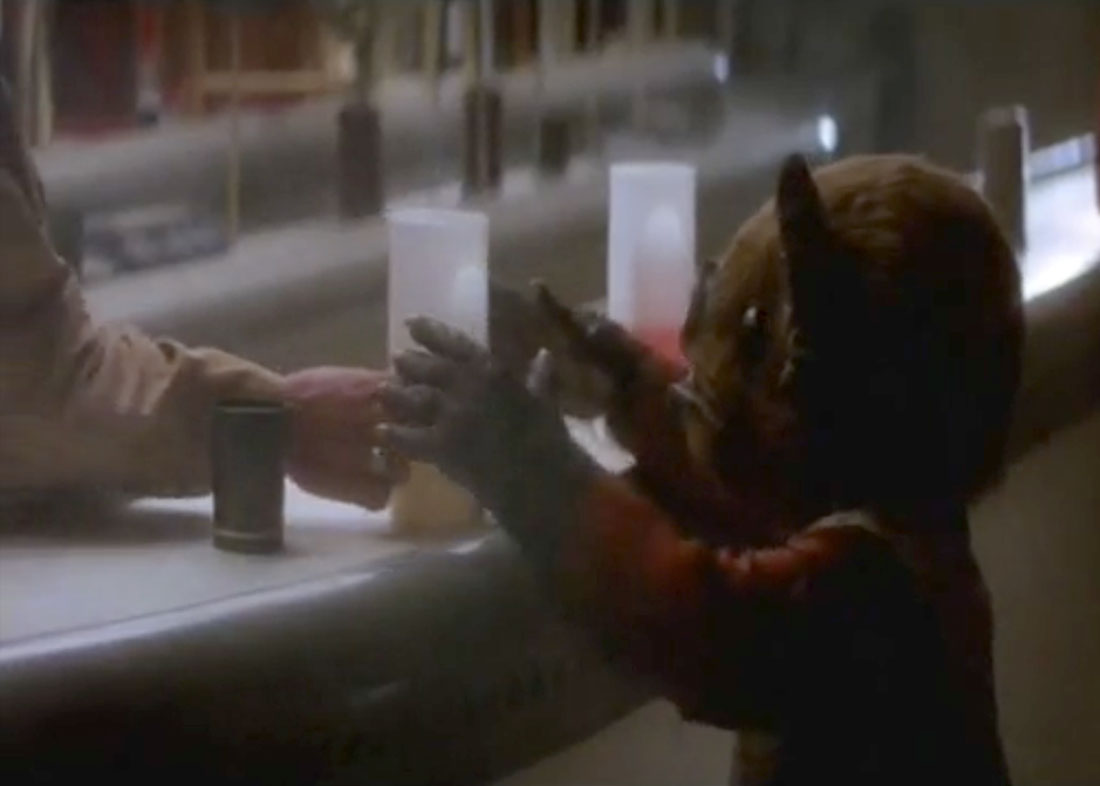 8 – Mos Eisley Cantina — Star Wars
Probably the home of the grossest bar food in the universe, the famous Cantina Bar scene in the original Star Wars comes in at #8. The place lets us know exactly how diverse this galaxy far, far away actually is. It's a colorful and popular meeting spot for aliens looking to shoot the shit or barter for a spacecraft off the planet. And hey, who wouldn't want to share a plate of nachos with a wookie?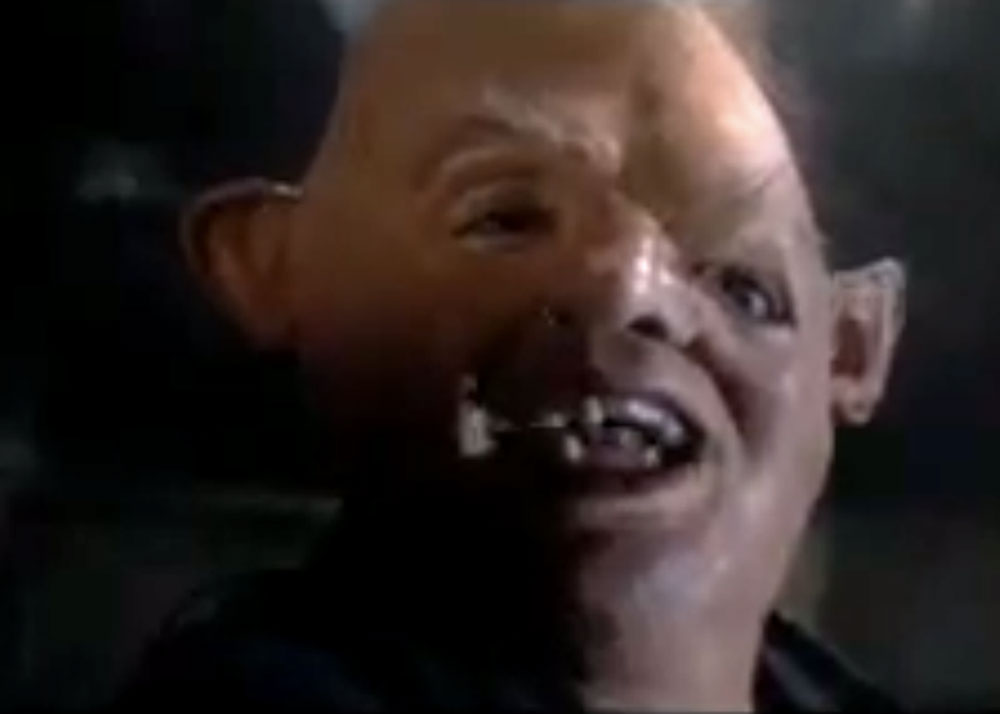 9 – Fratelli's Restaurant — The Goonies
"The only thing we serve here is tongue. You boys like tongue?" Corey Feldman's big mouth almost gets him and his fellow Goonies mutilated in the decrepit beach restaurant owned by the villainous Fratellis. But instead the boys order water: dirty, opaque water. And young Sean Astin's fated trip down to the bathroom sets the whole story in motion. For underneath this deserted eatery is the first step on the path to One-Eyed-Willy's treasure. How has this not yet become a theme restaurant? You order some tongue — like in a nice Kosher delicatessen — make a wrong turn by the bathroom, find a deformed giant eating a Baby Ruth for dessert, and next thing you know you're dodging boobie traps on a pirate ship. Worthy of a 20% tip indeed.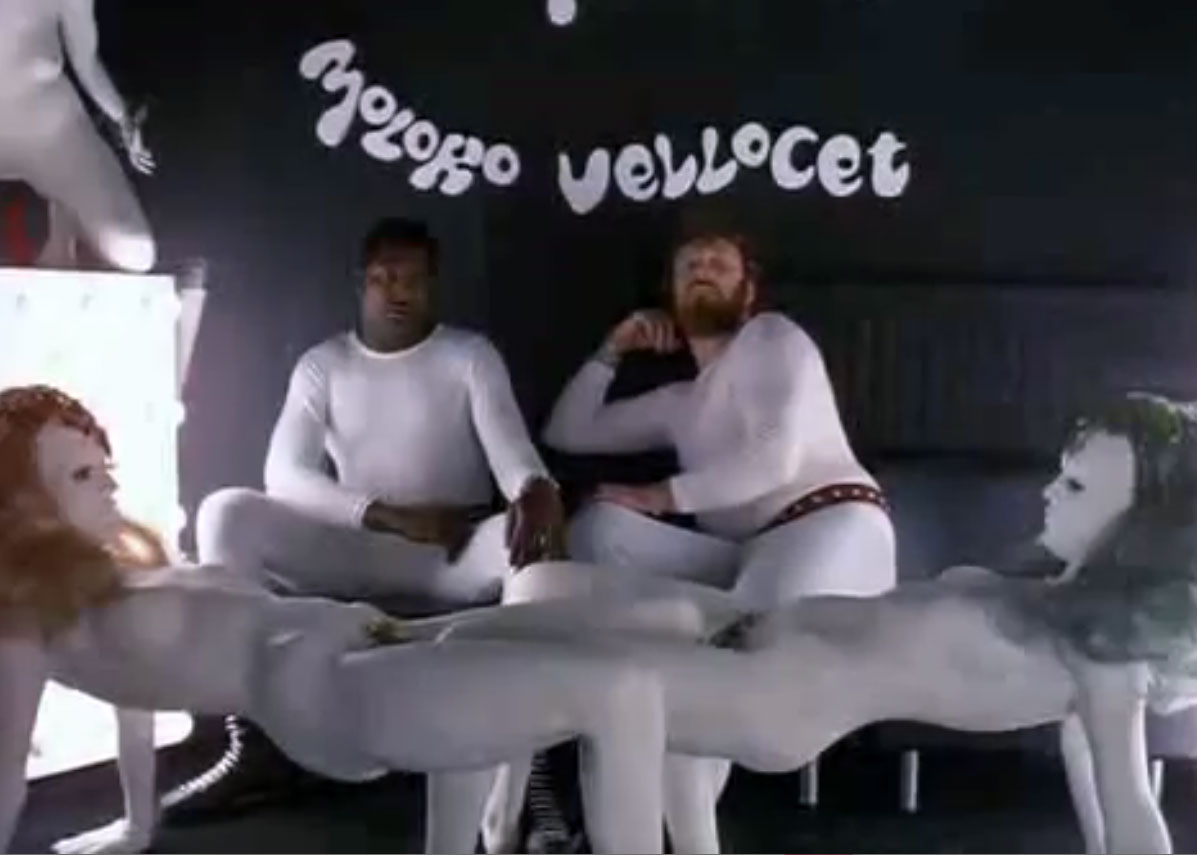 10 – Korova Milk Bar — Clockwork Orange
Almost like an art exhibit, the Korova Milk Bar boasts white female mannequins that serve as tables and milk taps that dispense milk plus (plus being the spiked ingredient of choice) from their nipples. It's the first time we see Alex and his Droogs, and the location sets the tone for the rest of this surreal and uniquely visual film. Now one can argue that no one actually "eats" anything in this bar. However I would counter with, "Um, it's a milk bar. There is no way their clientele would stand for a menu sans cookies."