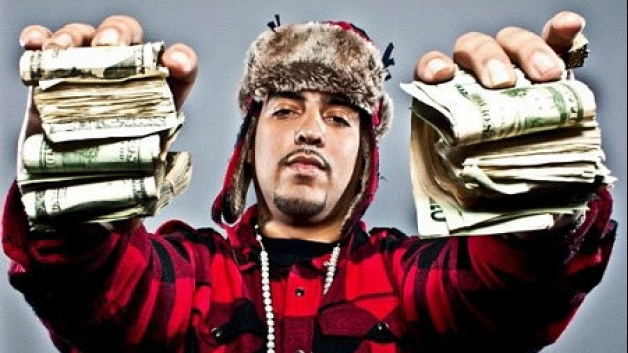 Moroccan-born rapper French Montana is the founder and CEO of Cocaine City Records and, as his business card implies, is into the finer things in life — which includes his choice of lunch on a January afternoon when we join him in a Midtown Manhattan recording studio. He's insisted on ordering lunch for Food Republic and a crew of producers and record executives, including Bad Boy President Harve Pierre and frequent collaborator, the Baddest Bitch Trina. The crew has gathered to help mix French's forthcoming album, Excuse My French (out May 21). After watching him strategically drop a couple shotgun blast tracks into a song featuring Snoop Dogg (Lion as of late), a delivery from Southern comfort staple Soul Fixins' materializes. "This is the best in the city," he says while searching for a plastic container of potato salad. There are a few tense seconds when the plastic container does not appear. Thankfully, mercifully for the assistant in charge of the ordering, the salad is in da studio. Here's part two of our hang. Read part one.
Rick Ross was interviewed by Bon Appétit and basically calls himself a foodie. I'm going to guess that you are more of a foodie than him though…
I just put Ross on to the spot. He thought he knew every restaurant in Miami, and I put him on to South Street. I bought him some chicken and waffles and he lost it. He forgot he was on a diet and he busted open.
How'd you find that spot?
A close friend of mine knew about the place. Everyone's been there. Like Martha Stewart. It's right by the art galleries.
Can you give Ross credit for giving you any food advice?
He don't give me no advice. Lately, he's been on his diet.
Why's that?
I guess after he went through his situations, he has tried to take care of his health. It's working for him. He's looking real good and has lost a lot of weight.
What's the food scene like down in Miami?
The food is nasty. The whole Ocean [Drive] strip is a fraud. If you want to eat good, you have to go outside of South Beach. The Haitian food is dope, but a lot of people don't know to leave Ocean! Put it like this: If you're not a Miami resident, you're not going to know where to eat good food. The restaurants you have to go to are not on a strip or anything. They are restaurants that are somewhere on the block, by themselves, little open lockers where you don't want to go [laughs].
What about Diddy? Do you guys have any spots that you go for dinner, to talk business?
There's a spot in L.A where you've got to have a membership, Soho House. That was the first time I've been to a restaurant where your money ain't good [laughs]. I'm like, "I'm coming here with money to buy food," and they're like, "You have to have a membership." Whaaaaat?!
The private restaurant concept can be odd.
I was about to protest outside of that shit.
Was the food good at least?
Yeah, it was dope. It's somewhere where rich people go.
Which is you…
Nah, I'm not rich yet. I'm rich in spirit, that's priceless.
What did you have?
Steak, a little bit of everything. I love Philippe Chow, too. I love the salt and pepper lobster. Oh my God!
Philippe gets a lot of high profile people. Rappers and actors and athletes. Why do you like going there?
I love seafood and that salt and pepper lobster is only made there. I'll go there for nothing else. Have you had it?
I've never had it. I've never been to Chow. I've never been taken there.
I got you. If you've never been there, I'll take you.
What do you cook at home?
I don't cook anything. I haven't used my pots and stove since I moved into my house. Maybe chips, Gatorade [laughs]. There's more liquor than water.
Do you want to cook more?
No, I'm not really a cook.
What about liquor?
Let's just keep it at Ciroc!
It's a good product. You like it?
I love it. It's the number one liquor in the world.
Man, I love your videos. What do you eat at the shoots? What do the girls eat?
Usually, I will come there already full. I get lazy and I will usually just drink when I get there. It's usually Ciroc.
What about food and drink?
I want five cups with three cubes of ice in each. I want only green M&M's and yellow Skittles. One hundred of each. I want chicken wings but I don't want the drums [laughs]. Nah, I'm fucking around. If someone is really fucking with me, I'll tell them to get some shit they've never heard of.
How much work do you have to do today?
They just started, so we've got all day. I've been in a studio, me and the engineer Steve, for three days. We've seen people come in and out and change outfits three times. By the time I get home and take my sneakers off, my socks stink.
Why do you do that?
Hard work. Hard work.
Why does it take so long to make your music?
I just feel like special moments come along when you don't expect it – that's what I've learned. I learned that from Jimmy Iovine. You never make hits when you want to make them; they come by surprise.
Have you toured on buses?
Yeah.
What's the food like when you're traveling by bus?
I had a trainer with me and he would make me a healthy plate.
What sort of foods were you eating?
A lot of grilled food – grilled chicken, salads, fat-free yogurt, not a lot of carbs and no white. No bread and if I was eating rice, it would be brown rice.
Do you feel like you have an advantage when you hit the stage on this diet?
Yeah. When you know you're eating healthy, your brain makes your body move. Like if you haven't slept in three days, your brain is telling you, "Look, you need to go to sleep."
Why do you want to stay in shape when you're on the road?
I really feel like your health is the most important thing, and in the profession we're in, we don't really get time to take care of our bodies. I stay up all these nights in the studio and all the drinking. You have to drink or smoke to deal with a lot of people.
Like because of the people around?
Yeah. When you do press, you have to do interviews every hour on the hour. Someone might walk in and ask you how you got the name "French Montana." Another person will come right after him and ask the same exact thing. It's just doing something all day long and answering the same questions.
So you've got to drink in that situation…
You've got to drink and get high!
What about creatively? Do you feel like you've got to be drinking or smoking?
I just feel like it opens you up and it gets you loose. When you're loose, you want to laugh, you want to joke, you want to bring that character out of you.
You have this persona of being loose. Of being fun.
I feel like people don't have fun and you don't hear fun in their music. When you hear "Pop That," girls want to bust it over and hit the dance floor. That's fun.
30 million views on YouTube…that's fun.
Yeah, that's real fun. That's platinum.
Read more Good Food, Rocks on Food Republic: