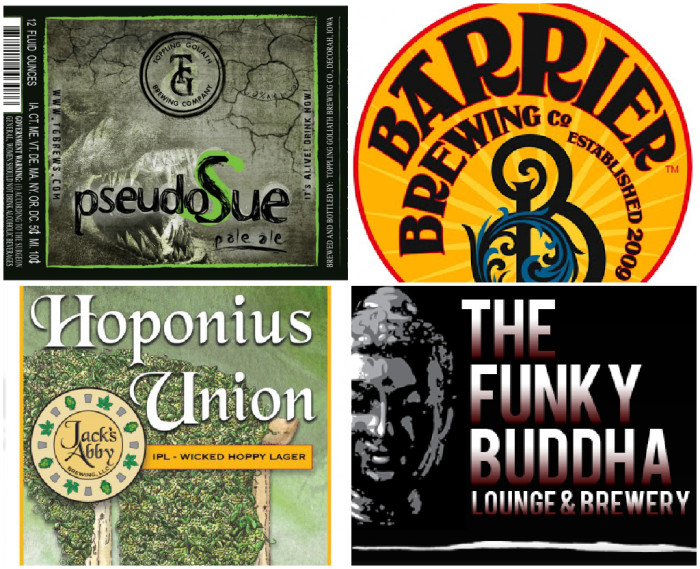 I was recently reminded just how far the craft of American beer brewing has come at a dinner to celebrate the launch of Rhizing Bines, a new collaborative beer between Sierra Nevada and Dogfish Head. Over several expertly paired courses at NYC's The Breslin, Sierra Nevada founder Ken Grossman reflected on starting a brewery in the late '70s, when there were only 40 breweries in the country.
That's 40 total, not just macro or micro or nano but every type of brewer combined. Out of those 40, Sierra Nevada was one of the few breweries experimenting with new styles of hops, resulting in the classic Pale Ale we know today and changing the course of American brewing in the process.
Flash forward to 2013: there are nearly 3,000 breweries in the country, with over 1,000 more in the works. Among these, many of the newest, smallest breweries are showing that size and production capability isn't as important as quality, as is the case with 2012 Rate Beer top brewery Hill-Farmstead, which operates on a small farm in Vermont. Also notable in 2012 was the rise of Evil Twin, the brainchild of gypsy brewer Jeppe Jarnit-Bjergsø — who produced new beers at breweries worldwide faster than we could say Tørst! With this, here are 10 of our favorite breweries to look out for this year.
Pipeworks Brewing Company from Chicago burst onto scene in 2012 with a mind-numbing 38 offerings. The variety alone would be enough to take notice, but their imaginative ingredients, such as amchoor (dried pulverized Indian sour mango) and tangy, lemony sumac in their A Foolish Wit, and fresh raspberries instead of traditional raspberry syrup in their Well-Read Temptress Berliner Weisse have us wondering what they'll do next.
While Missouri may be the center of the macro universe, Perennial Artisan Ales helps remind us of the state's great history of craft beer, too. Perennial's Abraxas Imperial Stout, made with cocoa nibs, ancho chiles, vanilla beans and cinnamon sticks, might sound like it has too much going on but it's near perfect — reminiscent of Cigar City's Hunahpu, and dare we say a challenger!
With so many styles in today's market, limiting a brewery to just one might prove costly. Not so for saison-focused Funkwerks from Colorado, who won Small Brewing Company of the Year at last year's Great American Brewing Festival. They make over 20 variations, but we advise sticking with the traditional saison, where a bit of funk and a bit of citrus balance perfectly.
It's already been a big year for Ardmore, PA–based Tired Hands Brewing Company, named one of the top five best new brewers in 2012 by Rate Beer. The limited output makes this a worthy destination for their famed beer dinners, but look no further than their beer for innovative food use. Next on tap: Ancient Knovvledge, an Asian-inspired saison brewed with hemp seeds, nori, black and white sesame seeds, tangerine juice, Schezuan peppercorns and long red hot peppers.
Citra hops are the craze of the moment, and look no further than Michigan newcomers Odd Side Ales for one of the best examples of the style. Their outstanding CPA: Citra Pale Ale is draft only as of now, but they've just expanded to an off-site production facility and will start bottling this spring. A small brewery that we expect big things from in 2013.
While it's already a hophead staple for their fantastic Kiwi Rising, Double IPL and Hoponius Union, Jack's Abby Brewing out of Framingham, MA must be recognized for their fantastic take on German beer, too. Their dopplebock, schwarzbier and rauchbier are all worth seeking out. Three new tanks have increased production capacity by 80%, so keep an eye out for more of their fantastic brews.
There are plenty of great new breweries in California, but the most exciting news may be the increase in production of a veteran brewer. Alpine Beer Company was founded in 1999 and contract-brewed by San Diego's AleSmith (another favorite of ours) until 2002. Best-known for their hoppy ales like Hoppy Birthday, Exponential Hoppiness and Bad Boy, a new production facility is set to expand production by 400%. We hope these highly sought-after hopgems will finally see distribution outside SoCal.
Clearly the best thing to happen to Iowa since the Caucus, Toppling Goliath Brewing Company is all about making tasty pale ales and some big stouts, too. In 2013, they're slated to complete a new addition to their brewing facility, which includes a larger brewing system and a filling line to bottle their beers. Be on the lookout for their delicious Citra-hopped PseudoSue American Pale Ale, named for the largest T-Rex fossil ever discovered, and don't worry, its intense grapefruit and mango hop taste won't bite back.
Florida is probably not the first place you think of when it comes to stouts and porters, but the Funky Buddha Lounge & Brewery is about to change your mind. Maple. Bacon. Coffee. Porter. Oh yeah, you know that sounds delicious and really, it's dangerously good. As the prescription pill–styled bottle says: "Refills Mandatory" and really, we'll need a restraining jacket to keep ourselves away. The new expansion in 2013 will see the brewery grow from their current 1.5bbl (brewer's barrel) system to 30, which means much, much more beer for all.
2012 started out as a year to remember for Barrier Brewing Company, with the opening of their new production facility in Oceanside, NY, but it almost ended in disaster when Superstorm Sandy practically wiped them out, causing nearly $100,000 in damage. It took 10 weeks for Barrier to start brewing again, but they fought back with the release of their first-ever bottled beer, Submersion Double IPA — trapped in the tank for a month on dry-hops (ironically) during the recovery.
Check out these beer stories on Food Republic: