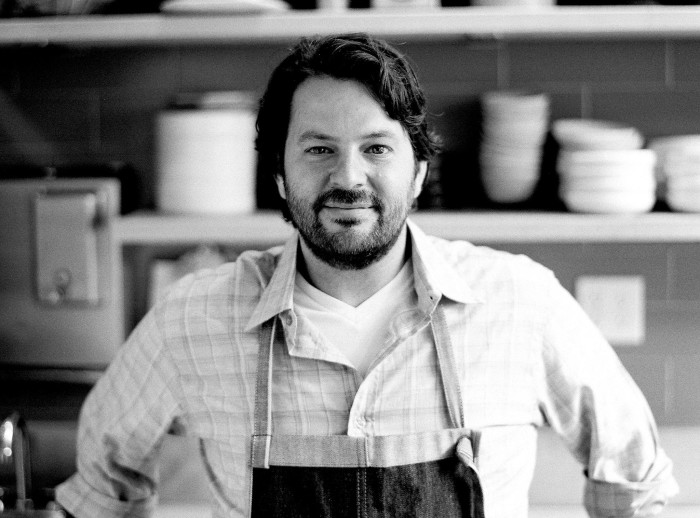 In early March, Food Republic will be heading to Vietnam with three top American chefs to eat and drink our way around the country. We will visit the magical cao lau well in Hoi An. We'll hit the Ben Thanh Market to possibly drink some cobra wine, which is most certainly a thing. Joining us: Edward Lee (610 Magnolia in Louisville), Stuart Brioza (State Bird Provisions in San Francisco), Paul Qui (Qui in Austin) and Bryan Caswell (Reef in Houston). The trip is being organized by our friends at Red Boat Fish Sauce. 
"I'm always on a quest for flavor combinations," says State Bird Provisions chef-owner Stuart Brioza on a mobile phone from his busy kitchen in the Western Addition section of San Francisco. He has to excuse himself to take a short break to inspect a large starry flounder that has just arrived. Later that night the ugly fish would be incorporated into the menu of his wildly inventive approach to small-plates dining — bites of chili-spiced yuba and sweetbread meatballs with fig jam and pickled vegtables presented on carts, like dim sum.
The flavors bounce around the globe, from Europe to many parts of Asia. "I think that the whole charred ginger, charred garlic, star anise and clove thing is just remarkable," he says excitedly. We're talking about our trip to Vietnam, which begins in a couple week's time. Specifically, the Vietnamese flavors he's on the hunt for. It's cause for excitement.
How much Vietnamese food do you eat?
We have one mainstay that my wife and I have been going to for years. Back in 1994, our first date was a little Vietnamese pho house in Cupertino, where I grew up. I feel like I have been eating pho ever since I can remember. I may have even eaten it at sleepovers at Vietnamese kids' houses [laughs].
What about now in San Francisco?
I would say that I used to average it as a weekly thing, and go every Monday and get a big bowl for lunch. Since I've opened up a restaurant, I probably eat it on a monthly basis, which is not enough.
How do you incorporate some of the Vietnamese herbs or flavors into your menu?
The way we use fish sauce, and really all ingredients, is to not replicate but to find inspiration. I'm a huge poultry broth fan, whether it's chicken consommé or just chicken broth. We do this one dish that's on the menu currently — a sort of guinea hen dumpling. It's little soup dumpling with broth poured over it. The dumpling itself is guinea hen that's cured with about nine different spices — clove, nutmeg, black pepper, star anise. But the broth is inspired by pho ga.
We're three weeks out. Is this your first trip to Vietnam?
Yes, it is.
Have you been to Asia?
I have been to Thailand, Singapore and Cambodia. I have skirted around a bit there. What I love about Vietnam and the Vietnamese food is the French influence. I think it's such smart cooking — the broths, the pâtés, the bánh mi, the French bread. I think it's so interesting and in some regards, it's a fairly new cuisine.
What are you looking to learn or gain? Any specific restaurants, or regions?
I think that learning about fish sauce fermentation is what I'm really stoked about because we use so much of it. I've traveled to many parts of the world, and in our own country, to increase my own personal knowledge of the ingredients and why they are what they are. I went on an olive oil tour [of Italy] back in 2008 with a supplier and I came back and felt more connected with the ingredients to some extent. I'm always on a quest for fruits. In past travels, I've eaten longan off the tree and rambutan. Usually when I get to a new country, I pretty much go right for the fruits. We can get that stuff here, but why? It doesn't make sense when it's 60 degrees in San Francisco and you're eating rambutan. It doesn't have the same sort of feeling or evoke the same emotion than when you're sweating. There's something about eating that fruit in that place that's so incredible and honestly, it's like I long for those flavors and just don't eat it here.
Check out this interview with Brioza for Bon Appétit:
Also see: