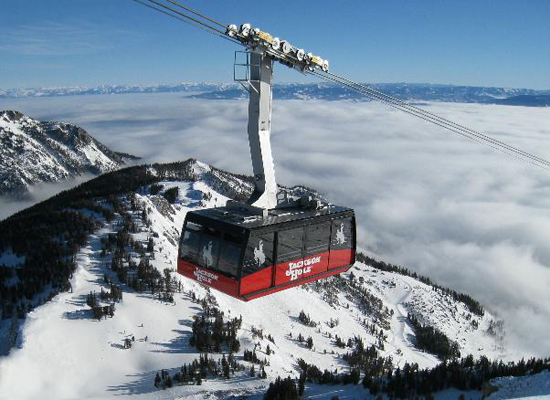 For guys (and gals) looking for a slice of the Wild West this winter, few places rise to the top of the list like Jackson Hole, Wyoming. There's still a nightly shoot-out in the Town Square during the warmer months, but if you're headed there now it's for the skiing. For advice on how to thaw out afterwards, we tapped Will Bradof, the co-chef and -owner of Trio American Bistro and months-old spinoff, Local.
What's the après-ski scene like in Jackson Hole?
Some are trying to market Jackson Hole as a family destination, but it still has the mystique of being one of the steepest and most challenging mountains in North America. So, it gets a lot of guys coming out here for guys' trips. We get a lot of professional athletes, as well. This town has a laid-back attitude to it, a lot of cowboy feel. Guys around here want to eat lots of steak and experience the West.
So how do you match that need at Trio?
We always have buffalo and elk and stuff like that on the menu. People come for our wood-fire pizzas, blue cheese waffle fries and the cocktails. At Local our cocktails have custom ice: we do a giant squash ball–sized sphere in this drink called the Smoking Bulleit. Our custom-built burgers have really taken off. They're made from meat that's been slaughtered right here in Jackson from a ranch right down the street. We've probably sold 20,000 burgers since we opened in June.
Anyone famous ever come in?
A lot of celebrities own homes here. Quentin Tarantino was here last year for about a year filming Django Unchained. Harrison Ford lives here. I've cooked for him personally at Trio a few times. Sandra Bullock's father owns a home here. She was in at Local this summer. My parents actually sat right next to her. My mom had to restrain my father from getting up to go congratulate her on her Oscar.
Are you and Paul [Wireman, co-chef and partner] big skiers?
With my recently extending family — I have two kids — I haven't been skiing as much as I used to. But we both still buy full passes for our restaurants, so we're out there 40, 50 days, depending on how much time we have. The great thing about buying a pass is that you can ski for a couple of hours, but that's all. You don't feel pressure to ski all day. We do a lot of backcountry and skinning, where you put skins on your skis and walk uphill. In the summer, I fly fish and hunt, mountain bike… a bit of everything.
Where do you après-ski when you're not at your own places?
I'm a big ethnic food lover. We have a couple of good Thai restaurants. Teton Thai is a good friend of ours. I like to go there after skiing. We're big fans of Snake River Grill. That's where my partner Paul and I met, cooking there together. At the resort, there's the Village Café, otherwise known as the VC. It's a small dive bar with awesome New York–style pizza. They have a shot ski hanging on the wall: a retired ski that people have glued shot glasses to. You fill the ski up with shots and do that together in unison.
Is that a thing, a shot ski?
If you have a dive bar, you have one of those. Another cool bar is the Stagecoach in Wilson, Wyoming. It's probably been there 50 years. Bob Dylan played there.
When's the last time you did a shot ski?
It's been a couple of winters. I wouldn't be afraid of doing one tomorrow, but the opportunities haven't been presenting themselves as much as they use to.
Other favorite spots?
The Rose, which was just opened by the owners of Death & Co. in New York. It's a bar completely dedicated to the craft of the cocktail. The Million Dollar Cowboy Bar is a tourist trap, but still a pretty fun bar. All the barstools are saddles. They play lots of country music. Another thing that we do après on our day off is hot springs. We'll go cross-country ski to hot springs up in Yellowstone where there are buffalo nearby and we're sitting in pools by the river. It's pretty amazing.
What's the perfect après-ski drink for you?
For me, I stick with an old classic. Either a boilermaker – a shot of whiskey and a beer – or an Irish Car Bomb, which is a two-thirds glass of Guinness, then you drop a shot of Jameson with a Bailey's floater on top. You drink it in one pull. It's delicious.
---