Step Away From The Gun: 5 Very Good Tonics To Mix With Gin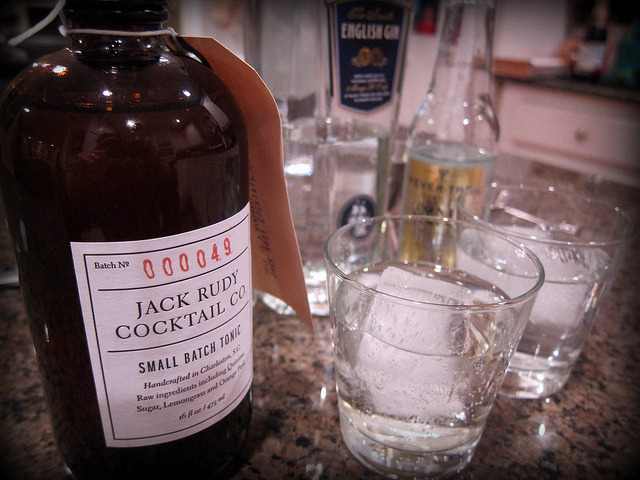 Here at Food Republic, we love gin. We love when it's made in England and locations closer to home. We love learning fun facts about it too. But mostly, and obviously, we love drinking the stuff — in cocktails or a well-stirred gin and tonic. [See: How To Mix The Perfect Gin & Tonic]. So, it makes us really sad when we go to a nice restaurant or cocktail bar and order a gin and tonic — perhaps mixed with Sipsmith or Dorothy Parker American Gin — but to find the bartender with his gun drawn. The soda gun. It's unacceptable. Why? Because there are five great tonics are available. Served in a bottle. Seek them out.

Q Tonic: Made with Peruvian quinine, purified water, organic agave, lemon juice extract and other natural flavorings, this tonic claims to have 60% fewer calories than generic brands and an 85% lower glycemic rating thanks to the agave. Indeed, it's more sharp than sweet and brightens a G&T beautifully.

Fever Tree: This U.K. import is made with spring water, cane sugar, citric acid, natural quinine and other natural flavors. Lighter in taste than Q, it's ideal for mixing with some of the less-traditional (i.e. juniper-forward) gins, like Hendrick's, Bluecoat and Aviation.

Tomr's: This extremely small-batch New York product comes in syrup form. To make tonic, you combine it with soda. It's also made with Peruvian quinine and a secret blend of natural and organic ingredients. The syrup is amber in color, with a pleasantly bitter bite. Because you add your own soda to the syrup, you can control the fizz (especially if you have a SodaStream or siphon).

Jack Rudy Cocktail Co.: Another syrup, this one out of Charleston, S.C., it's a blend of lemongrass, allspice, white pepper and orange zest. Spicy and bitter, it stands up to robust gins, like good, old-fashioned London Dry. Like Tomr's, bartenders have been experimenting with it as an ingredient for non-gin cocktails.

Fentilmans: Brewed in large vats, this British-made tonic is crafted from milled quinine bark, Asian lemongrass, cane sugar, and purified water. Due to the brewing process, Fentilmans actually contains 0.5% trace alcohol. It's not enough to give you much of a buzz, but it just might an extra kick to your G&T.
Tom Richter of Tomr's Handcrafted Tonic's G&T Recipe:Ingredients
1 ounce Tomr's Tonic syrup
2 ounces gin
2-4 ounces soda, depending on desired strength
1 lime wedge
Directions
In a highball, combine the tonic syrup and gin. Top with soda, and garnish with a wedge of lime.
Chantal Martineau and Matt Rodbard contributed to this story
---
Keep increasing your cocktail knowledge with the links below: