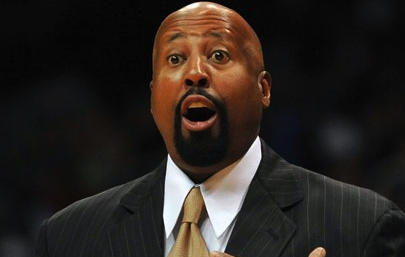 A mysterious fast. A strict vegan diet. A lengthy juice cleanse. No, we're not talking about New York Fashion Week. We are talking about the New York Knicks.
Head coach Mike Woodson became the latest member of the team to acknowledge he has experimented with an extreme diet. He recently revealed that he followed a three-week juice cleanse in January, leading to a 21-pound weight drop (we did some quick math and determined that's one pound per day). While happy with the results, the coach admitted that some of the juices were "awful" and that he missed "a nice glass of wine and a good steak." No kidding, Woody.
Forward Amar'e Stoudemire made news earlier this year when he credited a three-month vegan diet with speeding up his recovery from October knee surgery. After taking a short break from the plan, STAT has decided to return to veganism. And Knicks fans are rejoicing. His recent play has been almost as impressive as his propensity to yell "And 1!" when he neither scores nor is fouled.
Meanwhile, the man that people have proclaimed the "savior of the Knicks" went through perhaps the most bizarre eating pattern. Over the first two weeks of January, Carmelo Anthony fasted extensively to "get some clarity in his life." After admitting that he was de-energized from his abstinence, the star reverted back to a more normal regimen. If Jason Kidd announces that he's gluten-free, this may become the most bizarre sports food story since the Pirates' Randall Simon assaulted the Brewers' Italian Sausage mascot.
Check out these NBA stories on Food Republic: