Food Republic Craft Beer Power Rankings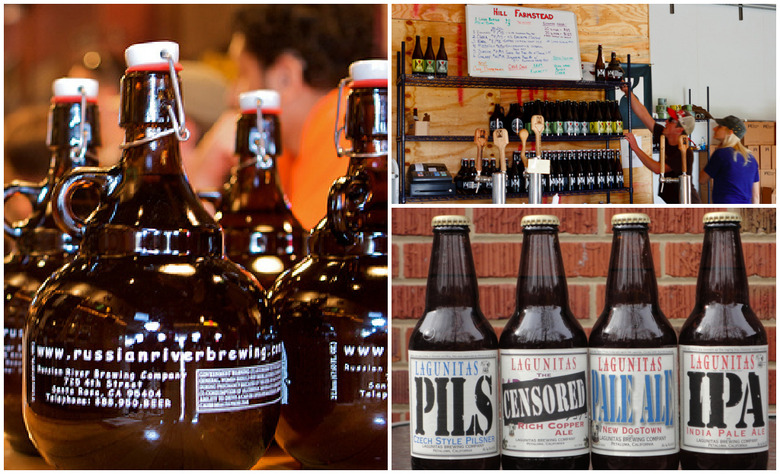 Thirty years ago, the concept of a craft-beer power ranking system was inconceivable. Back then, there were only a handful of breweries pumping out suds that deviated from the watery-lager norm. Fast-forward to 2013, and there are more than 2,300 breweries in the country—with another 1,000 or so on the way. The scope of innovative beers is nothing short of stunning, with sour ales, bitter IPAs, barrel-aged stouts now the norm. Who's leading the sudsy charge? Here's our list of the most influential craft breweries today.
10. Crooked Stave Artisan Beer Project Denver's Chad Yakobson was so bonkers for the wild yeast Brettanomyces that he made it the subject of his Masters dissertation. The fruits of his research are some of America's most fascinating wild ales, such as the Wild Wild Brett Series that replicates the colors of the rainbow and the Surette saison. Last year, he opened the Barrel Cellar, a combination aging facility and tasting room. This year he's opening a new brewery in downtown Denver's Source Marketplace.
9. Evil Twin Over the last couple years, Denmark's Evil Twin — the brainchild of Jeppe Jarnit-Bjergsø, whose brother runs Mikkeller in Copenhagen — has made a big splash in the States with its whimsically named, highly potent ales such as the chocolaty Ashtray Heart imperial stout and Disco, an imperial IPA blended with Chardonnay. Now, Jeppe has relocated to Brooklyn and will be cranking out beers in America. (Without trans-Atlantic shipping, the beers should be far more affordable.) Plus, he's collaborating with Noma and Momofuku vet Daniel Burns to create Tørst, a Brooklyn restaurant with aims to be one of the city's top destinations for craft beer. It should be open in March.
8. Lagunitas Brewing Company Don't look now, but this little Petaluma brewery is poised to totally take over the country. The brewery grew around 50 percent in 2012, and kept releasing totally killer beers. The hoppy, golden Daytime rewrote the recipe books for a session IPA, and the recently released Lagunitas Sucks is a double IPA at its finest. Lagunitas is currently opening a Chicago brewery, which should help ensure the company's countrywide domination.
7. The Alchemist Brewery The Vermont brewery does one thing very, very well: make Heady Topper, a double IPA with a cult following that causes the beer to sell out every single week. The frenzy is understandable. Heady is hop bliss by the 16-ounce can, a double IPA that drinks as easy as a lager. The brewery is currently undergoing an expansion that will help it double its production and dabble in other styles of beer as well. We can't wait.
6. Founders Brewing Company The Grand Rapids, Michigan, brewery specializes in crafting catnip for beer geeks. Among the lusted-after treats you'll find KBS, an imperial stout cave-aged in bourbon barrels for a year, and its sibling, the Canadian Breakfast Stout, which slumbers in bourbon barrels that last contained maple syrup. Up next: All Day IPA, a bitter little beauty you can drink from afternoon until last call.
5. Green Flash Brewing Company When it comes to dank IPAs, few breweries do them better than San Diego's Green Flash. The West Coast IPA is a pungent classic, and Palate Wrecker more than lives up to its name. This year, the brewery will embark on a Hop Odyssey, releasing six different draft-only IPAs from February through December. This month, be on the lookout for a Black IPA, while June will see the Citra Session IPA and December means the Double Columbus IPA. Consider your taste buds warned.
4. Firestone Walker Brewing Co. We've never glugged a bad Firestone Walker beer, whether it's the pungent Union Jack IPA, hoppy Pivo Pils — or the Mission Street line of pale ales and IPAs it makes for Trader Joe's. While the rich, pleasantly hoppy DBA (Double Barrel Ale), floral Pale 31 and Walker's Reserve are all excellent beers, we're most excited by the recent opening of Barrelworks. The "cathedral of barrels" is a tasting room and cellar dedicated to barrel-aged wild ales and other strong, head-spinning delights.
3. Russian River Brewing Co. Vinnie Cilurzo crafts some of the country's finest sour brews, deploying bacteria and wild yeasts as deftly as a scientist. He's even more appreciated for his IPAs, including the cultishly loved Pliny the Elder. This month, Russian River just rolled out Pliny the Younger, its draft-only triple IPA that's regularly ranked one of the world's best. At the brewpub in Santa Rosa, fans started lining up at 3 a.m. for a taste of the hop bomb.
2. Sierra Nevada and Dogfish Head Why are we listing these breweries together? Because they collaborated on a total game-changer: the Spiegelau IPA glass, which was specially designed to enhance the aromatics and help you savor an IPA. To fill the glass, may we suggest Rhizing Bines? That's the breweries' brand-new collaboration beer filled with a host of fun new hop varietals.
1. Hill Farmstead Recently, Rate Beer revealed its list of the best breweries in the world. To no one's surprise, the top ranking was bestowed upon Shaun Hill's cultish Vermont brewery, where he turns out generously hopped, unfiltered ales named after his ancestors. Count yourself lucky if you can score a pint of his standout imperial IPAs like the juicy Double Galaxy or the dank, sticky Ephraim, as well as his standout saisons, porters and barrel-aged sour ales.
Previous Food Republic Craft Beer Power Rankings: