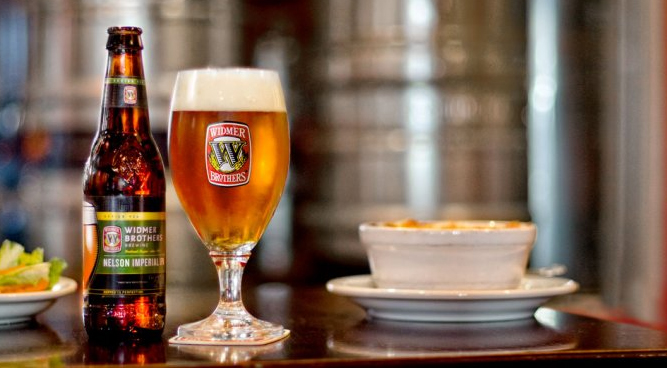 Once upon a time, beer was beer. Quantity mattered over quality, with flavor riding backseat to booze and gimmicks. How else would you explain Phat Boy, the thankfully discontinued malt liquor made with ginseng?
But in the last three decades, America has undergone a slow seismic shift in its approach beer. Thirty-packs of watery Busch Light and longnecks of Bud have lost their luster, as novel beers that are as bitter as grapefruits, aged in bourbon barrels or even dosed with wild yeasts have slid into the spotlight. Collectively, these are craft beers, a term that'll likely leave you scratching your head.
According to industry group the Brewers Association (which orchestrates Denver's annual Great American Beer Festival), craft breweries, which are small, independent and traditional, make craft beers. To me, craft brewers are any breweries that make flavorful, unique beer that you'll never see advertised during the Super Bowl, whether it's made in Milwaukee, Los Angeles, Portland, Oregon, or Italy. Here are six ways to drink craft beer smarter:
1. Consider The Earth
Mimicking the farm-to-table restaurant movement, breweries have begun relying on organic, locally sourced ingredients such as pumpkins, sweet potatoes and wild persimmons and Sonoma County blackberries to flavor beers and give them a singular flavor profile. Consider it terroir by the bottle.
Breweries' eco-consciousness also extends to the packaging. For decades, canned beers have been synonymous with flavorless, mass-market brews. Now, craft breweries have taken notices of cans' advantages over bottles: Cans are lightproof, prevent leakage, are lighter to transport and able to travel places where glass is forbidden. With cans, you can drink craft beer at 30,000 feet.
2. Grub Goes Great With Beer
Don't let that wine sommelier dissuade you: Beer is the perfect companion to lunch, dinner and every snack in between, providing a wide spectrum of flavors suited to nearly every foodstuff. From restaurants to festivals, beer and food have proven to be perfect mates on the dinner plate — and your soup bowl too.
When it comes to cheese, wine may have a pairing monopoly. But don't overlook suds next time you order a fromage appetizer. For example, pair crisp pilsners with something soft and delicate, such as Redwood Hill Farm Camelia, while wheat beers like Allagash White go great with creamy mozzarella.
3. Get To Know Your Hops
Beer's bitterness is provided by hops, the flowering cones of the humulus lupulus climbing bine. Not all hops are created equally. Some are better for providing bitterness, while others create unusual aromas. For instance, New Zealand's Nelson Sauvin has a fruity, tropical profile that recalls white wine, while Citra calls to mind lychee and papaya and Centennial is citrusy and floral. To school yourself on hop varieties, buy a series of single-hop beers.
Hops' bitterness is most prominently displayed in the India pale ale, a bracing brew so lauded it even has its own day. Though the IPA's origins date back to the U.K. (according to lore, eighteenth- and nineteenth-century sailors alighted from England to India with pale ales fortified with extra doses of hops), American brewers have cottoned to the style and made it their own. They've created amped-up double IPAs, black IPAs and even white IPAs.
Don't care for the bitterness? Don't fret. In the ancient beer style known as gruit, brewers omit hops, instead replying on a grab bag of botanicals and herbs ranging from rosemary to cinnamon to astringent yarrow. One modern example, MateVeza Morpho, relies upon bay leaves, hibiscus and the stimulating South American tea yerba mate.
4. Go Against The Grain
Elementally, beer is made with water, hops, yeast and barley. However, incorporating other grains into the mix can drastically change beer's character. Oats can add a creamy silkiness and a touch of sweetness to beers such as stouts, while wheat helps give beer a fuller body and mouth feel and creates a thick, lasting head; it's a crucial ingredient in styles such as witbiers and hefeweizens. (Wheat is also why your Blue Moon is cloudy.) And rye can sharpen flavor, add crispness and subtle spiciness to beer.
For people diagnosed with celiac disease, beer is verboten. The barley contains gluten, which triggers an allergic reaction. But now there's a light at the end of the pint. Breweries have begun turning to gluten-free sorghum, which is made from the African grass. Great gluten-free beers to try include the U.K.-based Green's line and Lakefront Brewery's New Grist. Heck, you can even tailgate with gluten-free food too.
5. Beer Can Be Aged In A Barrel Too
Though oak barrels are synonymous with aging bourbon, rum and wines both white and red, brewers have also started sending their suds to slumber in oak casks. Brewers select wooden vessels that once contained spirits or wine, then fill them with potent beers such imperial stouts, double IPAs, Belgian tripels or barleywines—stronger brews will be complemented, not overwhelmed by the assertive flavors.
Over the course of months or even years, the barrels mellow and transform beer, imparting soft, woody notes and the flavor of the oak's former contents without goosing alcohol content. (Tweaking the trend, breweries have also begun creating beers that taste like cocktails.)
Dark, moist barrels also serve as the staging ground for some of brewers' most mad-scientist experiments: sour beers. By dosing brews with bacteria and wild yeasts, they're able to create offbeat, puckering flavors as peculiar as they are pleasurable.
6. Extremes: Hops, Low Alcohol Volume
At the other end of the spectrum, craft breweries are turning out flavorful, low-alcohol sessions beers — so-called because you can have several in a drinking session. Checking in at less than 5 percent ABV (that's Budweiser strength), session beers such as Stone Brewing's Levitation Ale and Notch Brewing's Session Pils rebut the notion that low-alcohol beers must be as innocuous as tap water.
---
Read more about craft beer on Food Republic: