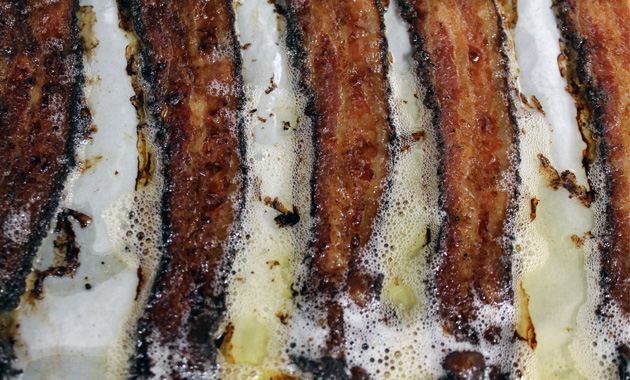 The fine folks at the Men's Health Guy Gourmet blog want you to know that bacon is still in business, even with public outcry that the unctuous foodstuff is "over" and some guy making a Jell-O version that is simply disturbing. They tested over 60 varieties, pegging ten for their porcine hall of fame.
But wait, a publication with "Heath" in its name is writing about their love of bacon? What gives? They explain in their introduction. "And if you're worried about bacon's supposed artery clogging effects, research has shown that there is no evidence that the saturated fat in bacon increases your risk of heart attack or stroke. Not too shabby at only 45 calories per slice."
Here are the top 5 bacons blessed by Men's Health
1. Beeler's Uncured Garlic Pepper Bacon
2. North Country Smokehouse Applewood Cottage Bacon
3. Burgers' Smokehouse Applewood Country Bacon
4. Surry Farms All Natural Dry-Cured Bacon
5. Farmland Thick Sliced Hickory Smoked Bacon
Also, check out our guide for cooking bacon. Because these fine pigs didn't give up their lives to be burned in a cast iron pan by some dumbass.
The 10 Best Bacons Known To Man [Men's Health]