The Sexiest Sriracha-Themed Valentine's Day Gift For Your Special Lady, Ever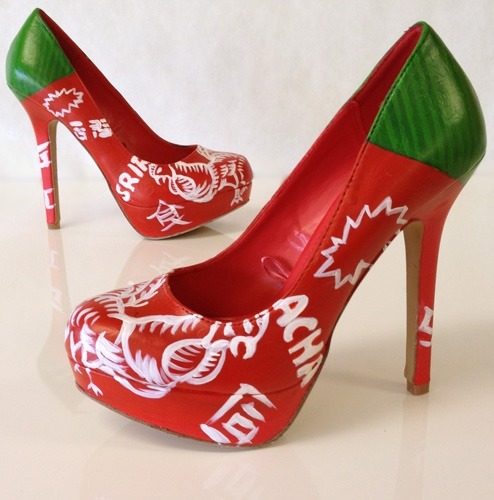 I don't know what to get your girlfriend for Valentine's Day! This is what I've been telling my guy friends until one forwarded me these shoes he found on Pinterest. Good idea! Now, my automatic answer is — get her these awesome sriracha platform stilettos with the classic rooster-on-red motif and a 4 to 5 1/2-inch heel from friendly custom design purveyors Hourglass Footwear. These are the real deal, none of that counterfeit sriracha nonsense. They are a little pricey ($200), but so are the roses she's never going to wear out and look rad in — also, they'll be dead in a week. Shoes live for a long time and don't need their water changed all the time. I could go on.
I myself would stomp awkwardly in these for a full three blocks before I switched to purse flats (FTW). Maybe five blocks. But if she's one of the talented gals gliding around in them like it's her job, a pair of these is guaranteed to do to her wardrobe what sriracha does to everything, make it way more interesting. Some might even say hot. You know, Valentine's stuff.
More abundant Valentine's Day advice on Food Republic: