New York City: Underground Eats' Supper Bowl Was Better Than Most Tailgates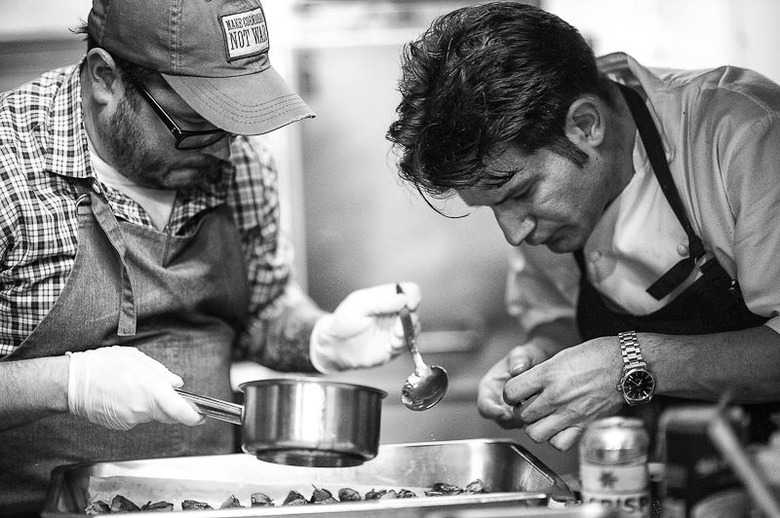 Underground Eats, organizers of creative dining experiences, pulled out all the stops for last night's Supper Bowl. The six-course menu was prepared by Portuguese powerhouse chefs George Mendes (Aldea) and David Santos (Louro, where the event was held) and our dude from Charleston Sean Brock.
The Portuguese and New American dishes all paired masterfully with the selection of Portuguese wines, but what was really boozetastic was the welcome cocktail: Whistle Pig rye whiskey, cinnamon bark bitters and lemon with corn milk — yup, crushed-up sweet corn mashed through a sieve. George Mendes' Scottish pheasant "en escabeche" was a stand-out dish, with notes of lemon balm and microcoriander and that "garnished with tweezers" presentation you just have to love.
My favorite dish was Sean Brock's heritage pork, served with whey-poached celtuce, otherwise known as Chinese leaf lettuce and literally the most obscure and hardest-to-grow vegetable you've never tried. The pork sat next to the most genius and easy-to-pull-off sauce I'd never considered: charred onion jus.
"For the pork we used the asado technique — built a huge bonfire and set the pork on a rack off to the side just sitting next to it," said Brock. "One guy has to sit there and turn the pork for the whole time, you can't leave it alone. Celtuce is a vegetable I've always wanted farmers to grow. It's Chinese lettuce with a thick stem. I tried to grow it and failed, and seeds are really hard to come by. Finally this year the weather was just right and it grew like crazy."
So along came the celtuce. As for the whey-poaching, Brock says it's a great way to use acid to draw out some of the bitterness you find in leafy greens.
"The sauce on the plate was just onions that we burned and put through a juicer, that's it."
Burned onion juice, no butter or sugar necessary. Ladies and gentlemen, Sean Brock.
Check out Underground Eats for your next big dining out experience and follow them on Twitter at @ugeats
More spectacular dinner reports on Food Republic: