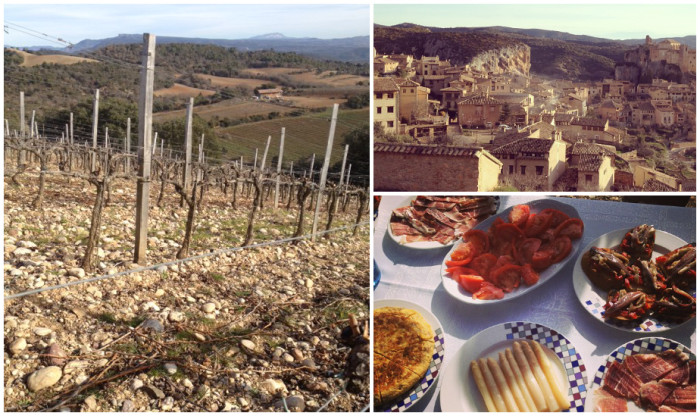 Somontano is a rural stretch of mountains and foothills located in the northeast corner of Spain. It's a region of great climatic contrasts, breathtaking natural beauty and some pretty spectacular winemaking. But it's likely when traveling to Spain to eat and drink — which is really the reason you should go outside of watching soccer and checking out those cracked-out Gaudí cathedrals — Somontano will probably not be your first, or even fifth priority.
This is okay. Spain is a big place, and the Basque region has all those Michelin stars shining. But let us make a case for a two-day trip to explore the narrow cannon roads winding above the Vero River, stopping at a Medieval town pulled from the pages of Don Quixote and, of course, enjoying the region's food and drink along the way.
Getting there
Somontono is located in the province of Huesca, part of an autonomous expanse known as Aragon. The region's largest city is Barbastro, which is located 270 miles northeast of Madrid and 140 miles northwest of Barcelona. Driving around the region is easy, with clearly marked and relatively new highways. High-speed trains serve both Madrid and Barcelona. Your best bet is to take the train to Zaragoza and rent a car there, which will save you the hassle of navigating a major city by rental car. Plus, the trains are damn fast and you're served hot meals that trump those in Delta Business Class any day.
Alquézar and Barbastro
The two-hour drive from Zaragoza takes you through varying terrain: foothills and plateaus until the snow-capped Pyrenees appear just before arriving at the charming medieval village of Alquézar, population just over 300. In the spring and summer months, Spanish adrenaline seekers travel to the area for rock climbing and white water rafting in the nearby Sierra de Guara National Park. It feels a lot like Colorado in that sense. Villa de Alquezar is a good place to stay, with basic (and affordable) accommodations and a spectacular view of the ancient city. Alodia is a slightly more upscale option that works as well. Walking around the village is a trip back to the 16th Century, with working vegetable gardens and much of the original stonework still in place. A large castle built in the 8th century is worth a visit and a tour, particularly for the historical cloister and ridiculous view.
Nearby Barbastro is a more modern town, with a central square lined with shops and restaurants. Bodega del Vero, located in a former chocolate factory, is part green market and restaurant. Upstairs you can find local charcuterie, cheese and olive oil. A stairway leads to the subterranean dining room heated with a wood-burning stove, which also serves as one of the restaurant's hearths. It is down in this stone-walled chamber where you can enjoy your multi-course feast and sip the wonderful local wines that is likely the reason you've made the trip in the first place.
The wines of Somontano
With diverse and fluctuation climate and terroir, the wines of the region are quite varied. The majority of the wineries are operated by Gonzalez Byass, one of the country's leading sherry bodegas who invested heavily in the region in 2008. Along with Enate and Bodegas Pirineos, the primary producer is Viñas del Vero — a consortium of 14 estates producing a lengthy list of wines, many not typically associated with Spanish producers: Chardonnay, Riesling, Gewürztraminer, Syrah and Pinot Noir. A Gran Von Reserve is a blend of Grenache, Merlot, Syrah and Pinot Noir, aged 18 months in French oak. The Clarion Reserve is a fine marriage of Gewürztraminer and Chardonnay. There's a spacious tasting room on-site.
Blecua, the high-end Somontano bottling from Gonzalez Byass, is produced as the result of a labor-intensive process of hand-selecting the best grapes from the best Viñas del Vero estates (seven in total), then selecting the best barrels after one year of aging. The resulting blend is then aged an additional eight months in French oak. The result is a muscular and complex red wine that drinks with notes of black fruit. The style is very Bordeaux in the best possible sense.
Secastilla is a single-estate wine made from just under 48 hectares of vines growing in exceptionally rocky soil at over 2,000 feet elevation. The story goes that a wine maker from Viñas del Vero was riding his dirt bike and stumbled upon the old Grenache vines covered by years and years of overgrowth. Seeing an opportunity (70-year-old vines = good wine), the company was able to negotiate a deal with the landowner, an older Spanish woman named Miranda (for which the winery's award-winning Syrah, Parraleta and Grenache blend is named). The vines themselves are situated amongst olive and almond trees and all harvested by hand due to the vineyard's exceptionally steep terrain. In the glass both Miranda and the namesake bottling are absolute fruit bombs with dryer tannins and hints of chocolate.
The take away
For a wine region that sits directly east of the far better-known Rioja, Somontano is a little guy with a lot of character — producing some of the finest white wines in all of Spain (classically a country known for its reds). Though sleepy and rural compared with the two urban centers and large resort towns of Andalucía, the tranquility and hospitality found in the region offers a nice contrast. And if you are traveling for food and drink, there is no better way to dive into a region of Spain that is most certainly emerging on the world stage.
---
Read more about eating and drinking in Spain on Food Republic: