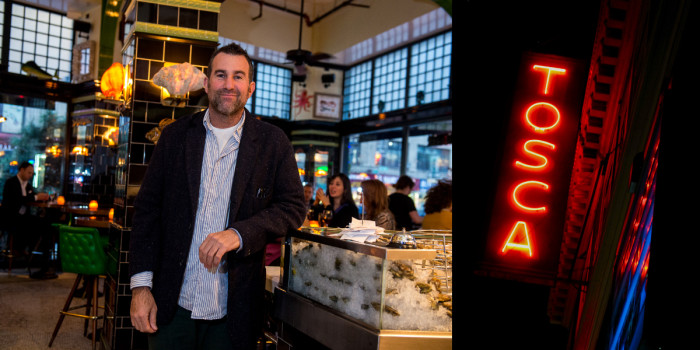 Over the past two weeks we've run interviews with Ken Friedman (see part I and part II), the prolific New York City restaurateur and former music industry executive. He recently announced plans for a forthcoming reboot of Tosca in San Francisco's North Beach neighborhood, his first non-Gotham opening with chef-partner April Bloomfield. We asked him to fill us in on some of the details.
What are you guys thinking about doing with the cuisine at Tosca?
There has been basically zero food served there since it opened in 1964. For April, it's a chance for her to go back to her roots because she was the sous-chef at River Café in London, which is the best Italian restaurant in England. The Spotted Pig is a bit of British, a bit of American, a bit of Italian. But this is going to be all Italian.
Are you going to serve a late-night menu?
Well, you can only serve booze until two [in the morning] there, so we will probably serve food until then. Part of what we are going to do is bring a New York sensibility to San Francisco, which includes a late-night menu. In San Francisco, there's like nothing open at 11 o'clock.
Will the cooking be hearty, which you guys are known for?
Yeah. Whatever April wants to do, I just get out of the way. It'll be hearty, simple, small plates. It'll be great food at a bar because it is a bar – the most-famous bar in San Francisco. It's pretty simple for us to not get in the way of the bar and to put out great snacks that go with cocktails and wine.
Do you have somebody on the drinks program yet?
We don't have a guy yet. At The Spotted Pig, we have a guy called Thurman who started off as a bartender and has became our bar manager. He's great with cocktails and is not an "elitist mixologist" who doesn't believe in vodka and thinks that a gin martini is the only kind of martini. [Longtime collaborator] Sasha [Petraske] is that kind of guy, but he invented being that kind of guy. In San Francisco, it's a newer phenomenon, whereas [in New York] it's been going on for a while – since Milk & Honey started. We like these guys called Bourbon & Branch and got to know them a little bit. On the other hand, we could bring in a New York person, and sensibility.
What about wine?
We want to get someone from the West Coast who has California wine knowledge, that is for certain.
---
More about San Francisco on Food Republic: