4 Ways To Take Swedish Meatballs For A Spin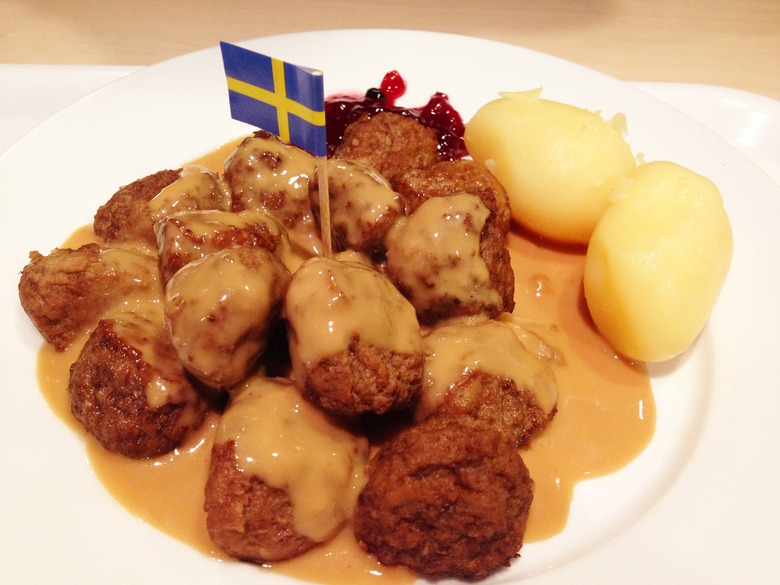 I really wish I hadn't found out the café a few doors down from the office serves Swedish meatballs. I'm also very glad there's a place within a block that serves Swedish meatballs. Because, when it's cold like this, few dishes will warm you up and keep you comfortably full like köttbullar med potatis. I've been brushing up on my Swedish. Sockerbit! Gymnastikskor! Tandkräm!
No, I don't want any snus, tack så mycke! But now that I've eaten köttbullar, oh, eight days in a row (nine including later today, frankly), it's time to do what I do and figure out a way to not get bored. Because I'm committed until I can't eat anymore. Ooh, new mantra!
Following the tried-and-true formula of meatball, mashed potato and some sort of gravy and/or fruit element, here are my thoughts:

French Meatballs aux Suédois
Beef and veal meatballs over aligot (mashed potatoes which are basically half-cheese) with a smear of apricot jam on the side.
Yes It Is Definitely Winter Swedish Meatballs
Chicken and apple sausage meatballs with hard cider reduction and potato-parsnip mash.
The Very Confused Italian: "Che Diavolo?"
Spicy Italian pork sausage meatballs with goat cheese and kale mashed potatoes and just a drizzle of tomato sauce.
Swedish Kefte
Lamb and mint meatballs over spicy Egyptian potatoes with a pomegranate-yogurt drizzle.
I bet I could write a cookbook just on variations on Swedish meatballs. Give me a week to come up with 50 ideas. I'll do it. Promise.
More variations for lunch on Food Republic: