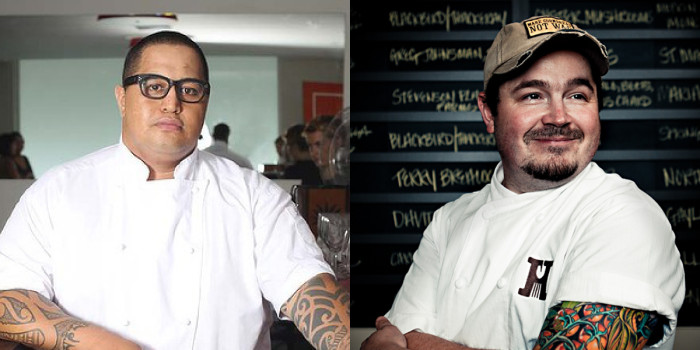 Over the next few months we will be checking in with chef Sean Brock and the staff of Husk Nashville as he readies the opening of that city's most-anticipated new restaurant in years. This is the second installment. Earlier: The Opening of Husk Nashvile: An Introduction.
Of all the decisions that the owners of Husk Nashville have to make prior to opening their second location, perhaps the most important is the selection of the Chef de Cuisine. While certainly Husk executive chef Sean Brock and David Howard, the president of Neighborhood Dining Group, will be integrally involved in the gestalt of the new location and will spend plenty of time on the premises, the local head toque will quickly become the face of the operation.
Although Brock intends to split his time between his restaurants, he and Howard will be a consistent presence in the kitchen through the opening and beyond. In fact, Howard says that they are looking for local housing to share during their frequent visits — but that he's afraid that "within two weeks Sean will have the place filled with jars of pickled vegetables and sausages hanging from the rafters."
General manager Dan Latimer will also spend plenty of time in Nashville hiring, developing and training the entire team at the new restaurant. Brock will oversee all kitchen operations as the executive chef of both Husks and McCrady's and will be an oft-present fixture in the Nashville location. However, the choice of the individual to work alongside Brock and help spread the gospel of southern ingredients is very important, as this partnership will have a major impact on the cuisine served to the Nashville community.
As soon as NDG announced that they intended to open Husk Nashville, speculation erupted about who would head the kitchen. With Brock's past experience as a chef in Music City — and his long-term relationship with many Nashville chefs — locals began to guess whether the next chef at Husk was already working in a Nashville restaurant. Others wondered whether a regional search would result in the placement of a new protégée from out of town to bring a different experience to the restaurant.
In the end, Brock says the choice was easy. In fact, his first thought was already working in the kitchen at Husk in Charleston. Morgan McGlone might seem an unlikely prospect to act as high priest over the altar of Southern food that is Husk, unless you consider that New Zealand is w-a-a-a-y south.
Indeed, McGlone is a born Kiwi from Hastings, New Zealand who has worked for great chefs in kitchens all around the globe, including The Summit Restaurant, Salt and CBD in Sydney, Pierre Gagnaire in Paris and D.O.M in São Paulo. He and his brother Rick also opened their own French bistro named Flinders Inn in Sydney in 2009.
When Flinders Inn closed in 2011, McGlone decided to stage at Husk in Charleston for two weeks. And then he never left. "Morgan fell in love with the food," recounts Brock. "He caught the fever and stayed." McGlone had long admired Brock and his passionate approach to Southern ingredients and food, and started out as a line cook in the Husk kitchen. Brock took an immediate shine to his young apprentice and began to carry McGlone on the road with him to some of his more exotic guest chef trips in places like Brazil. It didn't hurt that McGlone speaks Portuguese thanks to his six years of experience as an agent — and member of the security detail for several Brazilian supermodels. You could not make this up.
Security detail? Yes, McGlone is a big dude. Howard jokes, "We hired our biggest chef to work in our smallest kitchen." Brock shares, "He'll be our head chef and our bouncer." McGlone's two massive arms covered with tribal symbols should be an interesting counterpart to Brock's sleeve of vegetables, tubers and delicate flowers.
When they're not comparing ink, McGlone and Brock share many sensibilities. McGlone has developed a strong appreciation for local farms and producers as the most valuable way to connect with history and move cuisine forward, a philosophy he learned while working at Husk. McGlone is excited to bring this ideology with him to Nashville, along with newly developed techniques such as asado cooking with coals. McGlone sums it up best. "Husk has reinvigorated my career."
Brock is extremely excited about McGlone's potential. "He is incredibly talented and in love with Southern food. He has worked in some of the best kitchens all over the world, and when you do that, quality becomes a part of you. It doesn't matter where you come from if you care about the cuisine, and we're very lucky that he has decided to join us in this venture."
It sounds like Nashville will be very lucky as well.
Read more stories about Nashville on Food Republic: