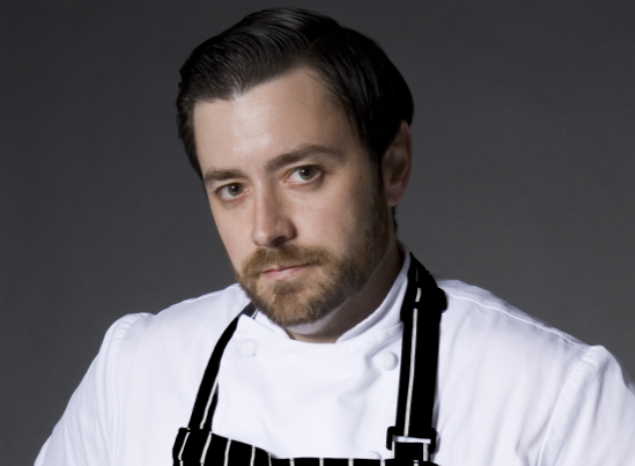 Bill Corbett loves playing around with mushrooms and is experimenting with celery root. This isn't so interesting unless you consider that Corbett is a pastry chef and utilizes these ingredients in dishes like porcini s'mores and cake. The man San Francisco Magazine named Best Pastry Chef of 2011 has worked in some of the nation's most renowned kitchens, including New York's wd~50 and San Francisco's Coi. Corbett currently serves as Executive Pastry Chef at Absinthe, a brasserie celebrating its 15th year as one of the Bay Area's most popular restaurants. We recently caught up with him to discuss pastries that he won't go near, differences between East and West Coast cooking and what he's listening to in the kitchen.
So, desserts with celery root?
I have been trying to play around with celery root. Right now I'm making cake with it, along with some milk jam. We also just put a yogurt panna cotta with grapefruit gelée and grapefruit and tarragon meringue on the menu.
Name a trend that you feel has been overdone…
I'm kind of over people talking about molecular gastronomy a lot. I think that genre of cooking can really be done well in the right hands, but extremely poorly in most hands. There's a bit of overkill with everyone trying to be too ultra-modern and in the end, flavor ends up suffering. I dislike the idea of flavor not coming first.
Is there a specific pastry that you won't make?
A croque-en-bouche. [Editor's Note: We're talking about a traditional French dessert, generally served as a high-piled cone of chocolate, cream-filled profiteroles all bound together with caramel.] I had to do one once working for a catering company part-time when I was at wd~50. It ended up being a really humid day and I didn't have much experience with it. I glued all the pâte à choux on with caramel and when they opened the box the next morning, it had all fallen off. I'm not really excited about it in the first place, and I'd just rather stay away from it [laughs].
What are the big differences between cooking on the East and West Coasts?
When I first moved here, there were huge differences, but that gap is slowly getting smaller. I felt that New York had all the technique — but San Francisco had all the ingredients. Now I feel that a lot of technique has moved to San Francisco and there has been an influx of people from out of town. People here have also stepped up their game and the level of food has really gotten better in the last five years — ranging from street food to top restaurants. People here are trying to elevate the amazing produce we get and are not taking the easy road. I think more people are saying, "The farmer did this, and I've got to do the farmer justice by taking the product to the next level."
Did being a vegan affect how you were preparing desserts?
To an extent, yes. The only thing I think it really affected was my perception of the guests. I would try things in the kitchen that I would not at home, only eating vegan outside of work. I'm vegetarian now and I still eat vegan quite a bit at home.
Did you stop eating vegan because it was limiting you as a chef?
No, I think I just grew out of it. I was not really sure why I was doing it anymore. At one point, I was politically active and had very idealistic ideas. I still definitely have my views and my politics but they've been refined more. People change as they grow up. The biggest way it affected me though was going out to restaurants — no one would really step out of their comfort zone and they would just give me sorbet or fruit with a little balsamic for dessert. Sure, it tastes good, but show me something! My goal was to go above and beyond guest expectations. If guests come in with allergies or with certain dietary restrictions, I want to be able to cook for them and want them to leave feeling that they got a full dessert.
What are some of your favorite spots to eat near your home in Oakland?
I love Boot and Shoe Service. It's a local neighborhood restaurant that has great pizza and seasonal produce. There's a really great Chinese restaurant nearby in Alameda called Ark that has hand-pulled noodles. The garlic noodles there are one of my favorite dishes ever. I like going to Burma SuperStar in Oakland for Burmese food. There's some great taco trucks too. What I like about Oakland is that it's very working class, which is my vibe.
Is there something general about pastry chefs that people don't know or realize?
I think that pastry chefs are definitely a little more particular about some things. I think that people get that out of our food, though, with precision plating and things like that. Not that savory chefs don't have that, but I just think that it's more common with pastry. Everyone is different, though. You have guys like Brooks Headley, who are legendary punk drummers. Lincoln Carson knows metalworking and stuff like how to break down a motorcycle engine. Personally, I am a big music head.
What do you listen to while cooking?
Right now I am listening to a local band called Kowloon Walled City. I'm listening to things all over the place, but I definitely listen to a lot of underground metal and harder rock and punk.
Read more pastry chef interviews on Food Republic: