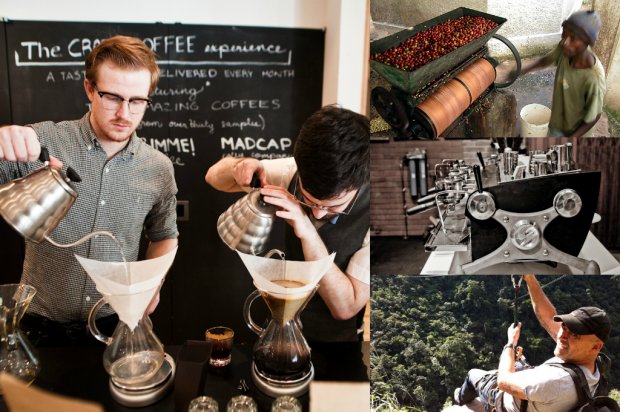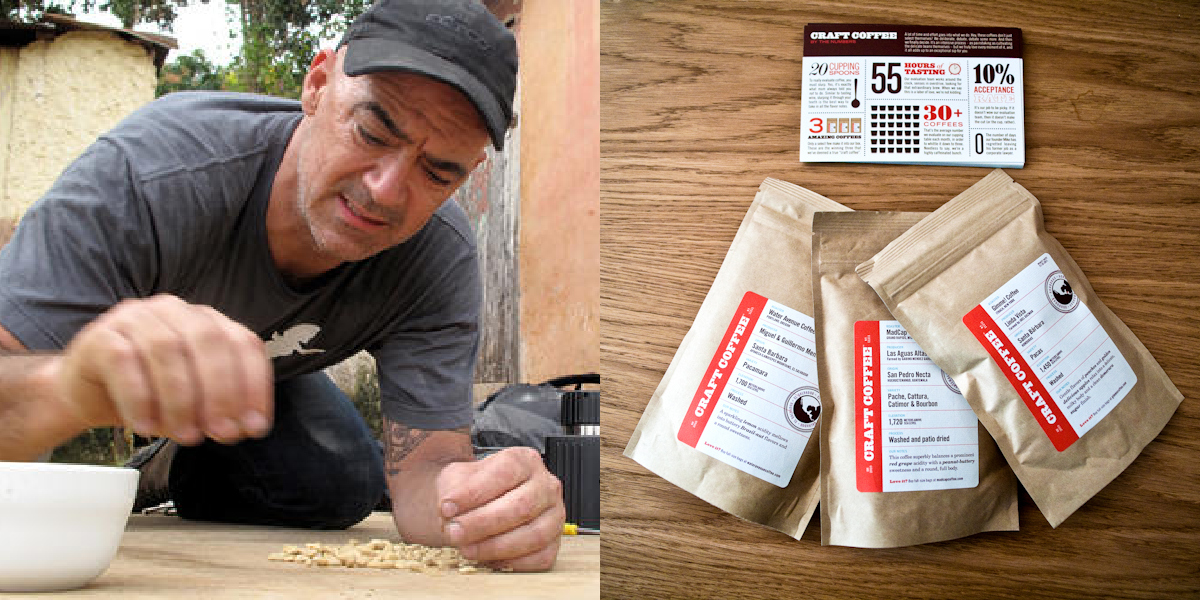 A new year means a fresh shot of our Coffee Power Rankings. There are new names to know that crop up regularly in the coffee world and the ever-solid mainstays we want to re-pledge our devotion to again and again. So, if you're serious about caffeinating, here's a list of our 10 favorite craft roasters, coffee bars, growers and brew equipment manufacturers currently at the cutting edge of the java scene.
Related: Food Republic Coffee Power Rankings (October 9, 2012)
10. Blake Dinkin | Black Ivory Coffee
Move over civets: those African cat-like animals that poop out über-expensive beans. If allowing a coffee cherry to travel through a beast's digestive tract can boost its value, why not go for the biggest beast of them all. Blake Dinkin's beans, clocking in at a record $1,100 per kg, have been eaten and excreted by Thai elephants. The coffee is mostly available in ludicrously fancy hotels in places like Abu Dhabi and the Maldives. How healthy the beans are for the elephants, though, is debatable – especially given the scathing reports on civets.
9. Bart Becht | Joh A. Benckiser
Whether Dutch businessman Bart Becht is really a big coffee drinker is a mystery. But his company is about to get a lot more caffeinated. Becht bought California institution Peet's Coffee & Tea this past summer and just last month announced a deal to acquire Minneapolis-based Caribou Coffee. The chain has close to 500 locations in 16 states, and sells its coffee in another 30. It bills itself as the first major coffee chain to do 100% Rainforest Alliance Certified beans.
8. Michael Horn | Craft Coffee
So, you want your coffee to be roasted locally. Does it matter if your local craft roaster is not actually local to you? This subscription service delivers artisanally roasted beans from small roasters across the country to your door. For as little as $20 a month with free shipping, you can get beans from such craft roasters as Flying Goat in California, Toby's Estate in Brooklyn and Kickapoo in Wisconsin. Also provided are brewing guides, videos and a searchable database of tasting notes.
7. Colby Barr and Ryan O'Donovan | Verve Coffee Roasters
These 30-something friends opened the first Verve location five years ago and their latest in late 2011. The pair was just awarded a Good Food Award (the winners are selected based on the traceability, sustainability and transparency of the coffee). But among java heads in Santa Cruz, Verve is known as the inventor of the "one and one" — created by barista Jared Truby. It's a shot of espresso with a macchiato, balanced on a plate and ordered off the menu.
6. Thatcher and Wilford Lamastus | Elida Estate
Specializing in natural coffee, Elida is the second-highest coffee farm in Panama. It's been in the Lamastus family since 1918, when Robert Lamastus left Kentucky to work on the Panama Canal. More than half the estate is located in the Volcan Baru National Park, a protected reserve for local birds and mammals, including the odd jaguar that wanders onto the farm. It boasts rich volcanic soils and a cool, foggy climate, which makes for a long, slow ripening of the cherry. Robert's son, Thatcher, runs the farm, while grandson Wilford handles the business end.
5. Stephan Korziol | Korziol "Unplugged" Coffeemaker
Think of it as as a German IKEA. Only better. Korziol's products are no longer limited to carved ivory items, like in founder Bernhard Korziol's time, but they are still characterized by clean, simple design. Now that the company is in Stephan's hands, it's known for using recycled and sustainable materials, like with the Unplugged coffeemaker, made of 100%-recyclable thermoplastics and non-toxic pigments. It might look like a drip coffee machine from the outside, but it's actually a pour-over system and comes in an array of sunny colors.
4. Todd Carmichael | La Colombe Torréfaction
The outspoken co-founder of this Philadelphia-based roaster is more than just a purist and a peddler of properly roasted beans. He's also an environmental and social activist – and now, a reality TV star, to boot. His extreme-coffee Travel Channel show Dangerous Grounds, featuring Carmichael traveling the world looking for that perfect cup of joe, just got renewed for a second season.
3. Keith Gehrke | Able Brewing
Creator of the acclaimed Kone, the stainless steel filter for pour-over now in its third edition, Keith Gehrke has also used Kickstarter to help expand his business. The overwhelming support he received allowed him to move forward with the Kone Brewing System, a ceramic pour-over brewer made by a local ceramics studio in Portland. Once the coffee is ready, the part that holds the Kone filter can be removed and replaced with a lid for a simple, handsome coffee pot.
2. James Freeman | Blue Bottle Coffee
This cult Bay Area coffee bar and craft roaster now has locations around San Francisco and New York. The Blue Bottle Craft of Coffee, written by Freeman, his wife and Blue Bottle's pastry chef Caitlin, and San Francisco Chronicle writer Tara Duggan acts as a manual, is a cookbook and coffee porn tome. A worthy addition to any coffee geek's library.
1. Kevin Cuddeback | Gimme Coffee!
Roast Magazine's Roaster of the Year is not only an excellent craft roaster based in Ithaca, N.Y. with a growing number of cool coffee bars around the New York area. It's also an anti-fracking force to be reckoned with. It just launched a limited edition "Fracktivist Blend" coffee, which uses organic beans and supports Toxics Targeting, an anti-fracking watchdog group in New York state.
Read these stories about coffee on Food Republic: