NBA Power Rankings: McDonald's Edition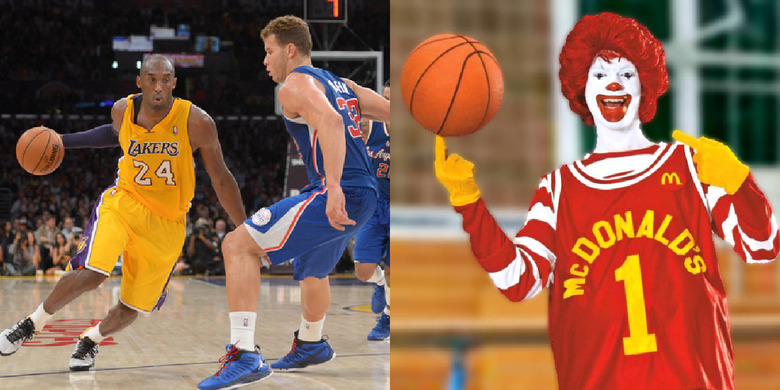 The All-Star Game is still three weeks away and yet the season is already halfway over. For the first time since the Dark Ages, it looks like the Lakers won't be in the playoffs and at the same time, it appears that the Clippers will be a #1 or #2 seed. WHAT? We're living in a crazy world, friends. A world of small market parity (OKC, San Antonio, Memphis and Indiana all playing extremely well), a world of spending not equaling wins (Oh, hey Rockets and Lakers), and a world of coaches getting the hook faster than a country singer at the Apollo (R.I.P. Mike Brown, Avery Johnson, Scott Skiles and Alvin Gentry).
One of the best storylines of the 2012-2013 season is the early emergence of a playoff-like atmosphere. Have you been watching these games? Knicks and Celtics, Knicks and Nets, Celtics and Bulls, Bulls and Heat, Heat and just about everybody — and that's just the Eastern Conference Teams. How much more intense are these games going to get after the All-Star break? I don't know, but I can't wait to find out.
McDonald's and the NBA have been linked for decades and while His Airness and His Larryness may not be playing H.O.R.S.E for burgers anymore, there's still a deep connection between the two brands. For this round of the Food Republic NBA Power Rankings, I'm assigning each team to a menu item at the Golden Arches. If you feel like your favorite team got robbed, blame it on the Hamburglar.
( ) = previous position |  [ ] = record as of January 20, 2012
#1 (1) Oklahoma City Thunder [32-9] 
While the D-QPC is overloaded with beef, the Thunder are overloaded with talent. Let's look past the obvious superstars (Durant and Westbrook) and focus on Mr. Serge Ibaka. Who else in the league can swat shots like Mutombo, play defense like Pippen, score like Shawn Kemp (skinny version) and rebound like Barkley? Somebody give this man American citizenship so he can stop wasting time on the bench for Team Spain at the next FIBA World Championships.
#2 (6) Los Angeles Clippers [32-10] 
At this point, Chris Paul is the Big Mac of the Clippers. He's proven that he's the best leader in the league, the best surrogate coach in the league, and, with Derrick Rose out, Russell Westbrook playing more combo guard, and Deron Williams losing his charm, he's the best pure point guard in the league. Los Angeles has a new favorite team and this one doesn't make their fans wear the ungodly color combination of purple and yellow.
#3 (2) San Antonio Spurs [33-11] 
#4 (5) Miami Heat [26-12] 
The Heat's recipe for success mirrors that of the Premium Chicken Ranch BLT Sandwich. Take the biggest star in the NBA (LeBron as the premium chicken breast), add two great secondary ingredients (D Wade as bacon, Bosh as cheese) and pile on just the right amount of support from the other components and you've got the best team in the Eastern Conference. Will they win it all again this year? It's too early to say, but they've got a whole other gear that they're not even using right now. Uh-oh.
#5 (4) Memphis Grizzlies [26-14]
Like spicy little pieces of fried chicken, the Grizz will make you regret coming near them. You may encounter extreme dry-mouth, excessive sweating and overall queasiness when you go head-to-head with the dudes from Memphis. Look at this starting lineup: Marc Gasol, Mike Conley, Zach Randolph, Tony Allen and Rudy Gay. In 2010, that doesn't scare anyone. In 2013, whoa. Can David Stern start giving out a Most Improved Team award?
#6 (3) New York Knicks [25-14]
After the Great Melo-Garnett Debacle of 2013, this Knicks team has become the authority on beef. They've got beef with the Celtics and beef with the Heat. They've got beef with the Nets for sharing New York and beef with the Bulls that dates back to '90s. This team has more beef than a whole bag full of Angus Deluxes (Deluxi?). That's a lot of beef.
#7 (11) Brooklyn Nets [25-16]
Everyone on the Nets offers something completely different. Like Chicken McNuggets, they're each incredibly unique and yet, when they're playing together, it's hard to stop eating them watching. Credit P.J. Carlesimo and his 10-2 record for the jump. That said, this team is fairly dysfunctional and there's a chance they were constructed out of pink slime. It's like American Chicken Borscht!
#8 (15) Denver Nuggets [25-18]
Is there anything more reliable than an Egg McMuffin? Same goes for a George Karl-coached team. Year in and year out they compete, no matter who's on the roster. Ty Lawson may be constantly battling injuries, Danilo Gallinari may be one of the streakiest shooters in the league, and Kosta Koufos, JaVale McGee and Timofey Mozgov may be the most international center platoon in NBA history, but the Nuggets are still winning games at an impressive clip. There's something in the air in the Mile High City and that explains how they've only lost three games at home this season.
#9 (8) Golden State Warriors [25-15]
Well look at these young whippersnappers still winning games! I know! I'm as surprised as you are. Even more surprising is the fact that they're winning the majority of those games against Eastern Conference opponents. Despite a seriously good record, they're just 10-12 against opponents from the West. What's up with that? Sadly, the Warriors perched in the Top 10 is likely a thing of the past because Steph Curry got yet another ankle injury. He's back now, but those things linger. In my pre-season rankings, I wrote: "The stars of the Golden State Warriors are Andrew Bogut and Steph Curry. If they're able to play a full season, great. If they're injured, it's going to be a rough year in the Bay Area." It looks like they're heading towards that rough year.
#10 (16) Indiana Pacers [26-16]
There's nothing fancy about the Pacers and there's nothing fancy about a sausage biscuit. It's the most simple item on the McDonald's menu. You need two things: a biscuit and some sausage. Behind the scenes, it's a lot more complicated (What goes into that sausage? How do they make the biscuits so damn dry?), but ultimately it's a simple formula. For the Pacers, that formula is play lockdown defense, score when possible (at 91.5 PPG they're the second-lowest scoring team in the NBA), and play as a team. It's going to be very interesting to see what happens when Danny Granger comes back in a few weeks.
#11 (9) Chicago Bulls [24-16]
Nothing flashy here. Just a throwback classic that's greater than the sum of its parts. Am I talking about the Bulls or the burger? The answer is both. How they've played so well without last year's unstoppable bench and a former MVP is beyond me. Carlos Boozer has finally eased into his role and Joakim Noah is playing out of his head. DRose is already dunking and cutting in full contact practices, which means the East is about to get a lot scarier — assuming the Bulls can figure out how to get Ws in the United Center on a more consistent basis.
#12 (12) Boston Celtics [20-20]
This is what nasty old men eat for breakfast, right? That's what the Celtics have devolved into. Kevin Garnett can't keep his honey-nut trap shut, Rajon Rondo is the dirtiest point guard in the league and poor Paul Pierce is playing out his career with a team that won't win anything this year. At least Ray Allen had the good sense to bolt for a contender.
#13 (21) Portland Trailblazers [20-21]
In honor of Damien Lillard, the NBA's newest point guard star, the Blazers are getting the newest item on the McDonald's menu. The future is bright in Hipster Central.
#14 (17) Milwaukee Bucks [21-18]
They're new! They're improved! They're... chicken fingers. The Bucks are following a similar path. Sure, they may seem like a new team with Scott Skiles out of the hot seat and Ersan Ilyasova back in the starting lineup, but they're really the same old Bucks. Brandon Jennings and Monta Ellis take way too many shots, four guys on the team have made their marks as elite shotblockers, and they all have to live in Wisconsin. Oddly enough, they still have a winning record despite having a negative point differential. Go Bucks?
#15 (7) Atlanta Hawks [23-18]
The Hawks are lost. The Bulls held them to 58 points in a professional basketball game. Your average college team scores more than that. It's a shame to see Al Horford and Josh Smith wasting their talent on a team that seems to have lost their way. Are there trades coming? I wouldn't be surprised. Now that Lou Williams is done for the season, things are going to get even worse in A Town. At the end of the day, there's just not much about the Hawks to care about. They're the equivalent of a plain fried chicken patty with pickles.
#16 (18) Houston Rockets [22-21]
Rockets games are high scoring affairs. In fact, their games average more than 200 points a contest, by far the highest in the league. They're pouring in 104.5 points a game and yet they allow 103.5. That's not good. Even with Omer Asik gobbling up rebounds like a Hungry Hungry Turkish Hippo, the James Harden/Jeremy Lin/Chandler Parsons Project isn't winning enough to merit those high salaries they took on this year. The Rockets get the Premium Bacon Ranch Salad with Crispy Chicken because it obviously got a high enough score in test markets to make it to the permanent menu.
#17 (13) Utah Jazz [22-19]
Here's where I continue my crusade to label the Jazz as the most boring team in the league. Even their record is boring. Somehow I get the feeling that Fruit & Maple Oatmeal is exotic in Utah, but really boring everywhere else. Sheesh. 
#18 (19) Los Angeles Lakers [17-24]
The Lakers. So much disappointment thus far, but things are looking up. After losing Steve Nash, Pau Gasol and Dwight Howard for parts of the season, the whole roster is finally back and healthy. Earl Clark was a nice surprise buried deep on the bench and Metta World Peace seems to have regained his shooting touch. At this point, they're an average basketball team dressed up in a Hollywood package. Like the Premium! Crispy! Chicken Classic Sandwich (exclamations are my own), there's a lot of fanfare, but ultimately it's just a chicken sandwich with a bunch of adjectives.
#19 (14) Minnesota Timberwolves [17-21]
There's no Love in Minnesota. Literally. Kevin Love's out for the second extended period of the season and Ricky Rubio hasn't come back anywhere close to the level he was playing at last year. What can T-Wolves fans look forward to? The consistent goodness of a McDonald's apple pie as they try to forget the horror show occurring on a regular basis at the Target Center. Those little sugar bombs will never let you down, dontchaknow?
#20 (10) Philadelphia 76ers [17-24]
Okay, okay, it's not exactly a Philly cheesesteak, but it's close. I know I've compared the Sixers to a cheesesteak before so feel free to tune me out like the team is currently doing to Doug Collins. I've been harping on this since last year, but there's a shelf-life to Doug Collins as a coach: it's three years. Right on schedule, the No Bynums are sliding faster than a chubby first grader on a greased slide in Center City. Jrue Holiday is a major bright spot, but this team has become a major disappointment.
#21 (20) Dallas Mavericks [18-24]
"Hi, Sharks. My name is Jason Kessler and I'm seeking $300,000 for a 10 percent stake in my business MavBurgers. I take the same McDonald's cheeseburgers that Mavs fans know and love and stamp them with a ketchup-based ink caricature of your favorite Dallas player. This is a pre-revenue start-up so I don't have sales yet and I don't have a patent for any of this, but if you don't mind investing so I can cover my legal bills from the corporate lawyers at Mickey D's, then we can make a fortune together. Mark Cuban? Are you in?"
#22 (27) Detroit Pistons [15-25]
The world may have just lost Conrad Bain, the original Mr. Drummond, but there's a new Mr. Drummond in Detroit and he goes by Andre. If the Pistons can add a valuable new lottery pick every year to add to this new core of Drummond and Greg Monroe, they'll be a playoff team by 2016. Better have a Big Breakfast to tide yourselves over, Pistons fans.
#23 (29) Toronto Raptors [15-26]
Well look who jumped all the way to #23. Nice work, Raptors. Sure, you've only won four games on the road, but you're doing it without your star player! Andrea Bargnani may be out, but the two-headed monster of Ed Davis and Amir Johnson is stepping up in his place. That's a McDouble that Canadians can really get behind.
#24 (26) New Orleans Hornets [14-27]
Like the McRib, this team is pretty gross. Oddly, they're actually playing well right now. Don't get excited, though, because also like the McRib, their winning ways are probably only here for a limited time. It's not a coincidence that they started playing well when the McRib was re-introduced for its yearly appearance but their 6-4 streak also happened to correspond with Anthony Davis and Eric Gordon getting back on the court. Let's just say it's due to the McRib and move on.
#25 (23) Phoenix Suns [13-28]
Alvin Gentry is the most recent victim of the NBA Head Coach Gauntlet of Death, but teams seem to always do better with a new coach, so the Suns' outlook is good. Not that good, though. I mean, they're still the Suns. They still start Jared Dudley and P.J. Tucker, they're still owned by Robert Sarver, and their mascot is still a gorilla that scares most of the children he's meant to entertain. Suns, I'm sorry to say it, but you're nothing more than hash browns. Some people love you, but you make a lot of other people sick.
#26 (25) Sacramento Kings [16-26]
The only reason the Kings are matched with the McChicken is for nostalgia. That's nostalgia for the basketball fans in Seattle who seem like they're about to relive their glory days of actually having an NBA franchise in town. Sure the McChicken is a vestige of what it used to be, but wouldn't you rather have a cheap knock-off version of a chicken sandwich than no sandwich at all? Also, hey there Jimmer. Nice to see you finally showing up to play.
#27 (24) Orlando Magic [14-26]
Time for a little jingle flashback: "Do you believe in The Magic? Well I hope you do. You'll always have a friend wearing Size 16 shoes. Do you believe in The Magic?" I don't. They're as bad as a Grilled Ranch Snack Wrap.
#28 (25) Cleveland Cavaliers [4-17]
In Cleveland, it's Kyrie Irving's world and the Cavs are all just living in it. He's the delicious fries amidst a meal of over-salted snack wraps. Dion Waiters may join him one day, but for now, there's only one part of this team that people clamor for and he happens to be on my fantasy team. DON'T GET HURT AGAIN, KYRIE. Nobody wants a fast food meal without fries.
#29 (22) Charlotte Bobcats [10-31]
Things were looking so good for the Bobcats during the last Power Rankings. They had skyrocketed all the way to #22, the highest they've ever been on this list. So what happened? They went 3-18. Ouch. Watching the Bobcats right now is about as exciting as eating a side salad for dinner at McDonald's. This brings up an important question: Can you use Sweet & Sour Sauce as a dressing on a McDonald's salad? I'm phoning a friend...
#30 (30) Washington Wizards [9-30]
What's worse than ordering a salad at a fast food restaurant? Ordering a plastic container of fruit and walnuts. This Wizards team is terrible. That's nothing new. They've played up most of the season without John Wall, but now that he's back things may start to change — but don't get your hopes up, Washingtonians. For a team of Wizards, there's just not much magic here. They seem more like the Bullets of old, constantly shooting themselves in the foot.
Previously:  NBA Power Rankings: Benihana Edition