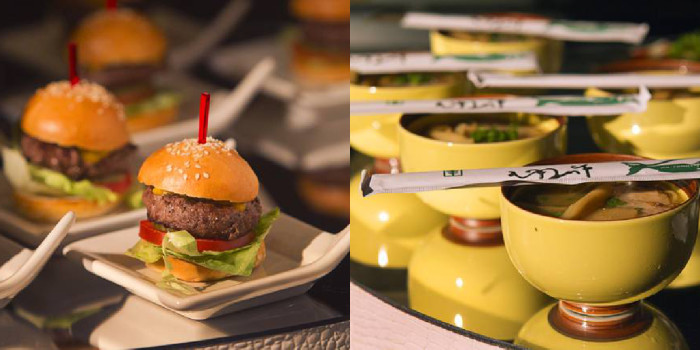 Forget your preconceived notions about a Las Vegas casino buffet — clear your mind of the image of glassy-eyed gamblers spooning luke-warm helpings of beige food off of steam tables. Forget the hoarding of shrimp cocktails and questionable King Crab legs to fuel the next shift plugging the video Keno machine. (Keno rules, btw.) Ignore memories of that comp visit to the noodle bar where you carbo-loaded on chow mein or General Tso's chicken swimming in sweet and sour sauce the color of transmission fluid. There is a new buffet in town, and it's quite the game changer.
Last fall, Caesar's Palace spent over $17 million to transform their Cafe Lago buffet into the new Bacchanal Buffet. Within two weeks of opening, the impact was felt. USA Today named the Bacchanal the #1 buffet in Sin City and in response several other casinos, including the Golden Nugget and Aria, have closed their buffets for remodeling. With such a massive price tag to upgrade what ultimately proves to be a loss-leader in many properties, it's difficult to rationalize Caesar's expenditure in terms of ROI. But who care — it's Vegas, baby!
This project was part of an 18-month investment by the hotel, which they code named "The Renaissance," that included a refresh of several of their restaurants and the construction on the first Nobu-branded casino tower, opening this spring.
With the Bacchanal, Caesar's aims to redefine the buffet experience, with 90% of food preparation taking place in front of diners instead of in the depths of some cavernous kitchen in the basement of the casino. The fresh presentation also leads to much lower food waste, more in line with a standalone restaurant rather than a buffet. The resulting food cost savings are invested in labor in the form of experienced chefs to man the serving areas, where over 580 food items are available.
More than 600 diners at a time pay between $19.99 and $39.99 for access to 10 stations representing international and regional specialties, and a massive array of more than 125 desserts and pastries (the price varies depending on the time of day and day of the week). There's hand-cut charcuterie and house-made tortillas at the Mexican station. Fresh-squeezed juices and made-to-order bacon is a given, as is handmade ravioli and freshly baked soufflés. Unlimited wine and beer is also available for an extra charge.
Each section of the buffet is overseen by one of seven executive sous-chefs, and there is at least one "action station" ranging from the typical meat carving station to many dishes being prepared à la minute. Overseeing the entire operation and the 110 employees working the line is executive chef Scott Green. The chef was recruited from two Michelin-ranked restaurants in Vegas, along with his talented staff of sous-chefs, who have experience at noted restaurants like Guy Savoy, Charlie Palmer Steak House and Rao's.
"I look at Bacchanal Buffet as nine unique restaurants, and I pay special attention to every detail just as I would an individual restaurant," says Green. "Food is entertainment. People like to watch their food being made, so we focus on creating a fully interactive experience." Great attention is paid to food presentation. Instead of spooning portions from collective hotel pans, individual dishes are plated in clever containers like precious little skillets, mason jars or miniature fry baskets. The restaurant went through 10,000 ramekins in the first month alone.
A huge smoker is visible from the serving line to cook chicken, brisket and ribs over peach, hickory, mesquite and red oak, and the resulting meats are competition-quality. The aromas of smoking wood also serves as an appetite stimulant to help diners get their money's worth. Eight varieties of regional sauces are offered to dress the barbecue, and the working pitmaster is more than willing to suggest and appropriate condiment.
Here are 5 other noteworthy buffets in Vegas:
1. Sterling Buffet at Bally's
At $85/person, a visit to the buffet at Bally's can easily cost more than the price of your room during the week. But with items like sturgeon caviar, sushi, lobster and beef tenderloin on the serving line, diners line up for hours to dig in.
2. The Wicked Spoon Buffet at the Cosmopolitan
Don't look for the same old crab legs and shrimp cocktails at The Wicked Spoon. Like the Cosmo casino where it is housed, the buffet is more sleek and minimalist than most other examples around town. For $22, you can brunch on small plates of dim sum and American favorites like potpies and short ribs.
3. Rio's Carnival World Buffet
Still a local favorite after all these years, the 300-plus dish buffet at the Rio might have grown a little tired, but has recently been reinvigorated with a facelift. With a mardi gras–themed "Masquerade Show in the Sky," there's entertainment over your head and on your plate at the Rio.
4. Bellagio Buffet
As tony as the Bellagio Hotel and Casino is, it's no surprise that their buffet is first class as well. Go on Friday or Saturday night for their "gourmet buffet" ($37.99) that includes Kobe beef, Beef Wellington, lamb chops, venison and buffalo. It's definitely worth the $6/person upcharge over the midweek offering.
5. Garden Court Buffet at Main Street Station
At the other end of the spectrum from the Bellagio, the Main Street Station downtown in Old Vegas has one of the best bargains in town. The Garden Court Buffet serves all-you-can eat breakfast for $6.99 and lunch for just a dollar more. Dinners feature nightly specials like T-bone, steak and shrimp scampi, and prime rib for between $10 and $21.99. The video poker odds are better at locals casinos, too, so maybe you'll pay for dinner with a full house.
Also read: The All-You-Can-Eat Buffet, A Meal Dipped In Irony