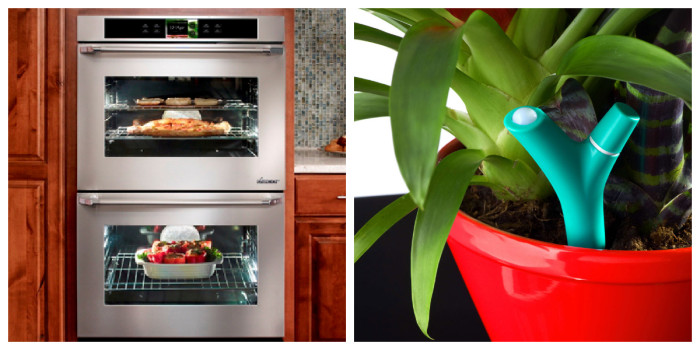 For five days last week the floors of the massive Las Vegas Convention Center's many halls were crowded with more than 150,000 journalists, bloggers and rascal-riding Diet Pepsi chuggers catching a glimpse at the latest technological innovations on display at the Consumer Electronics Show. The show acts as a barometer for the coming year in technology, unveiling new products and broadcasting trends in everything from home media to personal computing and photography. I traversed the floors, avoiding the herds as best I could, in searching out the best in food and kitchen tech. I played some craps too. My best food gear finds are below.
1. Parrot Flower Power
All chefs know that dinner tastes better when homegrown ingredients are used. But crop growing is an exact process, one that requires scientific knowledge and a priestly sense of patience. The three-pronged Parrot Flower Power claims to make at least part of process easier, thanks to its family of smart sensors and wireless capabilities. Jab the sensor into the soil — before entering the type of plants you intend on growing — and it calculates information like soil, temperature, sunlight, moisture and fertilizer needs. The info is then exported to your smartphone via Bluetooth. (It has a built-in database of 6,000 plants, from Fichus to tomato). The waterproof monitor — which boasts six months of battery life — proceeds to babysit your plants from seed to fully grown, sending you messages when they need more sunlight, less water or pretty much anything else to the companion smart device app so you know exactly what they need. If only it watered them for you.
2. Lifeproof nüüd Case for iPad
Tablets are an excellent kitchen resource, as they provide you with unfettered access to the web's hundreds of thousands of recipes and cooking techniques (like, say, those on our site.) But since your countertop is a battleground filled with everything from flying food shrapnel to bubbling sauce explosions, there's a high chance your tablet will return to its charging station with some serious scars. Sheath your tablet in Lifeproof nüüd case, however, and it can shrug off anything. Water-, shock-, dirt- and even snow-proof, the fully submersible case can survive falls from up to four feet, yet doesn't need you to press harder to access the iPad's touch screen. It should win over tablet-concerned chefs as it won over the show: the nüüd case won a CES Innovation Award, one of their top prizes. The jury is still out, though, on the "Product Name with the Most Umlats" award.
3. LG Smart Refrigerator
In recent years, the concept of a smart home — one in which every part of your home, from lights to locks, can be accessed from anywhere — has become a reality thanks to the boon of smart devices and apps. Case in point: The LG Smart Refrigerator. The 34 cubic-foot capacity double door fridge is Wi-Fi connected and can be monitored via its LCD touch screen or your smart device. Using the panel, you type in groceries and expiration dates and it tells you or your phone such things as when your milk is going to spoil or if you need more pizza rolls. It also has a database of recipes with ingredients, so if you're at the grocery store and want to make blueberry muffins, text your fridge to see what items you need or already have. And for health-conscious folks, or family members with food allergies, the fridge allows you to set profiles for specific people and remembers their needs. So if your son has a gluten allergy, the fridge can tell him what items inside are okay for to eat. It does more, of course, but the amazing thing is that it's not a fantasy concept item and will be available for purchase soon.
4. LG Smart Range
Also debuting with LG's smart fridge was their Smart Range. As you might guess the 6.3 cubic-foot capacity range can also be accessed from your phone. Want to preheat the oven when you're on the way home? Send it a message, and by the time you enter it'll be ready to cook the night's roast. It also has a smart diagnosis system. If you're having trouble with the range, press a button on the stove that causes it to emit a series of beeps. Those beeps act as a Morse code to the service rep you call, who'll then be able to tell you exactly what the problem is and how you can solve it. In addition to its brainy features, the LG Smart Range also touts a 3,200-watt boiling element as well as an infrared grill that LG claims to cook 20 percent faster than traditional models.
5. Haier Cordless Blender
As technology moves forward, all products will soon become wireless. And that's good news in the kitchen, where cords and clutter can cause serious accidents. The Haier Induction Blender isn't powered by plugging into a traditional outlet. Instead, it receives a signal from an induction plate installed below the counter. Once placed over that plate, it operates as a traditional blender might, mixing soups a smoothies without the need for a cord. While merely a concept (read: a product that won't be available to buy) it certainly shows off where appliances are headed.
6. Dacor Discovery IQ Wall Oven
LG wasn't the only company to debut a Wi-Fi-connected oven. Running off Android OS, the Dacor Discovery IQ Wall Oven lets chefs type in the recipe they're about to cook and then recommends the ideal cooking time and temperature based on its large internal database of recipes. The oven's partner app will send your smart device a message when your dish is ready and, if you're not, will automatically revert to the warming setting to ensure it doesn't overcook. The 30-inch wall oven also has a built-in 7-inch tablet-like display when you're around to operate it in person.
7. HAPIfork
Unless I develop palsy in my old age, I never want a fork to vibrate when I'm using it to feed myself. But the folks behind HAPIfork think that's the perfect way to goad you into eating at a more controlled pace. Apparently, shoveling it in too quickly can lead to poor digestion and an ass that looks like a full laundry bag — or so says science — and one should take 10 seconds between bites when eating to avoid any genetic or gastrointestinal dismay. The HAPIfork is meant to ensure you stick to this routine. The utensil — which looks like it was designed by PlaySkool and makes me lose faith in humanity — tracks "fork time," otherwise known as the amount of fork servings per minute, and alerts you via vibrations and blinking red lights when you're shoveling grub in too fast. The Bluetooth-connected fork (I hate myself for even writing that) even has a partner app that logs your stats and provides tips for healthier eating.
8. Fitbit Flex
While not a kitchen-centric item per se, the Fitbit Flex would be a wise purchase for anyone with a soft spot for the culinary world. The waterproof rubber wristband tracks the steps you've taken, stories you've climbed, hours you've slept, and calories you've burned. It comes with its own app that charts your progress and sends you motivation throughout the day. In other words, it makes sure you're staying active so that the 46-ounce porterhouse you're eating as a treat with won't be your last.
Read cooking gear reviews on Food Republic: