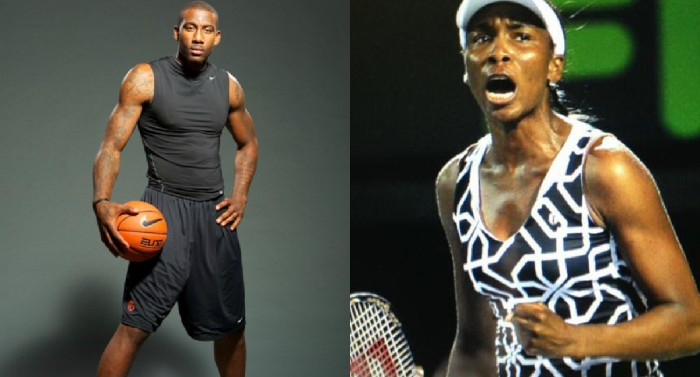 Before suiting up for Sunday's NFC Championship showdown against the San Francisco 49ers, Atlanta Falcons tight end Tony Gonzalez will probably fix himself his favorite meal: A slice of vegan banana bread with some soy whipped cream. Gonzalez is not the only high-profile athlete to experiment with veganism: Amar'e Stoudemire and Venus Williams both put their vegan diets in the news this week.
Let's take a look at five significant sports stars who've announced that they (mostly) follow a vegan lifestyle, and see whether or not it has affected their performance on the court or field, as well as whether they've stuck to their plant-based diet.
1. Amar'e Stoudemire
The Knicks' $100 million man recently revealed that he has been following a vegan diet for almost three months. Stoudemire decided to become a vegan after having surgery on his knee in October, looking for a better way to remain healthy (his career now borders on carrying that derogatory modifier "injury plagued"). In limited duty since returning, Stoudemire is averaging just 9.4 points per game, as he seeks to return to his former All-Star form.
2. Carl Lewis
The former Olympics track and field star, whose career spanned the 1980s and '90s, has been quoted as saying that his best year of competition was after the first year he ate a vegan diet. Because he was 30 at the time, his subsequent achievements seemed astonishing: he beat the world record in the 1991 Tokyo World Championships, besting a tough field. His decline after this signature race led some to question whether his vegan diet caused him to lose strength, while others argued that it was natural for a runner to slow down after 30.
3. Arian Foster
The All-Pro running back for the Houston Texans made headlines during the offseason when he announced his intention to become a vegan. The experiment was short-lived as Foster admitted a few weeks into the season that he had been going back and forth on the diet, primarily eating plant-based foods but also occasionally consuming meat. The preseason consensus number one fantasy pick finished first in the league with 15 rushing touchdowns.
4. Venus Williams
The former number one player in women's tennis turned to veganism as part of the lifestyle changes she has made since being diagnosed with Sjogren's syndrome in 2011. Her diet is designed to decrease inflammation in her body and reduce the energy-draining effects of the disease. After taking seven months off tennis, Williams has staged an impressive comeback, climbing from outside the top 100 to be ranked 24th at the end of the year. She does admit, however, that she is a "cheagan" at times (that's short for cheating vegan, folks).
5. Tony Gonzalez
The story goes that the future Hall of Fame tight end elected to change to a vegan diet after reading only 40 pages of the extensive book on diet and nutrition, The China Study, before the 2007 NFL season. After losing a significant amount of weight before training camp, he amended the diet to include small amounts of fish and chicken to complement plant-based items. Gonzalez maintains that his energy has increased and that his recovery time has greatly improved as a result of his dietary choices.
Read these athlete interviews on Food Republic: