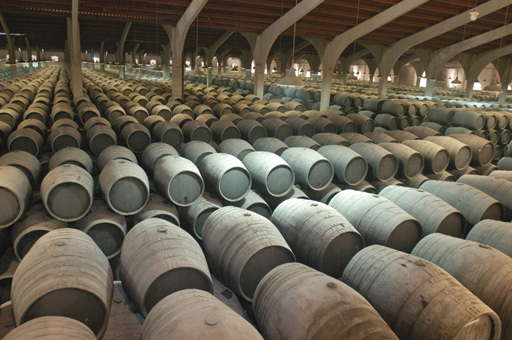 We talk a lot about loving sherry here at Food Republic. Tempted to get in on it? You might need a primer before you start. Or you might already have fallen for the fortified, and sometimes oxidized wine, from Spain and been burning with questions you never thought you could ask. Either way, here are 17 facts to boost your sherry smarts:
1. Sherry comes from the area of Spain around the town of Jerez or Xeres, in the southwestern corner of the country. It used to be called Sherish during the 500-year-long Moorish occupation — the word sherry comes from the Moors' word for Jerez.
2. Sherry is a fortified wine, like port, meaning distilled grape spirit is added to it. Originally, the hard stuff was added to ensure the wine would survive being shipped overseas.
3. Sherry is not just for cooking! In fact, you might not want to waste some finer examples of this wine on your chicken.
4. Sherry is great for cooking! On the other hand, a little sherry can really kick up a dish. Try your next moules marinières with a light fino instead of white wine. Or add a rich amontillado to gravy.
5. Sherries can be light and dry (like fino), oxidized (like oloroso) or sweet (like cream sherry). There is also manzanilla, a type of fino made in the port town of Sanlúcar de Barrameda; as well as amontillado (a little oxidized, a little sweet) and sweet, sweet PX.
6. The grapes used to make sherry are Palomino, Pedro Ximenez and Muscat. The first is mostly used to make dry styles, like fino and manzanilla, as well as oxidized styles like oloroso. The latter two are primarily used for sweeter sherries.
7. Sherries are made by fortifying wine after fermentation, then aging it in used American oak barrels. For fino, the wine is fortified to about 15% so that a yeasty cap forms over it, called the flor, that protects the wine from oxidation. Wines like oloroso are fortified to some 17%, so that no flor forms and oxidation can take place.
8. Palo cortado is a special type of sherry that used to be considered quite mysterious. It's starts out like a fino, but never quite makes it there. Today, we understand that by using the most delicate first-press wine, a flor will die prematurely. Grape spirit is then added to kill the flor completely, so that the wine can oxidize as it ages.
9. Yet another sub-genre of sherry is fino en rama, an unfiltered fino that is richer and funkier than a typical one. Tio Pepe's is bottled just once a year: a warm golden wine with nutty and citrus notes.
10. Sherry is aged using a solera system, which is difficult to describe. Think of a pyramid of barrels four rows high, with older wines at the bottom and younger ones at the top. Instead of emptying an entire barrel to bottle, only a portion of an older barrel is emptied, then topped up with wine from a younger barrel one row up. That row of barrels is then topped up with even younger wines, and so on. Solera sherry must be aged a minimum of three years, but is always a blend of older and younger wines.
11. Sherry is generally bottled to order and fino especially is not meant to age in the bottle. For that reason, it should be consumed almost immediately. Once open, it should be drunk within a week or so, longer for oloroso and even longer for PX.
12. Sherry must be made in the Andalusian triangle. This area is formed by the towns of Jerez de la Frontera, Sanlúcar de Barrameda and El Puerto de Santa María.
13. At least one sherry producer is located right outside the sherry triangle. Cesar Florido can be found in the town of Chipiona on the Atlantic Ocean. His Fino Chipiona is an estate-grown sherry, lovely, light and briny.
14. Sherry is a fortified wine like port, but port is sweet while sherry can be dry. Why? Port gets fortified while it is fermenting — the added brandy is what stops fermentation. Sherry, however, ferments completely before being fortified, so all the grape sugars get turned into alcohol.
15. Most sherries are non-vintage, due to the solera system of aging described above. But the new designation VORS indicates a sherry with an average age of at least 30 years. VORS could stand for Very Old Rare Sherry, as many people think it does. But it's actually an acronym for the Latin Vinum Optimum Rare Signatum.
16. Sherry is meant to be consumed at cellar temperature, but some people like it on ice. And no one will arrest you if you're one of them.
17. Sherry is also increasingly mixed into cocktails. It goes surprisingly well with tequila.
Read these facts about other spirits on Food Republic: