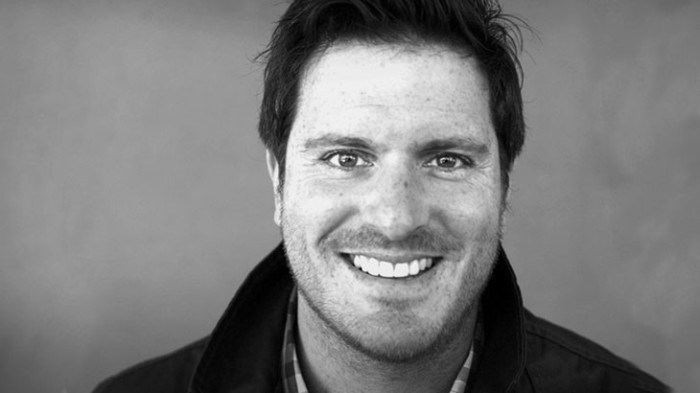 "I'm not even Spanish," says a freckly Vermonter in a flat accent that hints of world travel. "But I speak the language fluently and I understand the culture very well." Seamus Mullen knows a bit about the food too, having run some of New York City's best Spanish restaurants, including the award-winning Tertulia in Greenwich Village. With travel on our minds, we had to reach out to Mullen, who has spent a lot of his young life living out of suitcases. He shared some of his top memories.
Where are you planning to traveling in 2013?
I have a trip coming up very soon actually. I'm heading to the West Coast for a brief book tour for my cookbook Hero Food. I'll be starting in Seattle at Book Larder on Monday 1/21, then heading down to San Francisco for a signing at Omnivore on 1/25 — then doing a cooking demo for Copperfield's Books in Napa on 1/26. The folks at AvroKO are good friends of my wife and I, so after the little tour, we'll be treating ourselves to dinner at their new Napa restaurant, The Thomas. I also have a trip coming later this spring to visit Hong Kong, which I'm really excited about. At some point this year, I hope to be making another trip to Spain, as it's been nearly two years since I last visited. But at the moment, there are a couple of major things up in the air before I can commit to any other travel plans.
If you could travel anywhere (else), and had infinite resources, where would you go in 2013?
I would take a month off with my wife. We'd start our trip in Paris, then explore Turkey for a few weeks and maybe rent a villa in Greece on our way back.
What was your most memorable trip from the past few years?
In recent years, the most memorable trip was probably my trip to Spain in 2010 to shoot photography for my cookbook. We were in Barcelona and Castilla la Mancha just outside Toledo. It was exhausting and a ton of work, but well worth every minute and I'll never forget it. This was more than a few years ago, but my all-time most memorable trip is probably the motorcycle trip I took with my good friend Chan. We rode our motorcycles from San Francisco all the way down through Mexico to Panama. It was an epic trip. I have so many stories from this trip, I could write a whole book about it. I would love to do another one of these trips, like the Ewan MacGregor show The Long Way Down — but I don't think the wife will let me.
What airlines do you fly, prefer to fly? Do you have any frequent flier programs?
I wish I had more reason/opportunity to fly Singapore Airlines. Their business class seats are amazing, and the food and service are terrific. I used to have a ton of miles with American but alas, I seem to have used them all!
What about hotels? Any standout places that you've stayed or would like to stay?
The most amazing resort I've been to has to be the Four Seasons Hualalai in Kona, on the big island of Hawaii. My wife and I went there on our mini-moon, and it was one of the most stunning properties I've ever seen. I would also LOVE to stay at the Four Seasons in Chiang Mai, and the Aman Resort in Bhutan.
What are your favorite cities for food, and if not mentioned above, where are you yearning to go to try the local cuisine?
Tokyo, hands down. I love Japanese food in all its various forms and I think Tokyo is one of the most exciting food cities in the world. I would love to visit Kyoto and explore the food there in more depth as well. Last year I had the opportunity to visit Taipei to visit my wife's family. That's another city I definitely want to spend more time in, the food there is just phenomenal, everything from the night markets to the hole-in-the-wall joints to the fancy spots. I love it there. Barcelona, naturally, and San Sebastian in Spain. I'm hoping to make my way to Buenos Aires in the near future too, I've always wanted to go there. In the US, I'd love to check out New Orleans at some point.
Is there a food you have traveled over 1,000 miles for?
The angulas, or silvery baby eels, in San Sebastián. They are a really, really special delicacy in the Basque country, and because they're becoming rarer and rarer, the Basque government now only allows them to be harvested between mid-November and January (which means they're also wildly expensive). I can't even describe how they taste, but they're amazing — a little bit salty, a little bit sweet, firm yet tender, tons of umami. They're incredible!
Best travel advice you have been given lately?
My wife recently found a great app called TripIt. You can just forward all your confirmation emails for flights, hotels, car rentals, etc. and the app will collate it into one clean itinerary for you. It's so handy. This isn't a specific tip as such, but I'm also a big fan of my friend Pavia Rosati's travel site Fathom Away, which is chock full of great articles, resources and travel advice.
Best food-related souvenir that you have ever brought back?
The leg of jamón Ibérico that I buried at the bottom of my suitcase and smuggled back to the U.S. from Spain. Thankfully, now that jamón Ibérico is available in the US, I no longer need to conduct illegal activity to get it.
Any favorite cocktail/beer/wine spots from your travels?
I'm not huge on the whole cocktail craze. I really just prefer the simple, classic ones. BUT, Bar High Five in Tokyo is amazing. Hidetsugu Ueno is a legendary bartender in Tokyo and for very good reason.
Have you ever brought beer/wine/booze back from someplace, and if so, how'd you carry it?
Every time I go to Spain I bring back Patxaran, an anise-based herbal liqueur that only recently has become available in the US.
Any must-have travel items (a favorite piece of luggage, neck pillow for flying, iPad, etc?
Bose noise-cancelling headphones! Cannot, will not, travel without them.
Best travel nightmare story?
When I was in college, my brother and I backpacked through all of Central America. One morning we were leaving Lake Atitlán in Guatemala at 7 a.m. Shortly after getting on the bus I realized I had to pee, but I figured that the bus would surely have to stop at some point. 9 hours and many, many miles of potholed Guatemalan mountain roads later, I realized the bus was not, in fact, stopping anytime soon. When the bus finally stopped in Guatemala City — it was one of those really old school buses — I shoved my way through, ran out the front door, but couldn't even make it to the nearest tree or pole or anything. I just peed all over the sidewalk, in front of God knows how many people. Lesson learned. 1. Never travel without an empty water bottle and 2. Pee before you go.
More Fantasy Travel Week on Food Republic: