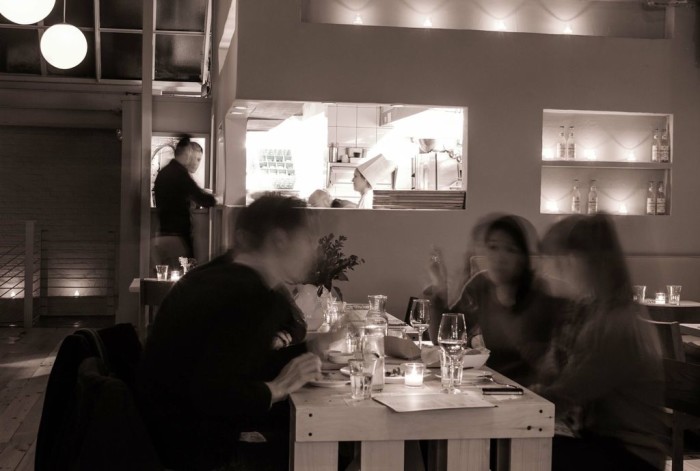 Hotspot Alert: Tulum, Mexico's jetsetter-friendly Posada Margherita, now has a sister restaurant in New York City. Unlike the original location, diners at Circolo, won't be able to sip negronis and dine on pasta specials with their feet in the sand. But the haute design in Manhattan (almost) makes up for this shortcoming.
The new Italian restaurant is a collaboration between hospitality specialists Alessandro Carozzino and Federico Paterniti, both longtime friends from Genoa, Italy, and Francesco Barosi, an Italian businessman. Andrea De Leonardis, who joined Posada Margherita in 2007 to further develop the menu and wine list, is spearheading Circolo's launch in NYC. They enlisted an A-list design team to trick out the place.
The chic, minimalist NoHo restaurant is a collaborative effort between three design masterminds: Ambra Medda, founding director of Design Miami and Design Miami Basel; Suzanne Demisch of Demisch Danant design gallery in Manhattan and Paris; and Shawn Brydges of Brydges Mackinney Creative Agency.
Food Republic sat down with De Leonardis over a plate of tiramasu to discuss how he's bringing a little bit of Italian simplicity to Bond Street, via Tulum. Read it below, and check out our exclusive photo tour of the restaurant.
First, tell us, what is a "Circolo"?
Circolo is an Italian word meaning both circle and club. In Italian society, a circolo is a local spot to meet friends, play cards and discuss current affairs over an aperitivo or a bite to eat. Same people, different situations. Our restaurant is simply a neighborhood spot that offers high-quality food prepared in the traditional Italian way: simple, fresh and homemade.
How did you decide to expand from Tulum to Bond Street in New York City?
Our business in Mexico is successful because everybody that comes in the door, celebrity or not, feels like they are at home. That is key. We wanted to create the same thing in New York City, and at the same time bring a little bit of that relaxed vibe from Tulum to New York. As for Bond Street, I really didn't know how coveted this street was until recently. We are really lucky to be here. I lived in Mexico for five years with no TV, so things like this pass me by.
Describe the cooking at Circolo.
Our chef, Fabio Scovaventi from southern Tuscany, prepares everything in-house — from the pasta to the different breads that we have each day. We like to keep things simple and easygoing. That's why we don't have any fancy square plates. We just serve our food in regular round dishes, and the presentation is just as you would do at home, but with a professional touch.
Take the octopus: we just serve it as it is, Italian grandma-style in the plate. Same with the tiramisu. It's kind of ugly, if I may say, but it feels like home. Our goal with the restaurant is to make guests feel at home. It's not very fancy. It's just simple honest food from the heart that tastes incredible.
Your restaurant in Tulum is known for its award-winning cocktails. What are your plans for the bar at Circolo?
We have an amazing Italian mixologist, Salvatore, whom I discovered in Italy. He is 24 years old but knows absolutely everything about every single spirit in the bar. The philosophy for the bar is the same as the kitchen. Everything is minimal and fresh. We are not putting 10 or 15 ingredients into a drink.
The cocktail menu includes some of our famed cocktails from Tulum in addition to new cocktails created specially for New York. Of course being an Italian restaurant, we also have old-school Italian classics like negroni, garimbaldi and medicina (an Italian martini). We source our coffee from Filicori Zecchini, which is a tiny coffee producer in Bologna. The coffee is unbelievable. So instead of bigger companies, we prefer small producers. It's part of our concept.
What about the design?
Everything started in Posada, where we met Ambra [Medda] and became friends. She decided to help us with the design of the restaurant. It was like a dream. She called Suzanne [Demisch] from the Demisch Danant gallery and Shawn [Brydges] of Brydges Mackinney. We explained our concept, the fact that we wanted a place that was easy, cozy and comfortable, and they decided on the design. They went with this gray color on the walls, which makes everything disappear. The aesthetic is very flat and clean with a few pops of color.
All the furniture is custom-built and inspired by Enzo Mari, an Italian modernist artist and furniture designer from the '50s and '60s. The concept for the furniture is the same as the concept for the food: simple, less is more. This is the concept for everything, the design, the food and the drinks. Simplicity is key.
I noticed you have very unique napkins on the tables…
Yes, our napkins where designed by Veronica Sommaruga, who has worked with fashion houses like Marni and The Row for many years. They add a very special touch.
What are your goals for Circolo?
I hope to create a friendly neighborhood spot where people can drop by and talk to one another over a good bite to eat. I want to talk to our neighbors and to get to know everybody.
I live and breathe this restaurant. I enjoy being here 18 hours a day. It is difficult to explain when you're not in the restaurant business. When I'm here I can just feel things. If it rains, the bread is different, and we need to adjust accordingly. Same with the coffee. If it's raining or windy or dry, it's totally different.
For me, it's a dream come true. I'm from a tiny town in Italy with 5,000 people. Imagine, here I am, with a restaurant on Bond Street in New York City. Sometimes things get chaotic, but I try to keep in mind something one of my partners says, "We are not saving lives, be calm, it's just food and drink. Enjoy the moment!"
Insider Tip: We hear that Circolo is unveiling a surprise in the beginning of February to coincide with Fashion Week NY. Stay tuned for more on that!
Circolo
45 Bond St.
(between Bowery and Lafayette)
New York, NY 10012
212-375-0323
website