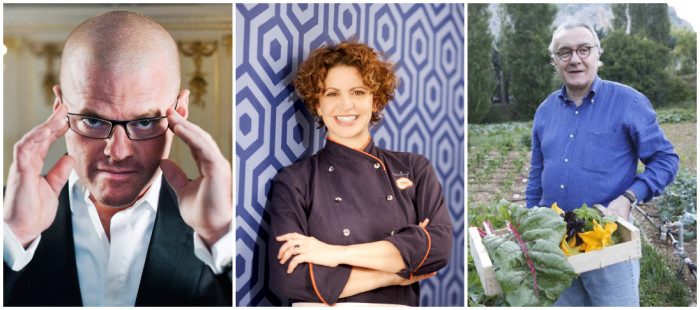 Had enough overcooked chicken and overpriced turkey wraps to last a lifetime? Some of the world's leading chefs feel the same way. Cabin fever has struck the likes of Richard Sandoval, Marcus Samuelsson, Nobu and more. Dining at 30,000 feet never looked so good.
Tired of being a punch line, airlines are bringing in superstars from the top of the food chain to revolutionize in-flight dining. Don't call it a comeback, because global carriers have pursued big-name chefs for years. Singapore Airlines tapped Gordon Ramsay for their International Culinary Panel back in 2006, and Air France began working with Joel Robuchon in 2010.
But the latest crew of chefs transforming cabin cuisine has travelers everywhere reaching for their nearest tray tables. Stellar wine lists, Michelin-starred meals and Iron Chef-approved tasting menus are giving much-maligned airplane food a major upgrade. These 10 airlines are bringing culinary star power to the skies.
1. Qantas
For 15 years, champion multi-tasker Neil Perry has overseen onboard dining for the entire Qantas fleet while running six highly successful restaurants on terra firma in his native Sydney. Chef Perry's inflight menus are served in all Qantas cabins, and include items like shepherd's pie made with locally sourced duck, and seared grouper with caper sauce.
2. American Airlines
Richard Sandoval and Food Republic co-founder Marcus Samuelsson are serving up unstoppable action on AA. Sandoval's premium class offerings on international itineraries include halibut with sweet potato puree and corn salsa. On shorter, domestic flights, Samuelsson's New American Table program has tasty classics like fresh turkey sandwiches and a killer breakfast biscuit.
3. Air France
Alain Ducasse, Joel Robuchon and Guy Martin are among the gastronomic luminaries who've created inflight menus for Air France. In February 2013, the Gallic galley will unveil a menu by Bocuse d'Or winner and two-Michelin star chef Michel Roth. Dishes like grilled pollack with Menton lemon confit, and pan-fried scallops in a white truffle-rich tartuffon sauce sure do beat a bag of peanuts.
4. Qatar Airways
Not content to bring just one star chef on board, Doha-based Qatar Airways recently launched the Culinary World Menu, a global program featuring a rotating cast of menu items by bold-faced names like Nobu Matsuhisa, Tom Aikens, India's two-Michelin-starred Vineet Bhatia and Lebanese celebrity chef and television personality Ramzi Choueiri. The UN of culinary star power advises on all meals served in first and business class seats.
5. Delta Airlines
MIA's own Iron Chef and James Beard Award–winner Michelle Bernstein creates menus for long-haul international travelers in Delta's BusinessElite, a first/business cabin mash-up. Her five-course tasting menus are all class, and include items like pomegranate-glazed lamb and grilled beef tenderloin with chimichurri.
6. LAN
Hector Vergara, the only master sommelier in South America, handpicks the continent's best bottles for the in-flight wine list on board LAN, the national carrier of his native Chile. Vergara stocks LAN flights with New World wines like Chilean Carménère and Argentinean Malbec, as well as lesser-known bottles like a 2008 Syrah from Chile's coastal Valle de Casablanca region.
7. Japan Airlines
In Tokyo, a city rich with culinary superpower, Chef Seiji Yamamoto's blend of molecular gastronomy and traditional kaiseke has earned him three Michelin stars along with fans like Ferran Adria and Wylie Dufresne. First-class passengers on Japan Airlines' international flights can sample Chef Yamamoto's fare at 30,000 feet, where he might prepare Wagyu beef or a snow crab tart topped with delicate roe.
8. South African Airways
South African celebrity chef Reuben Riffel, who has an eponymous spot at the One&Only Cape Town and two others in the Franshhoek Valley, grew up under apartheid and did not eat in a restaurant until he was 15. Now, the 37-year-old chef also creates meals for national carrier South African Airways, which are served alongside over 70 award-winning South African wines in Premium Business Class.
9. United Airlines
In 2007, United tapped Chicago's Charlie Trotter to design inflight menus for transcontinental flights out of its North America. Ever the globetrotter, the James Beard Award–winner created first and business class meals as varied as mustard-braised pork medallions, and crispy short rib wontons with Thai chili sauce.
10. British Airways
Celebrity chef Heston Blumenthal cares deeply about British cuisine. In 2012, he took that passion to the skies, partnering with BA on a series of Olympics-inspired menus. Items like mackerel rillettes with sourdough croutes went for the gold, and were served on all flights in all cabins. Game on.
More airlines stories on Food Republic: