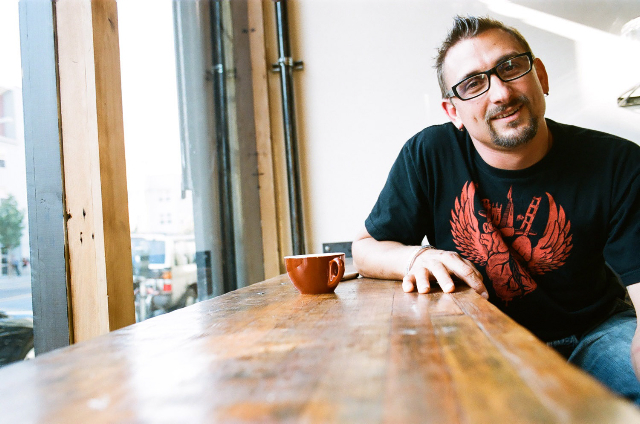 Chefs love to travel — for inspiration, to experience the cuisines of other cultures or just to get away from the heat of their own kitchens. When they return, we hit them with some questions — where'd they stay, what'd they do and WHAT DID THEY EAT?! Chris Cosentino. Meat master. Cooking show champion. World traveler. That's some multi-tasking, man. We asked him to write in about his first trip to Japan, 10 days spent soaking in the food culture — like eating blowfish sperm.
Where are you just back from?
I just came back through a trip to Japan, Tokyo, Sendai and Iwata to visit a sake brewery, hog farm and the Hitachino brewery. It was a 10-day trip.
Business or pleasure?
It was a mix. A lot of education and research, so it was pleasure and work-related combined. I have been wanting to go for over 10 years and was able to go with two of my great friends, Staffan Terje and Sho Kamio — who both have been to Japan many times. Sho is from Sendai — made it so much easier to get around and understand.
What was the highlight?
There are so many highlights. One has got to be Tsukiji market for the tuna auction at 4:30 a.m. Following a tuna from auction to sale to butchery is incredible. Visiting the Hitachino brewery with the owner and having the most amazing soba I have ever tasted. Having a negroni at the Park Hyatt Tokyo at midnight looking out over Tokyo. Watching the entire process of ikejime on yellowtail, a traditional killing method which renders the fish nerve dead so it is a clean and perfect flesh when it's out of rigor. Going to all the tiny bars and alley restaurants like an eel restaurant that was 78 years old.
What airline did you fly and how was it?
I flew United. it was easy and efficient. A very long flight but it got the job done.
Where'd you stay and what's your mini-review of the place?
I stayed at the Granbell Hotel Shibuya. The hotel was the perfect size and centrally located. I would stay there again in a heartbeat.
What was your best meal on the trip?
The thing about being in Japan was that there were so many great meals! But there were a few dishes that stood out. A raw pork offal plate was amazing – so many textures, yet so simple. A perfect plate of tongue, tripe, liver, kidney and belly served with sesame oil, salt, scallions and lots of black pepper. The entire sushi meal in Sendai was amazing. There was a 5.0 earthquake during the middle of a dinner that featured shark heart, sea squirt and grilled blowfish sperm. The fish quality was amazing. Also my dinner at Sho's brother Jiro's spots, in Sendai and Tokyo, were amazing and featured motsunabi and great maguro — mountain yam and nameko mushroom dish.
Did you bring anything back and if so, what?
I brought back some kitchen tools from Tskuiji — special peelers and fish scalers. Also, a few items that were made in Japan like a soccer jersey for my son and a beautiful, natural indigo-dyed scarf for my wife. I mainly brought back a whole new thought process of design and an excitement for how food can be treated in a whole new way.
Read more Just Back From columns on Food Republic: