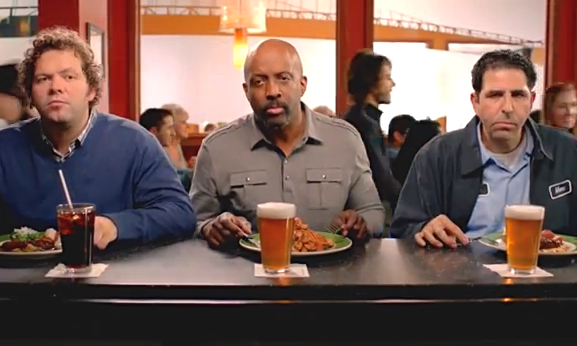 Each week in Ad Snacking, former advertising executive turned chef Eli Sussman takes a close look at a recent food advertisement. He'll keep the copy short to guarantee the R.O.I. for procrastinating at your desk stays high.
Like most of the country, you've probably spent the first few days of 2013 head in your hands devastatingly hungover, cranking up that personal heater under your desk, broke as a joke reeling from the yearly holiday binge on alcohol and seasonal snacking. You're only 3 days into the work year and instead of tending to your backlog of emails and voicemails, you're crafting that yearly useless list of New Year's resolutions (item #3: learn to build a birdfeeder; item #4: finish a crossword just once). It's a safe assessment to say that at the top of most people's lists is "lose weight." Applebee's knows that around this time of year people are concerned about shedding some of that holiday poundage (I'm not John Nash but endless eggnog+warm cookies+TBS+pajamas is an equation for weight gain disaster). So here's an ad promoting two Applebee's entrées under 550 calories, which I guess is a small amount of calories. Watch it at your own risk; we wouldn't want your boss to spot you and think you're already slacking off in 2013. The last thing you need to start off the year is to have your boss ask you to come in on a Saturday.
Product: D
I BELIEVE THAT THIS…TASTES LIKE PLASTIC
Applebee's has millions of dollars for advertising at its disposal. I do not understand why they can't make the food look better in the ad. They shelled out the big bucks for Jason Sudekis (sell-out) to voice the ads and got some quality character actors with insane dancing abilities. But when it came to the food styling, they hired the same people who make those plastic molds for sushi restaurants. That plate of "Zesty Roma Chicken and Shrimp" looks like "raw meat and vegetables with tomato paste poured over the top." Is that a gray steak served over a bunch of barely caramelized onions as the dish? These look like TV dinners. Actually these look worse than TV dinners. No wonder they are so low in calories. They're banking on the fact that it's so disgusting you won't be able to eat it. The 550 calories you consume are from simply osmosis of being inside of an Applebee's.
Message: C-
I BELIEVE THAT THIS…IS HEALTHY
I don't count calories because I am blessed with the metabolism of a 14-year-old captain of his cross country team. I do know that a normal adult American is supposed to consume about 2,000 calories a day. So if upon your visit to Applebee's (to indulge in a 550 calorie entrée) you don't order a drink, any appetizers or dessert, you've potentially consumed a safe number of calories during your meal to have a balanced caloric intake for the day.
But who are you kidding? Not me. Because you are at Applebee's, so clearly you do not respect yourself. You are getting at least six refills on your large Coke. You are getting the loaded nachos with sour cream, guacamole and cheddar sauce and the jalapeño poppers with mayo-butter-garlic-cream dip. And you're getting an Oreo fudge molten chocolate caramel s'more cake for dessert. So when you settle in at home on the couch to eat your second dessert while you watch your DVR'ed episode of Dancing With The Stars and feel good about yourself for getting the healthy entrée option, just realize no one under the age of 25 in our country will ever be able to retire because of your astoundingly high medical bills.
Creativity: A
I BELIEVE…THEY ARE TRYING TO PITCH WEIGHT-LOSS ENTRÉES TO MEN
The first five faces, two speakers and the voice-over in this ad are all men. Traditionally (and also because I'm sexist), I would figure that companies would be pitching weight loss entrées to women after the holidays. But Applebee's is very progressive in their equal opportunity pursuit of fat America. They want everyone who's worried about their weight to come in and indulge on a 550-calorie gross entrée regardless of age, race or income. Applebee's is saying "If you are fat or you know someone who's fat, bring them to Applebee's. Our new entrées are a healthy way to kick off the New Year!" Here's my suggestion for a healthy New Year's resolution: Cook at home this year using fresh ingredients. You'll save money, be healthier and you won't have to worry about DVR'ing Dancing With The Stars anymore.
More AdSnacking on Food Republic: